DUELING REVIEWS: Promises Part 3 by A.E. Via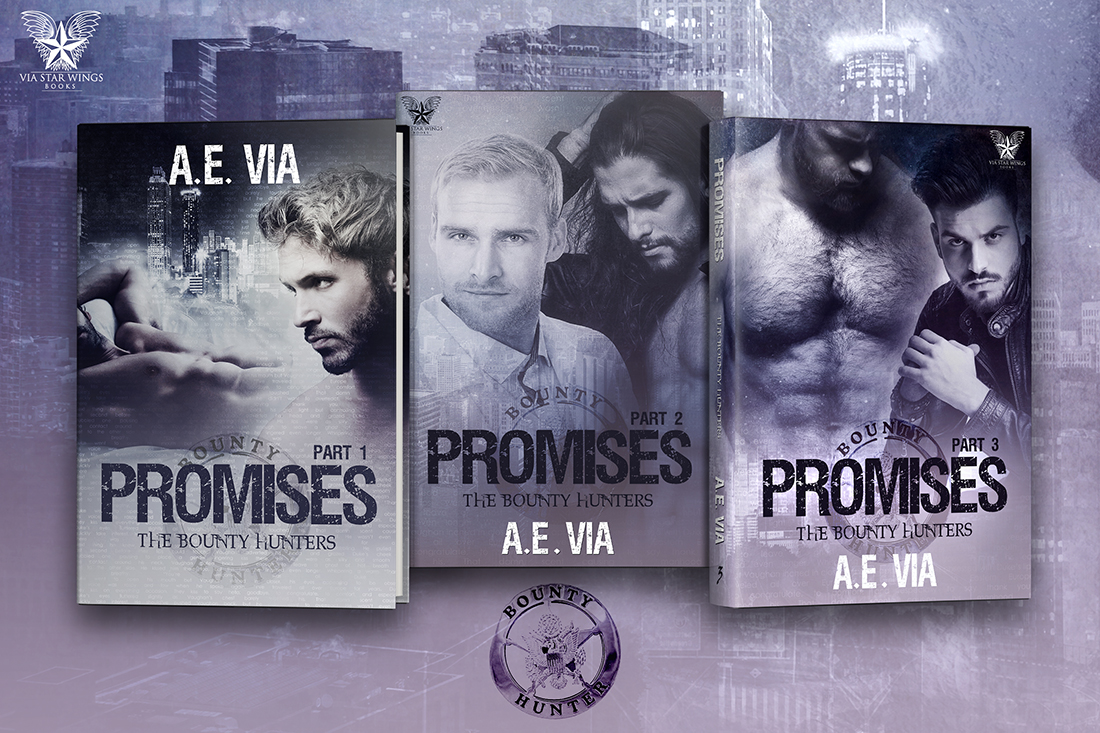 Author: A.E. Via
Book: Promises Part 3
Page/Word Count: 222 pages
Categories: MM Romance, Contemporary Romance, Action
Release Date: June 30, 2017
Editor: Tina Adamski
Cover: Jay Aheer
Buy Links:




Blurb: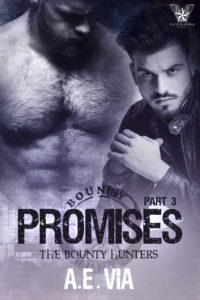 A bounty hunter's partners to lovers' story.
The hunt is on… and he's the prey.
Bradford (Ford) King was sure he had the rest of his life mapped out. Though he was no longer a SEAL Lieutenant, his brother was home safe and he had a job that still allowed him to satisfy his hunger for hunting bad guys. Life was simple, no distractions or complications – at age forty-six – that's all Ford wanted. What he didn't want was his work partner, sniper/watchman, Dana, giving him s**t all the time.
Dana Cadby had grown up labeled a roughneck from the wrong side of the tracks. He'd fought, scrounged, and survived despite a father that constantly told him he couldn't. Dana pulled himself up by his own boot straps and made a name for himself in the marksman community. He'd been Duke's bounty watchman for five years. It was his job to ensure their safety, watch their backs. At thirty-three, he was trusted, well respected by his peers, his bosses, his friends… so why couldn't he earn the same respect from his partner?
Dana knew he was bisexual before he graduated high school. He also knew he was attracted to the huge, 6'3", SEAL from the moment he and his brother came to join their team. It wasn't easy for him to tamp down his immediate reaction to Ford's thick muscles, full beard, and dark eyes. Still, Dana exhibited nothing but professionalism towards him, not wanting to make his 'straight' partner uncomfortable.
After Dana took back his ex-girlfriend, he'd noticed an intensification in Ford's bad attitude. One that turned aggressive and downright antagonistic, and Dana was damned if he'd just lay down and take it. He was gonna make that man respect him if it was the last thing he did.
When Duke sends Dana and Ford out to track down their most dangerous bounty yet, they both embrace the fact that they make one hell of a team… but they fight tooth and nail against the powerful intimacy brewing between them.
Beware: When Ford and Dana connect, no fugitive can hide from the hunter and his watchman.
This story is a part of a series but can stand alone. It does not end on a cliffhanger and has a HEA.
Disclaimer: This book is about MM romance, albeit there is a very brief MF scene.
Excerpt: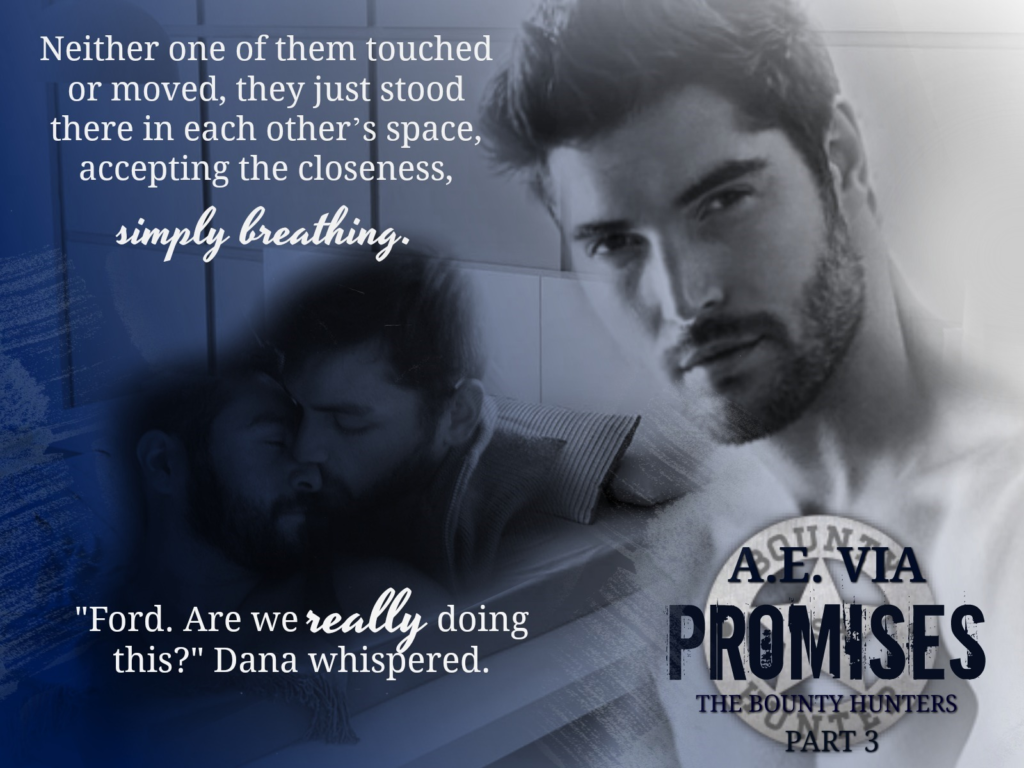 Ford's hold around his entire upper body kept him from being able to do anything but snarl his frustrated words. "Why, Ford? You've been an ass ever since I got back with her." Dana struggled, getting more pissed off by the second. "Answer me. Why don't you want me with her?"
"Because you deserve better than that," Ford said too quietly for the other guys to hear, and let Dana go.
When Dana rose up, he saw Ford's broad back heading towards the locker rooms. Quick stood with the other guys, a confused expression crossing his face before he turned away, shaking his head in disgust. When Dana walked by, Duke grabbed his arm. "Whatever's going on between you two, you better fix it, and fast. I need the two of you working together, not against each other."
"It's all good," Dana said with little conviction and headed to the back of the gym.
Dana was coming through the locker room doors just as Ford was coming out with his bag slung over his shoulder. He hadn't even bothered to change out of his sweaty clothes. Dana frowned, hoping they could talk this shit out. He refused to let Duke pull him off the streets because he and his partner had personal beef. Ford might be okay with that, but he sure wasn't. Dana grabbed Ford's bicep when he tried to brush by him. "Hey."
Ford looked down where Dana's hand held him. It took a few tense seconds before Ford's eyes traveled up Dana's upper body to his face. When they finally locked eyes Dana thought he saw something in Ford's hard glare, but it was gone before he could process it. "Did you mean what you said?"
"I never say anything I don't mean." Ford's voice was gritty and harsh but his words weren't. "You deserve better than her."
Dana couldn't help staring at Ford's firm lips and the sexy, dark hair surrounding them. He wasn't sure when they'd inched in closer, but somehow they were face-to-face. "Did you have someone better in mind, Bradford?"
Ford's mouth parted a fraction but nothing came out. When it looked like he was about to answer, the locker room door burst open – a maintenance man – breaking whatever link was building between them. Ford pulled his arm away and turned back to the door, never answering Dana's question. If only they hadn't been interrupted. Dana growled in annoyance. All he'd needed was ten more seconds to confirm his crazy, but hopeful, suspicion. Did Ford find him attractive? He'd assumed Ford was straight, but he'd also never seen him date anyone, never heard him speak of any hookups. Dana was bisexual, but very few people knew that. It'd been many years since he'd hooked up with a man. Even longer since he'd had a relationship with one.

5✨s – Dana and Ford….and a little bit of Brian…
I'll say that I'm obsessed with Brian and I cannot wait for his story; especially with Sway, although I have a feeling something bad's gonna happen because they're so lovey already and I don't want that to end. Fingers crossed.
In saying that, let's talk about Dana and Ford.
Ford is grouchy and kind of a jerk in the beginning, these guys, I swear, none of them know how to talk to each other. Dana's had feelings for Ford for the last several years, but Ford never gave him any indication that he wanted anything from him, even friendship as of lately… Dana was lonely and it surprised me that he had such a low opinion of himself. I guess with the dad he had and the girlfriend he barely tolerated, it would be easy to see why he had such low self-esteem. I have to say, with the girlfriend, I thought she was going to be more trouble than she was. I thought for sure that she had something to do with the guys that they were after… I was surprised and a little disappointed that she didn't get called out and humiliated more than she did. I would've liked to have seen that. I was not a fan….
But, like I said, Dana was lonely and she liked him, so he wasted a lot of time with her, too much really… and because of that, I feel like Ford didn't trust him and he was already battling his attraction to him, in the most hateful way… Everybody could see their attraction to each other, but them… I was glad that Dana was more the outspoken one and finally made his intentions clear…. Then everything was downhill from there. I loved these two together, They aren't my favorite, in this series… I truly think that Brian and Sway will be, but, I have high hopes for them and I was so glad to see them put everything behind each other and finally admit they wanted each other… then that they loved each other…
When something happens to Dana, my heart broke for Ford… he went from the broody, unfeeling guy to an absolute wreck. I liked seeing that side of him because it made him more human to me. There were a few hiccups, nothing angsty or terrible, just life and misunderstandings… I loved the way it all got handled and I loved the way it ended…for now. These guys are perfect for each other… and once I picked it up, I didn't put it down until I was finished.
Another great addition to an already great series.
In case you haven't noticed, I'm REALLY looking forward to Brian and Sway… I'll be impatiently waiting for the next one.

4✨s – The Bounty Hunters are back! This time its Ford and Dana's story, and their three year partnership has become strained. I really enjoy getting alternate POV's for characters and the extra insight. Dana is bisexual and he has always wished Ford would see him as more than a too young and bratty work partner. Needing companionship, Dana has gotten back together with his girlfriend and Ford isn't happy. Ford is too afraid to ever open up about his own feelings but he can't help his jealousy. However, it turns him into one angry jerk, and Dana can't figure it out.
AE's specialty is creating tough, muscled, bearded & goateed, all-alpha, crimefighting brotherhoods and every one of them has a soft, squishy, romantic center they resist admitting to. It took quite a while for Ford to let his marshmallow heart out and in the meantime, there's a case to work. There was the usual degree of hot action, mayhem and an exciting finish. The part I didn't care for was just the first few chapters, which showed too much "interaction" between Dana and the girlfriend he's too soft hearted and chicken hearted to break up with. Even though she had a necessary role, there was too much "showing", when "telling", at that point, would have made little difference to the plot. (IMO)
Still, it picked up quickly after that with a kick-butt chasing-down-the-criminals plot. There's also some POV from Brian, as his story is up next and it ought to be hot! I was also happy with the improvements in editing and proofing. I've been hooked on Via's stories since Nothing Special, when God and Day strolled onto the scene. I think Ford and Dana remind me the most of them, out of all the books. Recommended for all alphas and action fans!
About A.E. Via:

A.E. Via is an author in the beautiful gay romance genre and also founder and owner of Via Star Wings Books. Her writing embodies everything from hopelessly romantic to adventure, to scandalous. Her stories often include intriguing edges and twists that take readers to new, thought-provoking depths.
When she's not clicking away at her laptop, she devotes herself to her family—a husband and four children.
Adrienne has tons of more stories to tell, so be sure to visit her site to learn more! Go to A.E. Via's official website http://authoraevia.com for more detailed information on how to contact her, follow her, or a sneak peak on upcoming work, free reads, VSWB submissions, and where she'll appear next.
Where to find A.E. Via: