DUELING REVIEWS: Renewal by Helena Stone

Author: Helena Stone
Book: Renewal
Series: Dublin Virtues, Book #3
Page/Word Count: 183 pages, 64K words
Categories: Contemporary Romance, Gay Romance
Release Date: June 20, 2017
Publisher: Pride Publishing
Buy Links:



Blurb: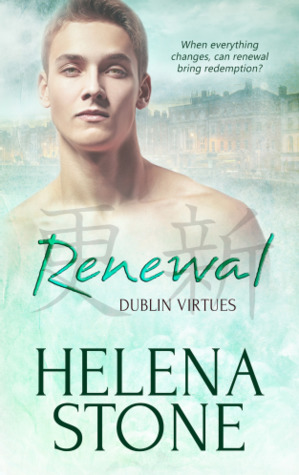 When everything changes, can renewal bring redemption?
Shane Boyle left Dublin for America, burning most of his bridges, certain his future lay in Florida. When a family crisis forces him back to the city he grew up in, he knows his life will never be the same again. With his sister close to death, his mother and five-year-old nephew Danny need him not just to be around but also to be the rock they can depend on. Torn between panic about his new responsibilities and despair at his impending loss, love and a relationship are the last thing on his mind.
Chris Anderson left Australia for Dublin ten years ago with no intention of ever going back. For reasons he can't explain, even to himself, he hasn't been in a relationship for almost as long as he's been in Ireland. Now thirty-five years old, he wonders what happened to his dream of a lasting bond and a family to call his own.
When Shane and Chris hook up one night in a pub, neither knows that the next day they'll meet again, this time as colleagues in a tattoo parlour. Chris has no idea about Shane's dodgy past and Shane can't figure out the mountain of a man who refuses to take no for an answer. Having to reinvent his whole life is only the start of Shane's process of renewal. Will Chris turn out to be his savior or his downfall?

3.5✨s – Renewal is the third book in the Dublin Virtues series and honestly, my least favorite. We've read about Shane throughout the entire series and he is nothing short of a complete and total jerk (I'm using a P.G. word, but I can think of plenty of colorful words to describe him better). I'm all for the jerk learning lessons and getting his HEA, but frankly, Shane didn't do anything to deserve it in this book until about 60% of the way through and even then I can't say I was rooting for him.
Chris works for Troy at the tattoo shop that Troy owns. The same shop that Troy was supposed to own with Shane before Shane left him high and dry to pursue his dreams in America. When Troy's former employer asks Troy to lend him a tattoo artist one day a week for a month, Troy agrees to send Chris. Chris and Shane meet at a bar the night before and have a random hookup although Chris would have liked it to be more.
Chris is pleasantly surprised when he arrives at Barry's shop to find that he's been paired with Shane for the days that he'll be working there. The first day Shane is cold, standoffish and won't tell Chris why he's acting that way other than to keep repeating that Chris needs to get the story from Troy.
Troy and Xander deliver their history with Shane to Chris with a warning that Chris would be better off staying away from Shane although they do say that Chris is a big boy and can make his own decisions. (Big of them)
Shane returned to Dublin when he found out his sister was dying. He's left as the guardian of his young nephew and as a man accustomed to living for nothing more than quick sex and work as a tattoo artist, becoming a full-time parent is a huge change.
Okay, I get that Shane is going through a lot. Anyone in his position would have a difficult time. The storyline writes in abandonment issues which I get as it relates to Shane's dad, but I think is a stretch when it was about his nephew's dad splitting.
Chris is a nice guy. He's gorgeous, he goes out of his way to be there for Shane and isn't pushy in anyway and yet Shane is horrible to him over and over again. If I were reading a paperback, I would have thrown the book a few times. There is absolutely no way I would have let a friend of mine such as Chris pursue someone like Shane. Chris deserves a HEA, but I think he could have done so much better than Shane.

4✨s – Alright, so… I've come into this one, not realizing that it was book 3 in the series… I know, I know…my fault… It didn't really take anything away from the story though, but it did make me want to go back and read the other guys' stories, so I've already bought the first two…. It's that good!
As anyone who knows me, knows I'm a sucker for a hot guy with a kid/kids. This story didn't disappoint. Shane, I guess as it seems from previous books that he was a bit of a selfish twat… Using people until he was done with them and then off to better things and what have you. But, as we get to know him in this book, he wasn't that way at all. My heart broke for him and the things he's gone through in his life, and most especially what he was going through at the time he meets Chris.
Chris meets him at a bar the night before helping out a friend at a local tattoo shop, Chris and Shane are both tattoo artists, but it's there he runs back into Shane. Shane is broody and exhausted and got quite the attitude at first. He doesn't get close to anyone and he's bent on pushing Chris away, unable to figure out what he wants with him…. But, Chris is patient and understanding and he knows in his gut that there's more to the story than what Shane is showing.
Honestly, people grieve and do things in their own way, especially to spare their feelings of getting hurt, but I didn't blame Shane a bit for his actions, although I wish he wouldn't have burned so many bridges before he needed people in his life. I'm so glad Chris was relentless and patient with him… he needed to show Shane that he wasn't going to up and leave and he was so great with Shane's nephew, Danny. That was so cute… like I said… sucker for hot guys with kids!
I cannot wait to go back and read the others, although I suspect it won't paint Shane in the best light. At least I'll know that he redeems himself and gets his HEA in the end. I really enjoyed it and hope there's more to this series, coming!
About Helena Stone:

Helena Stone can't remember a life before words and reading. After growing up in a household where no holiday or festivity was complete without at least one new book, it's hardly surprising she now owns more books than shelf space while her Kindle is about to explode.
The urge to write came as a surprise. The realisation that people might enjoy her words was a shock to say the least. Now that the writing bug has well and truly taken hold, Helena can no longer imagine not sharing the characters in her head and heart with the rest of the world.
Having left the hustle and bustle of Amsterdam for the peace and quiet of the Irish Country side she divides her time between reading, writing, long and often wet walks with the dog, her part-time job in a library, a grown-up daughter and her ever loving and patient husband.
Where to find Helena Stone:





June's Blog Contest:
Leave a comment for an entry into a contest to win a $25 Dreamspinner Gift card. Every comment left on a blog post in June will equal one entry, so comment often!