DUELING REVIEWS: Stuck With You by Jenna Kendrick

Author Name: Jenna Kendrick
Book Name: Stuck With You
Series: Reinvented, Book #1
Page/Word Count: 164 pages
Categories: MM Romance, Contemporary
Release Date: January 8, 2016
Buy Links:





Blurb: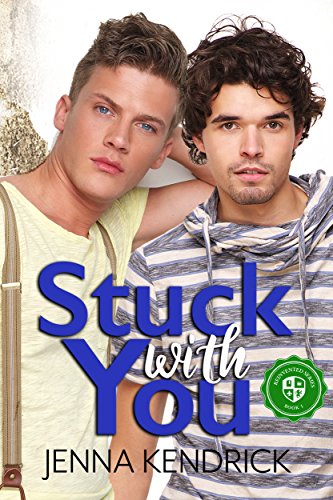 The Assignment: Discover if forced proximity leads to increased intimacy by being handcuffed to a partner for five days.
Jamie O'Connor's closet is tightly closed and full of secrets. Attending college on a baseball scholarship, he's hiding an injury along with his sexuality. A college degree is the key to escaping his family's oppressive expectations. Until he graduates, he needs to play ball, both on the field and off. Being partnered with an openly gay classmate for a sociology project threatens to put more than just his free college ride at risk.
Seth Lerner's closet is empty, but that's because his baggage is always right by his side. Managing his severe ADHD while trying to overcome an earlier setback leaves him little time for any kind of social life, much less a relationship. He certainly can't afford the distraction of falling for his closeted project partner.
Neither Jamie nor Seth plan on letting this assignment get in the way of their objectives. But secrets come out and goals change when you're stuck together.
Excerpt:
Seth looked over at Jamie as they crossed the once-again hushed campus, students breaking off from the pack as they approached their own dorms. After taking off in his usual rush, Jamie had shortened his strides to match Seth's, but his long fingers repeatedly squeezed around the hat he continued to hold as if barely containing his temper.
"Mari was only taking a wild-assed guess." Seth attempted to break the silence. Jamie glared at him and picked up the pace.
The short walk felt like a death march. Seth's thoughts kept cadence. Left foot, Jamie's voice in his head whispering "I'm gay." Right foot, a reminder of how conflicted he'd felt all day, wagging his tail like a puppy at Jamie's praise and then feeling like he'd soiled the carpet when that affection had been withdrawn. This was why he didn't do people. Except Mari. And she'd turned on him, too, and gone out of her way to turn Jamie against him just when Seth's tail started twitching again.
I've spent too much time with Grand's dogs.
They climbed the three flights of stairs to his room, and Jamie shifted his feet impatiently while Seth shoved numb fingers into his jeans pocket. Nerves and cold made him drop the key. With a grunt, Jamie bent to retrieve it, then hip-checked Seth aside to insert it into the lock. He pushed the door open so hard, it bounced off the wall, and he raised his arm in time to prevent it from hitting his face on the rebound. Seth was leery of entering the room with the clearly angry guy, but Jamie didn't give him any choice, tugging him inside before slamming the door shut.
"Jamie, I'm sor—"
Jamie pushed him roughly against the back of the door. Seth's head hit with a crack. Oh, shit! As he raised his arms to defend himself, Jamie's lips crashed against his own. Seth's breath left him in a whoosh, sudden fear replaced just as quickly with excitement. Jamie's tongue dove into Seth's mouth, its hot sweetness bringing his entire body to attention. When Seth tilted his head to a better angle, Jamie slid his hands up Seth's arms and drove his long fingers into his hair, forcing him to stay still as Jamie tasted and explored, nipping Seth's lips with his teeth, stroking Seth's tongue with his own. If their first kiss had been a shy hello, this was an entire conversation. Jamie's hands enveloped his head like a helmet, palms cupping his jaw on both sides and thumbs stroking over his cheekbones while his fingers rubbed gently at the spot where Seth's skull met the door, soothing the hurt. His hands were icy from the snowball fight, and Seth shivered.
The goosebumps on his skin increased the sensation as Jamie's body pressed against him. Even wet and chilled through, feeling the hardness of Jamie's jeans-covered cock acted as a match to kindling, instantly heating him up. He wanted to move, to get more of that delicious friction, but squeezed between Jamie and the door, all he could do was feel whatever Jamie chose to allow him. With Jamie's hands holding his head still, the only place Seth could rest his own within the confines of the tether were around Jamie's neck.

3.5✨s – This was a touching coming of age story. I enjoyed the balance that grew between Seth and Jamie. Yes it was somewhat forced by circumstances yet came across as if fate had some hand in it as well.
Jamie was exhausted by hiding. Hiding his sexuality, hiding his attraction to Seth all while living in fear of his dad. Felt like he would explode at any time. When he opens his heart much of that fear flees, giving him some much needed breathing room.
Seth was incredible. His coping mechanisms included a very sharp tongue were very real and familiar (hello OCD!) He is out and proud, falling deep and fast for Jamie, willing to settle for a bit of happy now in secret.
Loved both of their inner dialogues, especially when Seth spoke his inner words out loud! Felt the character development was well written for both MCs.
Both men realized they didn't have to be islands, their friends and some family wanted to be there for them, creating a bit of a safe haven for both of them.
HFN was realistic, leaving the future open to the hopes of the reader.

3.5✨s – Ok, I've gotta say I'm on the fence about this one.
We have two dudes, Jamie and Seth who are tackling an assignment that means they have to handcuffed to each other for five days. Polar opposites, one closeted, one out and proud, one going through mental health issues and one trying to hide an injury because he's on a baseball scholarship…. What could possibly go wrong? Let's talk about….
I'll try to be as spoiler free as I can.. But, ya'll know me, I sometimes get a little ranty so just skip to the next review, or hear me out; I said I'd try!
Ok so, in a class that they take together, to be exempt from taking the final exam, they both agree to participate in this assignment. It was difficult at first because maybe one or the other was already attracted to the other and one of them was in the closet and the other wasn't interested in being with anyone in the closet. And who could blame him, that'd be awful. It was also tricky because they were very different people, and Jamie was a little bit of a jerk in the beginning. You know the homophobe types are like that a lot of the times because of the PHOBE part. He was scared of anyone finding out, especially his dad or his team; which I understood but, sometimes his remarks and the things he done to prove he was hetero, were over the line. I didn't like that. I didn't like that for Seth and honestly, it made me just not like Jamie very much.
This story is told in both boys', POV, so we get to see everything from both sides, which I liked. It doesn't take long for things to take a turn, things heat up and steamy things happen… so of course, Jamies going to ruin it…I knew he would and I was waiting for it! and he did, epically, at a dance with his "girlfriend", especially…. I really felt for Seth; he just kept getting the crap end. It just seemed like the poor kid couldn't win. He was constantly getting hurt or getting his feelings hurt. I just wanted to hug him. I'd have totally been his BFF.
They both had really good, supportive friends though, I liked that aspect. Especially for Jamie, they all new or figured it out and it wasn't a problem. They didn't sugar coat it when he hurt Seth like he did and they didn't hesitate to tell him when he was being an A hole. I liked that too because that's who you know who your true friends are. The ones who call you on your crap.
I was also glad to see Donny not get away with his bigoted bullying. I mean, he did for a while and I don't think that just finding him slinging such hateful words was punishment enough, I would have liked to have seen him get expelled or… ya know, beat up or something really terrible so I could have felt vindicated or just a little bit like we got some karmatic justice. But, alas… it did not happen so I'll just have to give it my own little twist, and pretend it happened.
Other than that, it wasn't a bad story, this is the first book I've read by this author and I will check out her others. Like I said, though, I really liked Seth and I'm glad it ended happily for him; alls well that ends will, I reckon… I just, dunno, I just didn't really ever get over my aversion to Jamie.
I was given a copy of this book by its publisher with the promise of an honest and unbiased review.
Teasers: Click to Enlarge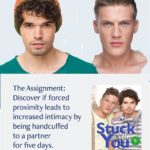 Author Bio:
Jenna Kendrick writes contemporary, new adult, and paranormal romance about smart guys with a propensity for snark. Jenna went to a small college in the woods of Western Massachusetts, where she alternated between bare feet and hiking boots and used dining hall trays as a mode of transportation in the winter. She fell in love with creative writing after writing a satirical essay to get out of yet another literary analysis assignment. Unable to choose a coast or climate zone, she bounced around the country before settling in Upstate New York. She lives with her husband and several furry creatives, some of whom think of her desk as their own. This may be why Jenna's developed a sudden urge to write about shifters.
Where to find the author:







Giveaway:
a Rafflecopter giveaway