DUELING REVIEWS: Tate by Ella Frank

Author: Ella Frank
Book: Tate
Series: The Temptation Series, Book #5
Page/Word Count: 274 Pages
Categories: Gay Romance, Contemporary Romance
Release Date: September 12, 2017
Buy Links:


Blurb: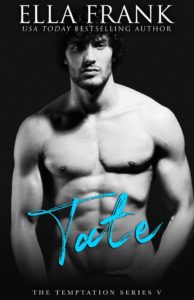 William Tate Morrison – The man who came into my life and turned my entire world—and me—on its ass.
Logan Mitchell has always been a man with a plan. One for work. One for his relationship. And one for his life. Which is exactly the way he liked it—until recently. Now with words like marriage and weddings floating around his head, Logan's plans have suddenly changed course, and where they want him to go has him feeling somewhat distracted.
Tate Morrison knows Logan better than anybody else—or so he thinks. So when his lawyer is finding it hard to sleep at night, he chalks it up to the craziness that has recently descended on their lives. Never in a million years would he guess what's really on Logan's mind.
Tate is the fifth book in the Temptation Series, and the next chapter in the lives of the two men we have all come to know and love.
Excerpt:
When Logan came to a stop in the doorway, he spotted Tate seated cross-legged on the floor in amongst piles of books, DVDs, and paperwork in various files and binders. There was stuff everywhere, and when Tate looked over his shoulder at Logan, he couldn't stop himself from smiling at the picture he made.
Tate was wearing grey sweats and a faded green t-shirt with some band he'd seen years ago printed on it. But that wasn't what had Logan crossing to him, wanting a kiss. No, that'd be all those damn curls. They were sticking out all over the place and framing his face as Tate aimed that charming grin of his up at Logan.
Logan bent down and pressed a kiss to those curved lips, and Tate hummed and gladly returned it. "Looks like you've made some progress," Logan said.
Tate looked around and nodded. "Yeah, a bit. God, that smells amazing."
"Here." Logan handed him the box. "No point in moving. I'll grab some paper towels and drinks. What do you want?"
Tate put the pizza box down in front of him. "A water."
Logan shook his head and then headed out to the kitchen, calling over his shoulder, "I'll never understand how you drink water with your pizza. That's just wrong."
"I've always had water with it. Habit, I guess. Oh, hey? Are you still okay with going to Jill's this weekend?"
Logan grabbed the paper towels, a Coke and water from the fridge, and then walked back into the study, tossing the bottled water. "Yeah, of course. I assume you decided it would be a good idea?"
"I don't know that I'd go that far. But I want to see my nephews, and I'd really like you to meet them and my friends."
Logan tried to keep his face neutral as Tate's words went straight to his heart. But damn, not only was he proud of Tate, he felt incredibly loved by him in that moment. "Then we should go."
Tate flipped open the pizza box and scooted over to make room for him, and as Logan took up the vacated spot, he let his eyes wander around the disaster zone and cleared his throat. "This room is a mess."
Tate tore off a paper towel and then picked up a slice of the deep-dish pepperoni they'd decided on. "I'm thinking it'll probably take us the longest. Who knew we had so much junk in here?"
Logan reached for a DVD set sitting on the top of the pile and screwed his nose up. "He-Man and the Masters of the Universe? Really? I think we need a trash pile. Have you started one of those?"
"Hey," Tate said around a bite of his pizza. "Don't even think about it. I grew up watching that."
"The important part of that sentence is you grew up." Logan flipped the DVD over in his hand, read the back of the box, and then raised a questioning eyebrow. "This might actually explain a few things about you."
"Really?" Tate rolled his eyes. "Then it must also explain a few things about the majority of young boys in the eighties. That was a popular show. You aren't throwing it out; it's nostalgic. Plus, you never know, if you sat down and watched an episode with me, you just might like it."
"Highly doubtful." Logan put the box down and reached for a slice of pizza.
"Okay. Okay. I know you were more into books than TV," Tate said, as his eyes went to the mountains of literature stacked in piles against the far wall. "What was something you read as a boy? Is it in one of those piles?"
Logan swallowed his mouthful of food and looked over at the books while Tate kept on talking.
"I mean, there are some pretty old-looking ones mixed in there with the autobiographies, textbooks, and National Geographics."
Logan looked back to Tate and narrowed his eyes. "Pretty old ones? What am I, sixty?"
Tate unscrewed his water and took a long gulp, draining half of it, then put the lid back on and set it down. "Nope. About to turn thirty-eight, last time I checked."
"How about you stop checking?"

5✨s – Nooo!! Why the cliffhangers??? I should be used to it by now with these guys, but it was just getting perfect!
It's no surprise, that Tate and Logan are absolute favorites of mine, as well as so many others. It's so easy to get caught up in them, it's hard to imagine them NOT being real people. I'm so invested, I wanted everything to work out perfectly for them. In the beginning of this book, everything is amazing; I was a little skeptical about Tate's family, because… I dunno, I just wasn't ready to forgive them I guess, especially that sister. Ugh… but she grew on me. His dad really pulled through in this one and I was so happy to see that. Especially when Tate needed him so bad.
Of course, with the good, comes the bad and my heart shattered. I wish I could tell you why, I wish I could gush about it, rant and rave about it… but, lemme just say that with these two… it's it. There is no breaking up. So, while things might get hard and feelings get hurt or someone says something stupid… it's not the end for them. They're it. I'll admit, I did get worried, but I shouldn't've, because I knew that.
I'm still so curious about Priest and Robbie. I cannot wait to see what happens with them and I do hope something does. Nobody can be that irritated by someone else without there being something there. Priest will be a hard nut to crack though. I have a feeling it'll be worth it though, I'll be rooting for them…
Aaaaand, as always, even though I hate cliffy's and I promise not to read another book with one, I cannot wait to see what's next for these two… after this book, they deserve all the happy! I'm so glad Tate came around. Awesome addition to an already awesome series! Looking forward to the next one!

4✨s – Tate , bad-boy bartender and Logan, the sophisticated, sexy attorney, are one of the"celebrity" book couples of MM erotic romance, in my opinion. The GFY/OFY/BiFY trope was taken to new heights in the first trilogy and it's fun returning after 4 years to have Ella Frank tease us about an ultimate HEA for these two. This novel includes a lot of changes in Tate and Logan's lives with new people and new locations, plus issues appearing from the past, that Tate has to face. It can be difficult for anyone to maintain their equilibrium in the face of major upheavals. Tate and Logan face an unexpected obstacle that tests their bonds, and caused me to consider hurling my tablet into the wall. Be prepared and have tissues at the ready!
I had to give this one some thought though. While the story still has all the same chemistry and heat, their characters in the latter half of the book didn't feel quite the same. The plot gave plenty of reasons to account for such a shift, yet their actions still didn't quite match my expectations. It was nothing major, just something that made my brain itch and other readers will probably never notice a thing. I think we will all agree that the erotic content is hotter than ever! Up-against-a-pillar-suit-porn FTW! Most of the secondary characters from prior books have roles in this one, and there's a definite build up for a spin-off story with Robbie.
Tease, book four, was quite aptly named since there wasn't much action, but it refreshed the characters and set up all the elements to make this book pivotal. It's easy to strongly recommend this to the legions of fans that want to see Tate and Logan's journey continue and to the new readers that will get the whole experience. Now I shall commence to tap my foot impatiently for the next chapter of Tate and Logan's lives.
Teasers: Click to enlarge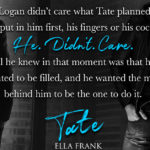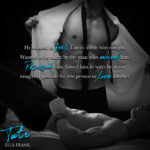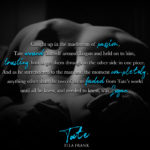 About Ella Frank: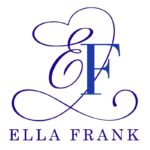 Ella Frank is the author of the #1 Bestselling Temptation series, including Try, Take, and Trust and is the co-author of the fan-favorite erotic serial, A Desperate Man. Her Exquisite series has been praised as "scorching hot!" and "enticingly sexy!"
A life-long fan of the romance genre, Ella writes contemporary and erotic fiction and lives with her husband in Portland, OR. You can reach her on the web at www.ellafrank.com and on Facebook at www.facebook.com/ella.frank.author
Some of her favorite authors include Tiffany Reisz, Kresley Cole, Riley Hart, J.R. Ward, Erika Wilde, Gena Showalter, and Carly Philips.
Interview with Ella Frank:
What is your writing process? (i.e. plotter or panster, explain)

You know…it has changed over the years. I used to be a total pantser, but when I started to co-write I had to start plotting out the book with my co-author Brooke Blaine, so we knew what was one the others mind as we were writing. Now I find that when I am writing solo I like to have a bit of an outline but not overly detailed. I like having points and facts that I need to reach, but then I just go for it. So I'm still a bit of a pantser when on my own LOL. But around others…I put some on and plot out. Bahahah

What is the hardest part of that process for you?

Starting a brand new series, for sure! Getting to know brand new characters always takes a little while for me. I can write several version of first chapters when I'm trying to find my people. I think I wrote around eight different openings to Veiled Innocence. But once I find it, it's like it all clicks in place and I have that ah ha! moment.

What one piece of advice would you give an aspiring writing considering that leap for themselves?

Write a story you love. It's much easier than writing something that you aren't inspired by. Then, make sure you get an editor. It might cost you a bit of money upfront, but if it's your first step into the publishing world you need to know that a self-pub book is just as polished and professional as a trad published book. The expectations are no different because you are doing it yourself. Read up about the world you are entering. There are so many articles out there about self-publishing now there is no reason you can't educate yourself on how to go about the process. And talk to people. Join groups, interact, get to know people. It's a fantastic world, and once you are in it you will just fall in love.

What do you think makes a good story?

Character development. I love creating worlds where people feel as though they really know the characters they're reading about. I love flashbacks, to deepen and layer books, and I think it's important to always have reasons and justification for the actions of your characters…even if that justification doesn't always make sense. LOL!

Do you have any strange writing habits or rituals?

LOL! Yes. I wake up at 4am when I'm in the middle of my writing schedule. I find that the six or so hours I can get in from 4am on are the most productive for me. It's quiet, uninterrupted time where I feel like I can get the most accomplished.
5 Fun Quickies
Favorite curse word:

Fuck

You're auditioning for American Idol, what's your song?:

Look What You Made Me Do

Over or under (toilet paper, of course):

Under

Weapon of choice: Is this if I was a superhero?

Umm…laser eyes like Superman
Evil mastermind, easily convinced partner in crime, or innocent bystander: I'm an angel…always 😉
Where to find Ella Frank: