DUELING REVIEWS: Threepeat by K.C. Wells & Parker Williams
Author: K.C. Wells & Parker Williams
Book: Threepeat
Series: Secrets #3
Page/Word Count: 340 pages, 122K words
Categories: Gay Romance, Erotic Romance, Ménage/Poly Romance
Release Date: August 21, 2018
Publisher: Dreamspinner Press
Cover Artist: Reese Dante
Buy Links:







Blurb:
Can two Doms open their hearts again for a young man desperately in need of their help?
Two years ago, Aaron Greene and Sam Thompson were devastated when their submissive broke the contract that bound the three of them together. They still wonder what happened and whether they can find a way to move forward. When Aaron finds a sick young man by the curbside, his protective instincts kick in, and after consulting Sam, he takes Tim home.
After being thrown out of his home, Tim Waterman finds himself on the street, doing whatever he needs to survive. Until a bear of a Good Samaritan scoops him up and saves him. Then one bear becomes two, and a chance discovery gets him thinking about what might be, if he's bold enough to make a move.
So what happens when Aaron and Sam wake up one morning to find Tim naked in their bed? Will they get a new chance at life, or will history Threepeat itself?
---


4✨s – The team of Wells & Williams takes yet another emotional journey into the world of love and kink with Sam, Aaron and Tim. Despite both being dominant, Sam and Aaron have maintained a strong, loving relationship in the aftermath of losing their submissive. For two years Aaron has resisted Sam's efforts to visit Secrets, see their old friends and perhaps meet someone new. Then Aaron rescues Tim from the streets, sick and starving and throws himself into helping the young man get well. Sam isn't completely trusting but worries for him too, so eventually they offer Tim a job as housekeeper and a permanent place in their home. Months later, Tim comes across unexpected information about his rescuers and sees a way to satisfy a need he feels in himself and perhaps make his benefactors happy too.
It's a fairly long book because the authors don't just throw them all into sex scenes, using well-paced coverage of months before Tim even broaches the subject of submission. There are discussions for each step they take, since Tim is mostly virginal and needs education about the lifestyle Aaron and Sam prefer, a Master/slave contract. There's not a lot of BDSM and it's quite mild, although in my opinion, tickle torture is grounds for murder (but that's just me). Finally visiting Secrets, which replaced their former club, they meet Jarod, Eli and Rob and then Tim meets Maggie, Jarod's mother, forming a strong bond, gaining a confidant and knitting instructor. There is a substantial age gap, the men both in their 30's I guess (that wasn't really clear) but Tim is only 19, making him sound juvenile sometimes but it didn't quite reach the childish tone sometimes used for subs in similar stories. Most of it, I chalked up to the Master/slave dynamic, which is not a favorite of mine and colors my view. Yet Tim is mature enough to sense and draw out desires that his lovers hide, even from themselves.
What stands out the most in both this book and series, as it did in Collars and Cuffs, is the sense of family the authors cultivate within the club setting. Different couples, club members and relatives become entwined in each other's personal lives and establish loyalty and affection. That familial dynamic is showcased when the threesome hits a crisis point in their happiness. The couples may be very idealized versions of people who practice BDSM but it's the love stories and emotional connections that stand out every time. The level of kink is always matched to the characters, their backgrounds and the romance trope. This low-conflict, no-angst installment can be read as a stand alone, however with many previous characters appearing, it's nice to know their history too. If you enjoy your kink mostly on the lighter side with strong romantic feels and an ensemble of close-knit characters, every book in the series is a wonderful choice.

5✨s – Very bad of me but this is the first book in this series I've read. I know, it's really bad but I can tell you that it did nothing to detract from my enjoyment or understanding of the story. It was clear that other couples had their own story and I am definitely going back to read them. I'm a big fan of Collars and Cuffs by K.C. and Parker so I had high hopes for this book and wasn't disappointed. We start off with an established couple, Aaron and Sam, just going through the motions of life after their previous sub, Sebastian, asked to be released from a contract with no explanation. It's not until Aaron finds Tim at the side of the road, really sick and obviously struggling, and brings him home to care for. It's what both men do best but it's Tim that is also good for both men, helping them to move on from Sebastian and realise what else could be possible in their future. As I said, I'm a big fan of K.C. Wells and Parker Williams. Their character building and the setting that they establish for the men to live in is wonderful to read. So easy to fall into and become immersed in the world of the three men, and their family and friends who give support and love in times of need. The two Doms, Aaron and Sam, show their care and support towards Tim in the obvious physical ways but offer him so much more in, initially, friendship, and so much affection as it's easy for them to give to such a selfless man. Tim's reasons for being on the streets become something that he learns as a lesson and move forward from. His experience of having to search for food and sleep in shelters mean he knows how much it means to have a roof over your head, food in your belly and possibly two hot, adorable men who only want whats best for you. We are given a good, detailed history for all three men. Allowing us to learn them throughout the book both from their own POV's and also through the views and opinions of the other men. We are treated to some hot scenes between them and with Tim being a newbie in pretty much all aspects of sex, let alone BDSM, Aaron and Sam take great delight in showing him how good it all can be! Looking forward to another book for this series and definitely getting myself the previous two to learn more about the amazing men that gave friendship and support to all three of the MC's in this book. I definitely recommend this story, especially to fans of K.C. Wells and Parker Williams. It's also light on the BDSM so could be read by those just getting into the genre/kink. I received an ARC from the publisher and am happily giving a review.
About K.C. Wells: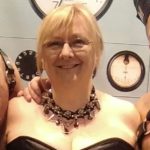 K.C. Wells started writing in 2012, although the idea of writing a novel had been in her head since she was a child. But after reading that first gay romance in 2009, she was hooked.
She now writes full time, and the line of men in her head, clamouring to tell their story, is getting longer and longer. If the frequent visits by plot bunnies are anything to go by, that's not about to change anytime soon.





About Parker Williams:
Parker Williams believes that everyone deserves a chance at happily ever after. He also knows that it seldom comes without a price tag. He writes men who are flawed, but redeemable by love – usually. He writes m/m romance in several sub-genres, but one thing remains consistent: Love is power, no matter who you're in love with.