DUELING REVIEWS: Trick Roller by Cordelia Kingsbridge
Author: Cordelia Kingsbridge
Book: Trick Roller
Series: Seven of Spades, #2
Page/Word Count: 295
Categories: Gay Romance, Mystery & Suspense
Release Date: January 29, 2018
Publisher: Riptide Publishing
Cover Artist: Garrett Leigh
Blurb:
It's the height of summer in Las Vegas. Everyone believes the serial killer Seven of Spades is dead—except Levi Abrams and Dominic Russo—and it's back to business as usual. For Levi, that means investigating a suspicious overdose at the Mirage that looks like the work of a high-class call girl, while Dominic pursues a tough internship with a local private investigator. The one bright spot for both of them is their blossoming relationship.

But things aren't so simple. Soon Levi is sucked into a dangerous web of secrets and lies, even as his obsession with the Seven of Spades intensifies. Dominic knows that Levi isn't crazy. He knows the Seven of Spades is still out there, and he'll do anything to prove it. But Dominic has his own demons to battle, and he may be fighting a losing war.

One thing is certain: the Seven of Spades holds all the cards. It won't be long before they show their hand.

Look Inside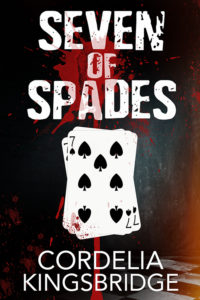 About the Seven of Spades Series:
Las Vegas has never seen a serial killer like the Seven of Spades.
The self-styled vigilante is on a mission to cut down the wicked and treacherous, and Sin City has no shortage of targets for their bloody wrath. What happens in Vegas . . . ends with the Seven of Spades's calling card on a grisly corpse.
Standing against the killer are Levi Abrams, a dedicated homicide detective locked in a constant struggle to restrain his own dark side, and bounty hunter Dominic Russo, a charming rogue with a heavy secret weighing on his shoulders.
The hunt for the Seven of Spades sends Levi and Dominic on a collision course, igniting a passionate relationship forged in conflict and sealed with blood. Together they're stronger than the sum of their parts, but a wily, elusive serial killer isn't the only threat that will strain their bond to the breaking point.
Ante up, because the Seven of Spades is all in. Are you?
---

5✨s – When I read Kill Game, Cordelia Kingsbridge was a new to me author and that book made her an auto-buy. So often, when I love the first book, the subsequent stories pale in comparison, but Trick Roller was a knock out of a book 2. Picking up a few months after Kill Game, the story opens with a promising scene between Levi and Dominic to assure that they are in fact trying their hand at being a couple. It's slow going and has a lot of potential, and doesn't come without its own risks/rewards. There's still police work to be done, of course, and Dominic is trying to make the transition from bounty hunter to PI, and all those moving parts in the story make the characters multi-faceted and more believable.
As Levi works to solve a suspected drug overdose, Dominic is put in the position to face his biggest challenge: a surveillance job that leads him into a casino. Forced to step back, the feelings of helplessness and failure have him reaching out for help and feeling worse for it. As they struggle to overcome one obstacle, the truth about the depth of Levi's obsession with the Seven of Spades killer is revealed, leaving them in a more precarious situation. Not because Dominic doesn't believe, but because he's worried and they're both right to be.
Once again, the author has given us a contained mystery in this book which provides the illusion of a satisfactory conclusion while adding another layer to the Seven of Spades mystery. Hint: the killer is NOT happy and now everyone who thought Levi was crazy knows better. What that means for the next three books is anyone's guess. I still haven't settled on who I think it is, and I'm loving that.
An absolute must-read, in order, and don't wait for all 5 books. Stay on the hook with me, you won't be disappointed.

5✨s – Holy shnikes, what an incredible follow up to the first book of this series! Picking up three months after the events of Kill Game, the story opens with Levi and Dominic finally moving past just occasional dates. Levi also picks up an intricate murder case while Dominic interns with a private investigation team for a law firm. While pursuing evidence, both men find themselves confronted by personal demons and expose some uncomfortable truths to each other. Oh, and by the way, sex scenes should be read inside a walk-in freezer to prevent melting something, sweartagawd. There's not too many but just enough.
The balance of plot elements in the narrative is spot-on, the mystery and suspense never overpowering the romance. Dominic and Levi are still-developing characters, as becoming an official couple means revealing even more of themselves. Dominic draws Levi into his circle of friends, something that Levi is sorely lacking. An unexpectedly tender side of Levi is discovered, connected to the case he's investigating. But the Seven of Spades is still a cloud hanging over them, as almost no one gives credence to their belief he still lives.
I may go more nuts than I already am waiting for the next volume in what promises to be a four book series. I'll be stalking Cordelia Kingsbridge so I can lock her in her writing cave till they're done. Seriously, these are books that can satisfy nearly every taste in contemporary MM romance; just enough mystery and suspense, strong romance and relationship building, hurt-comfort and the right level of heat. While they aren't stand-alone, the endings so far, offer enough closure and satisfaction to not feel like you're left completely hanging while waiting for the next. I can't recommend this book enough!
About Cordelia Kingsbridge:
Cordelia Kingsbridge has a master's degree in social work from the University of Pittsburgh, but quickly discovered that direct practice in the field was not for her. Having written novels as a hobby throughout graduate school, she decided to turn her focus to writing as a full-time career. Now she explores her fascination with human behavior, motivation, and psychopathology through fiction. Her weaknesses include opposites-attract pairings and snarky banter.
Away from her desk, Cordelia is a fitness fanatic, and can be found strength training, cycling, and practicing Krav Maga. She lives in South Florida but spends most of her time indoors with the air conditioning on full blast!
Where to find Cordelia Kingsbridge:





Contest:
To celebrate the release of Trick Roller, one lucky winner will receive a $15 Riptide credit! Leave a comment with your contact info to enter the contest. Entries close at midnight, Eastern time, on February 3, 2018. Contest is NOT restricted to U.S. entries. Thanks for following the tour, and don't forget to leave your contact info!