DUELING REVIEWS: Who We Are by Nicola Haken

Author Name: Nicola Haken
Book Name: Who We Are
Page/Word Count: 271 pages
Categories: Gay Romance, Contemporary Romance
Release Date: March 13, 2017
Buy Links:


Blurb: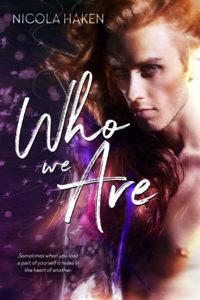 Since putting his life on hold ten years ago, Oliver Clayton doesn't know who he is anymore. To his clients at the hair salon, he's the sassy and confident stylist. To the crowds who come to watch his drag act at the club, he's the fierce and fabulous Miss Tique. He's popular. Talented. Out, proud, and self-assured.
He's also a good actor.
Sebastian Day is content with life's easy, if not a little monotonous, routine. After several failed relationships, he likes the simplicity of being alone in his truck at his job as a heavy goods driver, spending the weekends with his teenage son, and putting the world to rights with his cat, Marv. He's not lonely. He isn't hiding.
At least…he doesn't think he is until he meets the mesmerising stranger with the red hair and purple lips.
Can Oliver and Sebastian help each other embrace who they are? Or will a cruel twist of fate end their journey before it's even begun?
Teasers: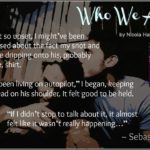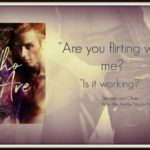 4✨s – When Oliver's mother dies of cancer, he is made the legal guardian of his brother Tyler.  Now that Tyler is a teenager, Oliver is starting to get a little restless with his life.  He put his life on hold when his mom died and has stayed at the same salon doing hair as Tyler grew up.  His venture on the wild side is performing in drag as Miss Tique.
Seb is bisexual and has found that not many people throughout his life have accepted the bisexual label.  He and his best friend had sex once when they were young and the result was Scott, their son.  His best friend was secure in being a lesbian after that one encounter and Seb is secure in being bisexual although he felt the need to hide that to most people.
Oliver and Seb meet while Oliver is working as a waiter one night and their chemistry is undeniable.   They start dating and it's sweet.  Oliver doesn't mention Tyler and Seb doesn't mention Scott and as a parent I can understand the need to keep the kids out of the beginning of a romance.  Tyler is a brat.  Honestly, if he were my kid, he would be grounded for life.  Oliver, on the other hand, leaned towards spoiling him and hoping that would help Tyler open up to him. (When has that ever worked?)
The story takes a dramatic turn about midway through, although I won't give the plot away by saying how….I had a hard time going with the flow from that point forward.  The book began to feel rushed to me.  A serious subject is taken on and yet it felt more glossed over than the beginning of the book when the boys are getting to know one another.
The book is good, but could have been great.

5✨s – This book should be a movie! I'd watch it for sure! What an emotional ride.
First, I had no idea what I was getting into with this story, I hadn't read the blurb, or if I did, I'd forgotten it, because WOW… So, we have …. Twenty years old and just lost his mother, that'd be hard enough right? But, now he's handling raising his four-year-old brother Ty. Could you imagine? He completely changes his life from a carefree, almost adult, to a full time parent with no help.
Cut to, ten years later and although they'd been doing it for a while, on their own… it's still hard. Olli's a hair stylist and has a job he loves, meanwhile doing drag and serving drinks at a bar on the weekends. They're getting by, even though he's up to his eyeballs in teenage drama from his brother, who's confused with teenage stuff of his own. That'd be rough, my heart broke a little for both of them in the beginning. Then, then he meets Sebastian..
Sebastian is a single, bisexual dad who's still best friends with his 15 year old son's, lesbian mother and her partner. Amazing, right? I KNOW! Seb, literally runs into Olli at the club and he's smitten the moment he lays eyes on his beautiful eyes and purple lips. Flirting and a date ensues but both of them are afraid to tell them about the extra people in their lives, they like each other, a lot and they're so cute together and neither of them want to mess it up.
A run in at the kids' school takes care of that and I was pleasantly surprised how they took care of that. It was genuine and real, not dramatic and over the top. Nicely handled.
Just when things are going great between the two families, who have intertwined and made a comfy little family when the unthinkable happens. Don't worry, nobody dies or anything, but ….it came completely out of nowhere and I….was…..gutted.
Olli had already bene through so much in his short life, it was just something else that he didn't deserve. Seb was amazing, they were all amazing, all their friends, Benny and Rhy's, who disappointed me at the end, Benny especially, I hope they have a book next, Benny and Rhyes…Ty stopped being so fascecious after a nice talk with Seb and everyone was just so amazing. Seb being my favorite though, he was so caring and selfless, understanding and patient… I just loved him and I loved him for Olli and Ty.
Everything in this story was genuine and believable. I could honestly see it being made into a movie, I hope for it actually, it's that amazing! I loved the life lessons and message it sends. Accepting yourselves and others and dealing with all the faucets of what LGBTQ means… there were a couple quotes in there that I loved so much and I just loved how it was all handled. If only more people thought like that… sigh….
I could honestly gush about it for a decade, but I don't want to give everything away. The surprises are what made it for me. I loved the banter and wittiness, I loved the family and friends and I loved the love. And what a great ending….. (except for Benny)
Such an amazing story. Don't pass it up!
Author Bio:
Nicola Haken lives in Rochdale, England, with her five kids – one of whom is a grown man who many refer to as her husband. She spends her days writing about life, love, and all the beauty and angst that comes with it, and her nights binge watching Netflix or being the household slave. She's also not very good at referring to herself in the third person, so if you'd like to get to know her your best bet would be to follow her on social media!
Oh, and if the kids ever ask, she moonlights as the Pink Power Ranger while they're sleeping…
Where to find Nicola Haken:







Other books by Nicola Haken:
[amazon_link asins='B00KLF2DUO,B00NHDZQGK,B016OY37EQ,B01CEUZT40,B01J2JZLU8′ template='ProductCarousel' store='jegbo07-20′ marketplace='US' link_id='45491b19-09bc-11e7-99f2-b1cc776c2cf4′]
Giveaway:
a Rafflecopter giveaway