INTERVIEW & BOOK REVIEW: Scarred with Mia Kerick
Author Name: Mia Kerick
Book Name: Scarred
Page/Word Count: 238 pages
Categories: Gay Romance, Contemporary Romance, Transgender & Transexual, Crossdressing, Interracial Romance
Release Date: March 1, 2017
Publisher: Cool Dudes Publishing PTY LTD
Cover: Fab Covers
Buy Links:




DAWN: Once again you have written a book that left me wondering how you manage to always get inside my head.  Lol.  I swear every book of yours that I've read has a character that I can identify with and you always put to words something inside of me that I could never vocalize.  I'm left astounded and in awe of you.  Where do you find your inspiration for your characters?

MIA KERICK First, thank you for your kind words. I feel satisfied, as if I've met one of my highest goals, which is to make readers feel strong emotion. Whenever I hear a story on the news or read something on Facebook or Twitter that stirs my human compassion, which I sometimes drown in, I find myself wanting to examine the situation more fully in order to write about it. For example, before there was marital equality, the concept that free people in the United States could not marry the person of their choice in every state, infuriated me and caused me to imagine myself walking a mile in the shoes of these people. Ultimately, my anger and compassion drove me to write stories of deep and profound love between same-sex partners that needed to be celebrated with the most serious expression of love: marriage. I have experienced the same kind of anger and compassion on behalf of transgender people, and so I have written Scarred and several other novels that deal with transgender individuals, ranging in age, from children to adults.
DAWN: Scarred has two main characters who both suffered abuse as children.  Is this a difficult subject for you to write about?  Is it more difficult as a mom?

MIA KERICK: As an author, my goal has been to make readers feel my characters' pain. I suppose this is partly because, as a reader, my favorite books were the ones that made me laugh out loud or actually cry. I will admit that it can be emotionally challenging to constantly write stories of human suffering. In fact, as I wrote Clean, a story of teen drug abuse and sexual assault, I had to put it down for a while and work on something more light-hearted, before I picked it back up and finished. The tough topics I write about are current. I hope they make readers think of issues that they may rather push onto the back burner. Through my characters, readers suffer abuses and emerge more aware. Maybe they even emerge angry and hurting on behalf of people who must endure these things.
DAWN: Vedie has a very distinct way of speaking.  I've noticed that several of your characters have unusual dialects.  How do you research the dialect for each character or do they simply speak that way to you when you're writing them?
MIA KERICK: Using dialect is an area in which I often get myself in trouble as an author, but I persist. I can hear my characters speaking in my head, and I somehow just know how they'd say something and precisely how it would sound. I do occasional research on dialect, but for the most part, I write what I hear in my head, and then I go back and tone it down. So, sometimes my use of dialect is criticized in reviews and other times it is praised, but I persist in using dialect because it makes the characters real to me. It helps me to express the truth of my characters, and I think this will ultimately benefit the readers.
DAWN: Most of the books I've read by you have GFY or characters such as Matt who don't identify as gay or straight, but are simply attracted to a person.  What leads to you write this specific genre as opposed to two openly gay men?
MIA KERICK: I don't like to focus on GFY as a theme of my writing, but I do believe that love is love and that the character of a person is more important than the gender or gender identity of a person, in terms of falling in love. Furthermore, I believe that each person's individual sexual orientation falls on a spectrum, rather than in a certain defined category, so there is room to feel attracted to and emotionally open to relationships with people of various genders and orientations. None of it is cast in stone. The details of the story behind the two (or three) people who fall in love takes precedence over what they had long perceived as their sexual orientation.
DAWN: What's next for you?  Can you tell us what to expect in 2017?
MIA KERICK: In 2017, I have two more books releasing: It Could Happen a m/m/m from Dreamspinner Press and a YA gay romance through Harmony Ink Press with co-author Raine O'Tierney. (I also have several signed contracts for 2018.) I will attend two conferences this year: Euro Pride Con in Berlin in June, where I am a keynote speaker, and GRL in Denver, Colorado, where I am a featured author. In addition, I have written a middle grade transgender novel and I'm searching for its publishing home. And I am currently rewriting a teen transgender romance novel. I stay busy!
Blurb: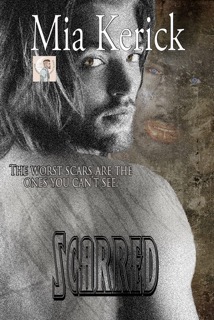 Matthew North waited ten years to heal from the devastating wounds inflicted by the man who abducted and abused him as a child. Living reclusively on a tropical island—with no company but his four cats—he merely avoids the lingering pain.
Wearing twisted ropes of mutilated skin on his back, Matt struggles with a profound hindrance—the scars that deaden his soul. However, on the night he meets lively Vedie Wilson, a local restaurant busboy who expresses his gender by wearing lipgloss and eyeliner along with his three-day beard, things change.
Gradually, Vedie and Matt unite in friendship. Through a series of awkward encounters, the pair learns each other's secrets. Vedie learns that an angelic face can front for a scarred soul. Matthew learns that the line between one's masculine and feminine sides is blurred. Can they embrace the painful stories behind each other's scars if they're to find everlasting love? Or will surrendered love come to be yet another blemish on their souls?

5✨s – I've made no secret in any of my reviews that I absolutely love Mia's work. When I saw that she had a new release, I instantly emailed her and begged her for an ARC so I could read and review it. With each new release, my expectations grow and this book did not disappoint.
Matt suffered abuse as a young child and into his teen years and subsequently became a recluse so he didn't have to deal with people or life. He was content to live on Paradise Island with his cats and his online business.
Vedie was bullied as a young child by his family, friends and strangers because he's a boy that likes to embrace his feminine side by wearing girl's clothes and makeup. Vedie ran away to Paradise Island hoping that he could finally be himself and not have to be afraid to live his life as he wants.
Matt and Vedie's story hit all of my emotional buttons. I've found that nearly all of this author's characters have some trait, some form of abuse or some type of brokenness that I can identify with and Mia is able to put to words feelings that I've had but could never say. These two men see the scars each carry on the outside of their bodies, but through the outward scars they also see the scars they each carry inside themselves. It's as if the scars on the outside are windows to the scars on the inside. They just know. Matt accepts Vedie from the beginning and his acceptance is beautiful. Each tear that Vedie sheds from being accepted by Matt, I'm sure that shed in equal numbers. And Vedie, he can see that Matt is truly broken, he knows there is something deeply wrong with Matt, and yet he just holds on and is strong for Matt in ways that Matt couldn't imagine until meeting Vedie.
This is a beautiful love story that will absolutely break your heart. That sounds contradictory, but it's true. I cannot think of a single thing that I didn't love about this book….well, except the jerks, but they're necessary to tell this story properly.
Author Bio: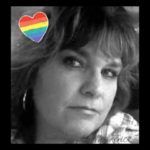 Mia Kerick is the mother of four exceptional children—one in law school, another in dance school, a third at school at Mia's alma mater, Boston College, and her lone son still in high school. She has published 20 books of LGBTQ romance when not editing National Honor Society essays, offering opinions on college and law school applications, helping to create dance bios, and reviewing English papers.
Her husband of twenty-three years has been told by many that he has the patience of Job, but don't ask Mia about this, as it is a sensitive subject.
Mia focuses her stories on the emotional growth of troubled young people and their relationships. She has a great affinity for the tortured hero. There is, at a minimum, one in each book. As a teen, Mia filled spiral-bound notebooks with tales of said tortured heroes (most of whom happened to strongly resemble lead vocalists of 1980s big-hair bands) and stuffed them under her mattress for safekeeping. She is thankful to CoolDudes Publishing, Dreamspinner Press, Harmony Ink Press, and Evernight Publishing for providing her with alternate places to stash her stories.
Mia is a social liberal and cheers for each and every victory made in the name of human rights. Her only major regret: never having taken typing or computer class in school, destining her to a life consumed with two-fingered pecking and constant prayer to the Gods of Technology.
Where to find Mia Kerick:




Other books by Mia Kerick:
[amazon_link asins='B01MA6NZ7Q,B01ABCB73U,B00GD20VXA,B00JFLL7NE,B01M0URFIE,B00O7285IG,B00IJQS6KS' template='ProductCarousel' store='jegbo07-20′ marketplace='US' link_id='b3662239-07f0-11e7-a2a7-9d57f6b92d83′]