MENAGE-A-REVIEW: Be Still My Heart by Charlie Cochet
Author: Charlie Cochet
Book: Be Still My Heart
Series: Four Kings Security, Book #2
Categories: Gay Romance, Mystery & Suspense
Release Date: July 28, 2018
Cover Artist: Reese Dante
Buy Links:



Blurb:
Former Special Forces medical sergeant Russell "Red" McKinley knows a thing or two about wounds, like the fact some can take a lifetime to heal, if they heal at all. The scars Red carries run deep, and living with PTSD often means battling the memories of his past. Injuries he received while working an executive protection case with fellow Kings and co-owners of Four Kings Security, have once again forced past heartaches to the surface, but Red is determined not to let it derail his blossoming romance with sweet and sexy fashion photographer Lazarus Galanos.
Laz can't deny there's something special developing between him and Red, but Laz has wounds of his own. He's hesitant to jump into a new relationship after his recent explosive breakup. Experience has taught Laz to doubt his judgement when it comes to men. Guys who seem too good to be true, usually are, and no one appears more perfect than Red.
When an attempt is made on Laz's life, Red is determined to keep him safe. Laz may not be a client, and Red is still off duty, but Laz is one of their own, and nothing means more to the Kings than family. While an investigation is underway, Red and Laz are growing closer, but can they find a way to help each other heal and take a chance on love, or will their fears and insecurities cost them more than their future together?
---


4✨s – As secondary characters in Love In Spades, Red and Laz's story began before this book picks up. In that book, their instant attraction is amplified when Red saves Laz and then sticks up for him against his idiot of a boyfriend. Picking up a few months later, Red and Laz haven't spoken since Red got out of the hospital and neither are really certain where they stand with the other. Their time together was relatively brief, so while it was off the charts, they are both sort of clueless. With the help of Ace, of course, their paths cross again and the pleasure of once again being in the same space is short lived when Red has to save Laz again.
Figuring out who wants to hurt him takes time, which gives these two a chance to really get to know one another and the demons that haunt them. Red broke my heart more than once and sorry, but Laz's knee-jerk reaction pissed me off enough that I had to step back. In the end, it was the big angst in an otherwise slow-burn, low angst book about two men dealing with their demons and making mistakes along the way.
Like Nat, I figured out the killer when they stepped onto the page, but that was okay, I liked the twists the author took to get there. A nice little HEA with a glimpse at what promises to be a high-angst book 3 make for a satisfying read all the way around.


3.5✨s – This is the second volume of a romantic suspense series that offers moderate intensity, low angst and concentrates on the romances. Red and Laz initially connected in book one after a dramatic breakup for Laz. Picking up a few months later, Red meets up with Laz at a photo shoot just in time to rescue Laz from a sniper attack. Laz has no idea who might be after him so he holes up at Colt's house for safety during the investigation where he and Red use the chance to begin building a relationship. There are plenty of sexy times and chances to share their troubled pasts, including Red's struggles with PTSD and Laz's fight for respect and success in the cutthroat business of fashion photography. There are few clues about who might be after Laz but he still needs to work and build his career, allowing the killer to try again. There's a nice little plot twist that obscures the identity of the perpetrator (although I did guess right!).
There's some conflict and tension with the hurt/comfort theme when Red has a PTSD episode and the author displays excellent technique when exploring a darker element from Laz's past; not at all graphic yet still depicting the impact it has on him. Some misunderstandings and jealousy add texture to the developing romance and keep it from becoming too saccharine. Ace provides some comedic relief and the closeness of the Kings crew gives a warm and fuzzy touch. The next romance is outlined in the narrative once again and looks to be a rocky one. Like book one, this is light, easy reading with danger and excitement to make it more intriguing. It could be read on its own but you'll miss out on the origins of this misfit group, so I'd advise reading Ace and Colton's story. Enjoy and happy reading!

5✨s – Yet another fantastic book from Charlie Cochet. You are always guaranteed for a good story line with strong characters, action, drama and romance.
Book 2 of Four Kings Security focuses on Red, a man deeply affected by PTSD after returning from the war but he's fought against it with the love and support of his brothers. He's learnt from experience, though, that not everyone can handle being in a relationship with someone with such an illness.
Laz is still getting over Bryan. Not so much their relationship as he's a horrible person but the constant negativity thrown at Laz hangs around in his mind, keeping him from being his true self and trusting again.
It's easy for everyone to see their attraction and when Laz has a threat against his life Red steps up to protect him, staying with him while it's investigated.
The two just happen to grow closer in this time and it's so cute to read them together. Both unsure and not that confident but wanting each other enough to try. Charlie writes her characters so well that you get a sense of them and the kind of people they are, rooting for them to get their HEA despite knowing that something will happen at some point in the story. We're treated to a great friendship building between Red and Laz but also an attraction that they act on which, of course, is hot!
The drama and action, for me, isn't as intense as it has been in other books but it still has enough in this book to create drama and stress for the MC's. We get to hear from all of the Kings, Ace and Colton, and possibly a sneak at who the next book will be based on! The setting for the book is again written so well. I can easily see in my head where the book is set, a condo on the beach, a fashion show in a studio, Colton's mansion.
There are a couple of instances and discussions on PTSD, just so people are aware of this is a trigger for them.
I cannot recommend the book enough. Its not necessary to have read book one, Love in Spades but I definitely think it will help with character development and comments about that story line. Looking forward to #3!
About Charlie Cochet: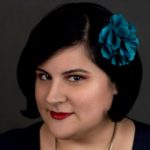 Charlie Cochet is an author by day and artist by night. Always quick to succumb to the whispers of her wayward muse, no star is out of reach when following her passion. From adventurous agents and sexy shifters, to society gentlemen and hardboiled detectives, there's bound to be plenty of mischief for her heroes to find themselves in, and plenty of romance, too!
Currently residing in Central Florida, Charlie is at the beck and call of a rascally Doxiepoo bent on world domination. When she isn't writing, she can usually be found reading, drawing, or watching movies. She runs on coffee, thrives on music, and loves to hear from readers.
Where to find Charlie Cochet:









Contest:
This contest is hosted by the author and/or promotional company, and Jessie G Books does not have access to any data collected as a result.