MENAGE-A-REVIEW: Love and Payne by Charlie Cochet
Author: Charlie Cochet
Book: Love and Payne
Series: THIRDS, Book 13
Page/Word Count: 200, 64K words
Categories: Gay Romance, Mystery & Suspense, Shifter Romance
Release Date: September 4, 2018
Publisher: Dreamspinner Press
Cover Artist: L.C. Chase
Buy Links:






Blurb:
Austen Payne, THIRDS Squadron Specialist Agent (SSA) for Destructive Delta and TIN operative, has seen the worst the world has to offer, faced lethal killers, and helped bring down dangerous organizations. But nothing terrifies him more than falling in love. After years of undercover work, Austen is a master at defending himself and protecting his heart… until he meets Osmond Zachary.
THIRDS Defense Agent Osmond Zachary has a huge, doting family, yet something is missing in his life. After meeting grumpy, foul-mouthed, jittery cheetah Therian Austen Payne, Zach knows exactly what that something—or someone—is. Unfortunately Austen seems determined to avoid Zach at all costs.
When Zach foils an assassination attempt, he ends up in the killer's crosshairs, and Austen is Zach's best chance at staying alive. Zach hopes the crisis will bring them closer, but Austen has every intention of walking away as soon as the danger is over.
Happily ever after isn't for guys like Austen, but Zach is determined to show him it can be….
---
5✨s – Charlie Cochet has easily become one of my favorite paranormal/romantic suspense writers. Her THIRDS world is diverse and all inclusive. Many parts mirror what is going on in society today and that brings her work to life. I jumped on this book as soon as I could. Zach was one of my favorite recurring characters in the previous books, so I was excited to get his story. And Austen, he was a man of mystery, getting to know him better was a huge draw.
Right away this book starts out with an action scene that puts our characters in danger. Charlie Cochet doesn't do anything by halves. This book starts heavy and while there is laughter and fun and of course hot times, there's action and danger and moments that keep you glued to your Kindle.
It was easy to see that Zach was half in love with Austen, even though neither of them fully realized it. They knew something was between them, they just didn't know what. And while Austen tried so hard to fight it love doesn't work that way.
These characters are flawed. From Austen's past to the world they live in it's brought them down. But the love that shines through all the danger, all the hate, all the pain, it's beautiful and why I love this series. Charlie Cochet made the shifter genre her own, she added some splashes of reality, and she gave us two men who probably shouldn't have worked, but that's why they did.
I hope she never stops writing this series. It is way too good to let go.


5✨s – So, it was interesting to read about our THIRDS universe and not have our usual suspects in the mix! The tale of Zach and Austen is amazing. Watching Austen come to terms with what he feels for Zach and the way Zach's family tilts Austen's world on its axis is simply awesome to read. We all know Ms. Cochet is a master storyteller. But what had me excited the most was a preview of what's to come for Austen and Zach.

5✨s – Oh, I've been waiting for this story for so long! And it didn't disappoint! Austin and Zach are thrown together in circumstances out of their control and to keep Zach safe, Austin agrees to stay with the entire Zachary clan in the mountains. A plan that he's doesn't think is best but needs to be there to ensure Zach isn't hurt again. Charlie never fails to immerse me in the THIRDS universe whenever I read a book from this series. We get characters that are very well developed with a back story and full array of emotions. By this point in the universe, there's connections between all of our characters and the MC's are well known to us. Austin has always been the guy in the shadows, popping in and out whenever Destructive Delta were in need but this book is his. It's our chance to learn more about him and his feelings towards Zach whereas Zach has always been an open book in regards to his own for Austen. Whilst we do have several big action scenes, there were less than what we are used to. However this gives us a chance to focus on the relationship developments and it just draws you in! I loved how much we also got to know the Zachary clan, Zach's brothers all being larger than life and overprotective. With Austin being such a reclusive figure and a spy there are very few people who he actually interacts with on a personal level, though the people he is close to it's clear how important they are to him. The main setting for this book is on a beautiful snowy mountain, perfect for a family of bears, and maybe a little romance. It's written so very well, clearly imagined whilst reading through the book. I cannot recommend this book enough! It's yet another hit in the THIRDS universe and cannot wait for the TIN books to arrive. I received a copy of this book from the publisher and am happily giving a review.
About Charlie Cochet: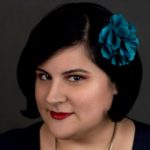 Charlie Cochet is an author by day and artist by night. Always quick to succumb to the whispers of her wayward muse, no star is out of reach when following her passion. From adventurous agents and sexy shifters, to society gentlemen and hardboiled detectives, there's bound to be plenty of mischief for her heroes to find themselves in, and plenty of romance, too!
Currently residing in Central Florida, Charlie is at the beck and call of a rascally Doxiepoo bent on world domination. When she isn't writing, she can usually be found reading, drawing, or watching movies. She runs on coffee, thrives on music, and loves to hear from readers.
Where to find Charlie Cochet: