NEW RELEASE: Refraction by Jodi Payne & BA Tortuga
GUEST POST:
Jodi: Hey there! I'm Jodi Payne. I'm a proud Jersey Girl, I love Broadway musicals, the beach, tequila, and I'm almost always caffeinated like whoa. I'm here with BA Tortuga to talk about our new release, Refraction!
BA: Hey y'all! I'm BA Tortuga, the resident redneck, and lover of rubbing characters of different types together. 😀
Jodi: Refraction is a fish out of water story that takes Tucker, a hot and haunted Texas artist, and drops him in New York City in the snow. There he meets Calvin, a beautiful but insecure underwear model. The two of them couldn't culturally be more disparate, but emotionally (and physically, like whoa) they prove to be the piece the other one has been missing. Their relationship is an intense journey, sometimes achingly raw and sometimes so sweet.
We did a little interview (after the excerpt) for you about our writing and answered some fun questions at the end too.
Author: Jodi Payne & BA Tortuga
Book: Refraction
Series: Collaborations
Page/Word Count: 87K words, 260 pages
Categories: Contemporary Romance, Gay Romance
Release Date: June 12, 2018
Publisher: Dreamspinner Press
Cover Artist: Aaron Anderson
Buy Links:







Blurb:

Texas artist Tucker Williams arrives in New York City for a gallery showing of his work and finds the city blanketed in snow. He meets free-spirited underwear model Calvin McIntire on the steps of the Midtown library and is captivated by a wild beauty that manages to compete with the demons that occupy his soul and fuel his work with their lust for blood and erotic imagery.
Unable to deny a new inspiration, Tucker sublets a studio and finds the city's energy almost as addictive as Calvin.
Tucker is obsessive, barely holding on to sanity as his art consumes him, and Calvin is dealing with demons of his own, trying desperately to protect his soul in a business where only his appearance has value. They each prove to be the perfect remedy for the other's personal brand of crazy until, in the midst of stress and exhaustion, they discover that a promise Calvin needs is the one thing Tucker can't give him, and their heaven turns to purgatory.
Can both men find a path toward wholeness in Tucker's beautiful but chaotic Texas home? In order for them—and their passionate relationship—to thrive, they'll need to adapt, share their psychoses, and find a true balance between New York City and rural Texas.
---
Excerpt:
Tucker Williams leaned against the steps of the library beside the big stone lion and watched the white stuff fall out of the sky. Colder than he'd ever been in his whole life, he shivered, trying to figure out what the fuck a guy like him was doing all the way up here.
The logical part of his brain, the part not frozen solid, reminded him that he had a gallery opening tomorrow. A major opening. Right.
So he was up here touristing all by himself and freezing his nuts and his toes off and waiting to show up in his best jeans and jacket tomorrow night.
Go him.
Christ on a sparkly pink crutch, everyone here wore black, and no one smiled a bit. Surely there had to be somewhere here with friendly folks and heat.
Right on cue, one of those black-clad Yankees—this one in a black knee-length coat, black earmuffs, and chunky black boots—came trotting down the steps right past him. Like every other guy on the busy street, he was on the phone.
"That spread is mine, Michael. I want it. You make it happen. I've got the best ass of the bunch, and you know it."
The man stopped two steps below Tucker. "I'm easier to work with too. You tell them, okay? I need to get out of the weather. Who ordered this shit? Later."
Huh. Earmuffs were a thing. Go figure. Tucker had to admit, the whole pseudo-duster thing was pretty hot.
"'Scuse me, sir, but is there a decent place to get a cup of joe around here?" Tucker asked.
The guy turned his head, but Tucker couldn't get a good look at him behind the collar he'd pulled up against the weather. He was squinting against the snow, and his hair was mostly hidden under a knit hat, but it looked like it might be blond.
"There's no such thing as a bad cup of coffee in New York. You look like you're freezing your ass off, man. Come on, I'll show you." The guy just took off down the steps, and Tucker didn't have much choice but to follow.
Good Lord and butter, these folks walked like huge flocks of birds. Great big old flocks of ravens. Oh. Oh, he could—he could paint that, right now.
"Calvin." He was offered a gloved hand. Black leather, of course.
"Williams. Tucker Williams. Pleased." He pulled his hand out of his pocket and shook.
"Not from around here, I take it?" Calvin gave him wink and a grin.
Cool. This one smiled. "No, sir. I'm a bit from home, but that's obvious, I reckon."
"I'll say. In here." Calvin opened a door, and Tucker was hit with the smell of baking bread and a beautiful blast of warm air.
Interview with Jodi Payne & BA Tortuga:
What is your writing process?

BA: Process? I have a process? I mean, I plot with index cards, but I never follow them. I read all the books. Basically I sit on my butt and write words. When I'm playing with someone else? I try to write words they'll be proud of. Periodically I go — Jesus fucking christ, that was hot, because I'm classy like that.
Jodi: I'm a panster. My process is basically sit down at the keyboard and start writing. I've tried the note cards, I've tried the sticky notes, I've tried timelines… I'm hopeless. Thankfully, BA and I have found a lovely rhythm.

What is the hardest part of that process for you?

Jodi: Not having a process? I confess to staring at a blank screen some days. Unless I'm writing with BA. Then the screen is never blank, we seem to share a great creative energy
BA: *grins* The best part about me is that it's mostly all fun. Sometimes fun enough to stay up til 2 a.m….

What do you think makes a good story?

Jodi: Good characters make a good story. You could put two good characters together on a raft in the middle of the ocean with no oars and still be able to create a good story. Hmm… BA, I have this idea…
BA: Is it cheating to say a good story makes a good story? I mean, for me, I want something to happen. I like when things happen. I like characters that are a little cracked. I like when Jodi says, "BA, I have this idea."

Do you have any strange writing habits or rituals?

Jodi: I come from a theater background where everything is a strange ritual, so I don't really know what normal people consider strange. I need music when I write, and the louder the better. It helps me concentrate. A good pen for note-taking (Uniball Signo anyone?) and a cup of tea are good things too.
BA: My wife and I have rituals (Julia is a writer too). We write Monday-Friday, 10 a.m. to bedtime. I get music until 4. She gets TV after. Coffee is a necessity. So are basset hounds. She makes breakfast and lunch; I answer the phone. We talk about EVERYTHING as we write. Saturday and Sunday are for cooking, shopping and 'fun' writing (that's code for OMG that's hot, btw).

What can readers expect from the two of you next? Exciting new books! Refraction is the first in a five-book series. The second one, Syncopation, is tentatively scheduled for spring and features a Cajun blues guitarist and a New York City ballet dancer. We also have a stand-alone novel coming out in the fall. It's a friends to lovers story titled Heart of a Redneck, set in Boulder, CO, about a displaced cowboy and a restaurateur who unexpectedly find themselves parenting a five year old girl.
5 Fun Quickies
Least favorite endearment:

BA: Does bitch count as an endearment? Seriously, I'm Texan, I'm made of nicknames — baby, Pooh, Auntie, honey, sister, Momma, baby girl. You call me, I'll answer.
Jodi: When it comes to endearments, I consider the source. For example, the customer service rep on the phone better not call me honey. Hell no. But BA? Sure. A friendly Texas "honey" is not at all the same thing as that condescending, sarcastic "honey" thing we Yankees do. 😉

You're auditioning for a singing competition, what's your song:

BA: "May the Bird of Paradise Fly Up Your Nose"
Jodi: Oh. "Practically Perfect" from Mary Poppins.

If you were ice cream, what flavor would you be:

BA: Cherry nut from Braums in Greenville, Texas
Jodi: Vanilla soft serve from the Mister Softee truck (and you have to eat it on your stoop!)

Sleep with your socks on or off:

BA: I can't bear shit to touch my feet when I'm sleeping.
Jodi: If it's cold, socks on. If it's warm, socks off. If it's hot, definitely no socks. Socks aren't sexy, people.

Ask for permission or ask for forgiveness:

BA: Y'all, please. Have I EVER asked for permission? Ever?
Jodi: Ask for forgiveness? Although… I don't really do that too much either.
About Jodi Payne:
Jodi Payne takes herself way too seriously and has been known to randomly break out in song. Her men are imperfect but genuine, stubborn but likable, often kinky, and frequently their own worst enemies. They are characters you can't help but fall in love with while they stumble along the path to their happily ever after. For those looking to get on her good side, Jodi's addictions include nonfat lattes, Malbec and tequila any way you pour it.
Where to find Jodi Payne:







About BA Tortuga: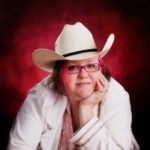 Texan to the bone and an unrepentant Daddy's Girl, BA Tortuga spends her days with her basset hounds and her beloved wife, texting her sisters, and eating Mexican food. When she's not doing that, she's writing. She spends her days off watching rodeo, knitting and surfing Pinterest in the name of research. BA's personal saviors include her wife, Julia Talbot, her best friend, Sean Michael, and coffee. Lots of coffee. Really good coffee.
Having written everything from fist-fighting rednecks to hard-core cowboys to werewolves, BA does her damnedest to tell the stories of her heart, which was raised in Northeast Texas, but has heard the call of the high desert and lives in the Sandias. With books ranging from hard-hitting GLBT romance, to fiery menages, to the most traditional of love stories, BA refuses to be pigeon-holed by anyone but the voices in her head.
Where to find BA Tortuga: