NEW RELEASE REVIEW: An Unsuitable Heir by K.J. Charles

Author: K.J. Charles
Book: An Unsuitable Heir
Series: Sins of the Cities
Page/Word Count: 211 pages
Categories: Gay Romance, Historical
Release Date: October 3, 2017
Publisher: Loveswept
Buy Links:





Blurb: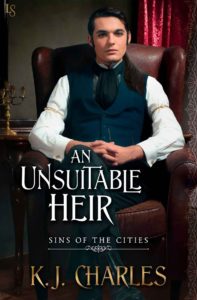 A private detective finds passion, danger, and the love of a lifetime when he hunts down a lost earl in Victorian London.
On the trail of an aristocrat's secret son, enquiry agent Mark Braglewicz finds his quarry in a music hall, performing as a trapeze artist with his twin sister. Graceful, beautiful, elusive, and strong, Pen Starling is like nobody Mark's ever met—and everything he's ever wanted. But the long-haired acrobat has an earldom and a fortune to claim.
Pen doesn't want to live as any sort of man, least of all a nobleman. The thought of being wealthy, titled, and always in the public eye is horrifying. He likes his life now—his days on the trapeze, his nights with Mark. And he won't be pushed into taking a title that would destroy his soul.
But there's a killer stalking London's foggy streets, and more lives than just Pen's are at risk. Mark decides he must force the reluctant heir from music hall to manor house, to save Pen's neck. Betrayed by the one man he thought he could trust, Pen never wants to see his lover again. But when the killer comes after him, Pen must find a way to forgive—or he might not live long enough for Mark to make amends.

5✨s – K.J. Charles is unparalleled at writing diverse characters and giving them their proper place in historical fiction. In this story, Pen seems to be non-binary; he's muscular and strong but wears his hair long and likes earrings and occasionally a frock. Nine years after leaving their mother, he and his twin sister, Greta, perform in London as aerial acrobats. Being in the theatre and around eccentric entertainers, allows Pen's varied appearance to be less remarkable. When he meets Mark, seemingly by chance, he feels accepted as his whole self for the first time, by someone other than his sister. Mark would be considered pansexual, I think, and he admires the juxtaposition of male and female that Pen exhibits but respects and responds to the boundaries that Pen sometimes needs. It is explained that "he" is used for a pronoun, as other options were never considered at that time.
All of the characters and relationships are substantive and the intricate plot and narrative engaged my interest from start to finish. When Pen realizes his life really is under threat, he comes to understand Mark's motives for his seeming betrayal. Their reconciliation and the progress of their romance was intimate and tender, yet sensual. However, seeing how they could have a future was a complex problem if Pen was found to actually be the earl. The details of the mystery and identity of the murderer weren't evident either, so the conclusion and resolutions were surprising.The feelings between Pen and Mark were evident in the writing, as well as the tension, anger and fear in other scenes. I did not read the first two books in the series but had no trouble following this story. I do intend to get back to them soon! Anyone who's read the author's previous work will want to read this one, I'm sure. Truly a quality story by a seasoned and polished author of historical fiction.
About K.J. Charles:
KJ Charles is a writer and editor living in London. She has a serious reading habit, two kids, a cat, a blog, and several books coming out. Somehow.
Where to find K.J. Charles: