NEW RELEASE REVIEW: Bobby Green by Amy Lane
Author: Amy Lane
Book: Bobby Green
Series: Johnnies, Book #5
Categories: Gay Romance, Contemporary Romance
Dreamspinner Press
Cover Artist: Reese Dante
Blurb: Vern Roberts couldn't wait to turn eighteen and get the hell out of Dogpatch, California. But city living is expensive, and he's damned desperate when Dex from Johnnies spots him bussing tables.

As "Bobby," he's a natural at gay porn. Soon he's surrounded by hot guys and sex for the taking, but it's not just his girlfriend back in Dogpatch—or her blackmailing brother—that keeps him from taking it. It's the sweet guy who held the lights for his first solo scene, who showed him decency, kindness, and a smile.

Reg Williams likes to think he's too stupid to realize what a shitty hand life dealt him, but Bobby knows better. What Reg lacks in family, opportunity, education, and money, he makes up for in heart. One fumbling step at a time, they connect, not just in their hearts but in their bodies, where sex that's not on camera, casual, or meaningless, becomes the most important thing in the world.

But Reg is hampered by an inescapable family burden, and he and Bobby will never fly unless he can find a way to manage it. Can he break the painful link to his unrealized childhood and grow into the love Bobby wants to give?




4.5✨s – Vern Roberts or Bobby is desperate to get out of Dogpatch where he's caught in an untenable situation with his girlfriend's brother that becomes volatile. Determined not to let his lapse in judgment make things harder for his single mother, all he wants to do is get out. But when a promised construction job turns into another deadly situation, he finds himself waiting tables until luck hands him the business card of Johnnies.
He's a natural from the get-go, and it's in that first moment he meets Reg. Portrayed as a simpleton, Reg more than loves his job as a porn star, he needs the connection to other people. Drowning in responsibilities he's not capable of handling, but with no one to help him, Reg is stronger than he knows and so much more fragile. Coming together isn't fast or easy and they are put to the test several times before they figure it out. Along the way, they will break your heart and have you cheering for an HEA.
Fans of the Johnnies series will not be disappointed as this book has glimpses of the other character's storylines and while you can go into this without reading those, you'll only want to go back. Overall, an excellent installment in the series that will require stock in tissues.

About Amy Lane: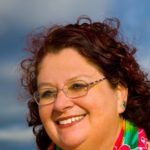 Amy Lane has two kids in college, two gradeschoolers in soccer, two cats, and two Chi-who-whats at large. She lives in a crumbling crapmansion with most of the children and a bemused spouse. She also has too damned much yarn, a penchant for action adventure movies, and a need to know that somewhere in all the pain is a story of Wuv, Twu Wuv, which she continues to believe in to this day! She writes fantasy, urban fantasy, and m/m romance–and if you accidentally make eye contact, she'll bore you to tears with why those three genres go together. She'll also tell you that sacrifices, large and small, are worth the urge to write.
Where to find Amy Lane: