NEW RELEASE REVIEW: Bromantically Yours by K.C. Wells
Author: K.C. Wells
Book: Bromantically Yours
Page/Word Count: 97 pages, 30K words
Categories: Gay Romance, Contemporary Romance, Friends to Lovers
Release Date: February 14, 2018
Publisher: Dreamspinner Press
Cover Artist: Brooke Albrecht

Blurb:
A friends-to-lovers novella that came from Out of the Shadows, because Nate and Dylan needed a story…

Nate and Dylan have been pals for a long time. So what if their friends think they've got a little bromance going? Doesn't mean there's anything more to it than that, right? And even if there is, Nate and Dylan are totally oblivious….

Until the night they share a drunken kiss—and everything changes.

Buy Links:

Look Inside


4✨s – I have to say that I came into this one first and it's meant to be a novella in the series, I think. However, it didn't take anything from the story, though I was intrigued to know how the other guys in the series met and got together. In this one, we have Dylan and Nate, who are best friends, but both straight. Everyone seems to see their attraction for each other, even the ladies they take on double dates… but somehow, neither of them work it out until a drunken night together that ends in a kiss. (and a little more, but…the kiss is key) They do seem ridiculously clueless and the dialogue and the way they go about things, had me questioning how old they were… but, I'll say for two straight men who realize they have feelings for their best friend; they both take it surprisingly well. Once they realize it, they try dating, which a bit hit and miss, but, sometimes it's just like that when trying to change the dynamic of a friendship from platonic to romantic. For some reason, I just wasn't feeling this one and I really wanted to, because I'm a fan of this author and hello…. Did ya see the cover? However, if you like GFY or Friends to Lovers, I have a feeling you'll really enjoy this one. Plus, who doesn't love happy ending?

About K.C. Wells: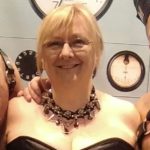 K.C. Wells started writing in 2012, although the idea of writing a novel had been in her head since she was a child. But after reading that first gay romance in 2009, she was hooked.
She now writes full time, and the line of men in her head, clamouring to tell their story, is getting longer and longer. If the frequent visits by plot bunnies are anything to go by, that's not about to change anytime soon.
Where to find K.C. Wells: