NEW RELEASE REVIEW: Color of You by C.S. Poe
Author: C.S. Poe
Book: Color of You
Page/Word Count: 200 pages, 60K words
Categories: Gay Romance, Contemporary Romance, Holiday
Release Date: December 25, 2017
Publisher: Dreamspinner Press
Cover Artist: Reese Dante
---
Blurb: Bowen Merlin— yes, that's his real name—accepts a position in the quaint town of Lancaster, New Hampshire as the high school band director. He leaves New York City for the snowy countryside of New England just in time for the holidays. With class, homework, after school activities, and a surprise Christmas concert to plan and rehearse, Bowen is plenty busy. And since he's never had much luck with romance, factoring in time to find Mr. Right isn't a priority….

Until he meets the proprietor of Snowy Ridge Apple Orchard, Felix Hansen. Suddenly, true love seems like a possibility for the first time in Bowen's life. The two are a perfect match and fill the skipped beats of each other's hearts. But as wonderful as Felix seems, he's harboring scars that could end their budding relationship when someone in town goes to great lengths to sabotage their careers.

If Bowen is to survive the holidays, he'll need to lean on old friends and new, convince Felix he's worth any hardship, and prove they can come out of the catastrophe stronger if they do so together.

Look Inside

---

4.5✨s – I now have a new-to-me author on my radar, because I enjoyed this story so very much. A bow-tie wearing, red-headed music teacher meets a slightly damaged apple orchard owner and sparks fly. I adored Bowen and Felix's characters and the departure from stereotypes they were given. Not that other authors haven't done the same, but often it's too in-your-face, almost caricatured, while Bowen and Felix were written with such natural feeling. The details of Bowen's synesthesia were fascinating and something new I learned. My favorite line is the one the title derives from:
"Felix raised his gaze. "I can't see the color of you." Melted me!
There were so many strong secondary characters too, particularly Bowen's friend Scarlet, and Alan, Felix's son. I can't remember the last time I liked a teen in a book. I enjoyed every scene, the romance, the suspense and the uplifting resolution. I didn't like the time frame though, with so much developing in less than three weeks. It took some of the realistic feel away, making it too close to insta-love for my taste. Still, that didn't take anything away from the plot development and holiday appropriate message the story contained. I'm a rather cynical type and I was very glad this never became too saccharine or cheesy.
It does get just a touch sappy and mushy at the end and in the epilogue, but in a good way. After all, it's a Christmas story, so some extra sentiment doesn't go amiss. I can recommend this highly, as a favorite among my holiday reads this year.

About C.S. Poe: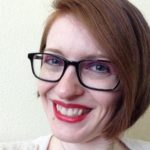 C.S. Poe is an author of gay mystery, romance, and paranormal books.
She is a reluctant mover and has called many places home in her lifetime. C.S. has lived in New York City, Key West, and Ibaraki, Japan, to name a few. She misses the cleanliness, convenience, and limited edition gachapon of Japan, but she was never very good at riding bikes to get around. She has an affinity for all things cute and colorful, and a major weakness for toys. C.S. is an avid fan of coffee, reading, and cats. She's rescued three cats, including one found in a drain pipe in Japan who flew back to the States with her. Zak, Milo, and Kasper do their best on a daily basis to sidetrack her from work. C.S. is a member of the International Thriller Writers Organization.
Where to find C.S. Poe: