NEW RELEASE REVIEW: Creature by Kim Fielding
Author: Kim Fielding
Book: Creature
Series: Bureau, Book #3
Page/Word Count: 34K words
Categories: Gay Romance, Fantasy/Paranormal/Sci-Fi, Historical Romance
Release Date: May 7, 2018
Cover Artist: Reese Dange
Buy Links:





Blurb:

Alone in a cell and lacking memories of his past, John has no idea who—or what—he is.
Alone on the streets of 1950s Los Angeles, Harry has far too many memories of his painful past and feels simply resignation in facing his empty future.
When Harry is given a chance to achieve his only dream—to become an agent with the Bureau of Trans-Species Affairs—all he has to do is prove his worth. Yet nothing has ever come easy for him. Now he must offer himself and John as bait, enticing a man who wants to conquer death. But first he and John must learn what distinguishes a monster from a man—and what a monster truly wants.
---
Excerpt:
John was greedy.
Every time the first sliver of sunlight came through the high barred window, he'd crawl across the floor and lay sprawled on his back, waiting for the thread of heat to grow into a ribbon. Eventually it became a blanket, warming him through the thick layer of grime that coated his skin. He closed his eyes and spread his scrawny limbs, and for a short time he possessed a crumb of comfort. One small thing he could claim as his own.
But then the sun would recede, unraveling his blanket until nothing remained but darkness and cold and the unforgiving hard surfaces of the cell. During those bleak hours, he hated the sun with an icy rage that chilled him more than the stone floor on which he lay. But every morning when the first rays again snuck in the window, his love was rekindled. John gorged on the light as long as it was his.
John wasn't his real name. He didn't remember his name, didn't remember having a name. But a man needed a name, even if he was all by himself in a cell with inconstant sunlight as his only visitor. Sometimes he said it out loud just to hear the solid consonants echo against the walls. "John. I am a man called John."
Only… he wasn't at all certain that he was a man. He had all the parts a man ought to have, at least as far as he could tell. His legs were too weak to hold him upright, his arms as thin as broomsticks, and his cock hung flaccid and useless. Yet he did have legs and arms and a cock. Like a man. But within the long emptiness of his memories, he'd never once had food or drink, and men needed those things to survive. And in those days before he was in the cell—God, he wished he didn't recall those days—people had done things to his body that no man could have survived. He still had marks from those days, bumpy scars and puckered ridges that itched under the dirt but wouldn't heal.
And he had no heartbeat.
If he wasn't a man, though, he didn't know what he might be instead. So he called himself John and a man, and he greedily drank the sunlight when he could.
"John," he whispered today as the light slipped away. "I'm John. Come back to me soon, please."

5✨s – This was my surprise read of 2018. I love when an author takes a well-known premise like Frankenstein and tilts it in on its axis. In this case. John is our creature. An experiment captured by the Bureau and kept in a room until such time as it might become useful. In that room, he has a routine. Bask in a patch of sunlight all day and dream of things he thinks he should known (like the smell of grass), but has no real memories of, then hide in the corner at night. He knows he's not quite human. He has no heartbeat. He does not eat. And his name is something he gave himself. You cannot help but hurt for John from the first word. Taking him from the monster in the closet, so to speak, to the hero of this story was a journey you want to be on. Since this is a novella, I won't say more than that I loved this book.
About Kim Fielding: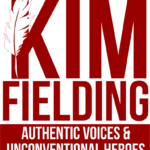 Kim Fielding is the bestselling author of numerous m/m romance novels, novellas, and short stories. Like Kim herself, her work is eclectic, spanning genres such as contemporary, fantasy, paranormal, and historical. Her stories are set in alternate worlds, in 15th century Bosnia, in modern-day Oregon. Her heroes are hipster architect werewolves, housekeepers, maimed giants, and conflicted graduate students. They're usually flawed, they often encounter terrible obstacles, but they always find love.
After having migrated back and forth across the western two-thirds of the United States, Kim calls the boring part of California home. She lives there with her husband, her two daughters, and her day job as a university professor, but escapes as often as possible via car, train, plane, or boat. This may explain why her characters often seem to be in transit as well. She dreams of traveling and writing full-time.
Where to find Kim Fielding:







Contest:
One lucky winner will get an audiobook copy of "Ante Up," Kim's Czech vampire tale, and an eBook copy of the first two books in "The Bureau" series – Corruption" and Clay White." Enter via Rafflecopter.
Note: this contest is administered by the author Kim Fielding and tour company Other Worlds Ink and Jessie G Books has no access to the data collected in this rafflecopter.