NEW RELEASE REVIEW: Dragon's Hoard by M.A. Church

Author: M.A. Church
Book: Dragon's Hoard
House Line: Dreamspun Beyond
Page/Word Count: 234 pages, 58K words
Categories: Gay Romance, Urban Fantasy, Shifter Romance
Release Date: October 1, 2017
Publisher: Dreamspinner Press
Cover: Aaron Anderson
Buy Links:





Blurb: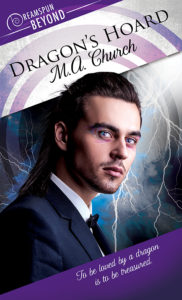 To be loved by a dragon is to be treasured.
A hundred years ago, werewolf Alpha Montgomery took a risk driven by desperation—he borrowed money from the ancient dragon Warwick Ehecatl, putting up the pack lands as collateral. Now the debt is due, and dragons don't forget—or forgive. Warwick demands Montgomery's son, Avery, and three businesses as compensation. As an Omega, Avery knows he is basically useless to his pack, so he might as well agree. He soon has second thoughts, though. Warwick is fearsome, and he's free to do as he likes with Avery.
Warwick knows his race's reputation, and he even admits some of it is deserved. But he'd rather cut off his tail than let his innocent mate's light go out. It won't be easy but buried deep, there's something between them worth safeguarding.

4✨s – Okay, so let's start with my love affair with dragons. Sure, werewolves and vamps are super cool and all, but dragons are just epic. Majestic. I had been thinking I needed more dragon shifters in my life when this book came through from Dreasmpinner and I was all over it. Then…well, then the author wrote the scene I wish for in every dragon book I've ever picked up and it was perfect. But, okay, let's go back to the start so I can articulate this review.
Warwick is a bit of a loan dragon <see what I did there?>. Shifters of all types go to him when finances are tight and he's not surprised when Alpha Montgomery comes to him for money. The amount is apparently staggering and Warwick's terms are appropriately stiff. Pay it back or he takes the pack lands as collateral. When the debt comes due, the Alpha hasn't paid back a cent and Warwick has come to collect with little care that he's crashing Montgomery's son's birthday.
As an Omega, Avery has been relegated to useless in the pack. His birthday party should be a celebration, but the sense that he's in a room full of would-be suitors, some of whom aren't subtle, leave him less than enthused. He escapes for air when Warwick arrives and is drawn back by a pull he cannot name. Warwick, intent on collecting his due, feels it as well and is only marginally better at not showing his hand. Marginally because when he makes his move, he gives up the money and the pack lands in lieu of Avery and three businesses.
At that point, I had no use for Alpha Montgomery at all. The true mate pull doesn't excuse a father willing to hand over a child to cover his own mistakes, especially because he didn't know that was happening, So, yeah, not a fan, and I was happy the focus shifted to Avery and Warwick trying to figure out what they are together. There's some miscommunications that were..contrived?…the scene in the restaurant left me wanting…but for the most part they were cute together. Then Warwick shifted and let Avery ride him and all those little bits of eh disappeared. Everything about that scene made the book for me and had there been as much descriptive showing in the rest of the story, this would have been a 5 star read all day.
If you're a shifter fan, a dragon fan, a fan of low-angst insta-romances…you won't be disappointed at all.

About M.A. Church:
M.A. Church is a true Southern belle who spent many years in the elementary education sector. Now she spends her days lost in fantasy worlds, arguing with hardheaded aliens on far-off planets, herding her numerous shifters, or trying to tempt her country boys away from their fishing poles. It's a fulltime job, but hey, someone's gotta do it! When not writing, she's exploring the latest M/M novel to hit the market, watching her beloved Steelers, or glued to HGTV. That's if she's not on the back porch tending to the demanding wildlife around the pond in the backyard. The ducks are very outspoken. She's married to her high school sweetheart, and they have two grown children. She was a finalist in the Rainbow awards for 2013and is a member of Romance Writers of America, Rainbow Romance Writers, and Science Fiction and Fantasy Writers of America.
Where to find M.A. Church: