NEW RELEASE REVIEW: His Consort by Mary Calmes
Author: Mary Calmes
Book: His Consort
Page/Word Count: 284 Pages/85,964 Words
Categories: Gay Romance, Fantasy/Paranormal/Sci-Fi
Release Date: November 20, 2018
Publisher: Dreamspinner Press
Cover Artist: Reese Dante
Buy Links:





Blurb:
A new life in New Orleans is all Jason Thorpe had hoped: his quaint little store attracts a devoted staff and his warm, loving heart grants him a loyal circle of friends. He's perfectly content, having left behind the chill of a confusing and danger-filled night in Washington, until he discovers something unbelievable lurking in the steamy darkness of the shadowy streets of the Vieux Carré, something that turns out to be terrifying… and utterly mesmerizing.
The prince of the vampyrs, Varic Maedoc, is visiting New Orleans when he finds out the man who once helped his counselor is there in the Quarter. He thinks to simply meet and thank Jason—until he lays eyes on him. Varic's devoted himself to protect the honor of his race, and he's never wanted a mate before… but he immediately knows he must have this man, and no one else will do.
Varic may want to bring Jason safely into his world, but someone who doesn't like the human's soothing influence on vampyrs has deadly plans that would disrupt Varic's dreams. Now, unable to tell friend from foe, Jason finds himself wondering how to hold on to the prince's heart when he's fighting for his life.
---

5✨s – Mary Calmes is one of my favourite authors and this book just highlights what she can do so well. We are introduced to new characters and a new world in this story. Vampyrs are not known about but they exist with their own monarchy, rules and deception. Jason has moved to New Orleans after inheriting a building and staring his own business. After taking some people into his shop one evening he is given a wake up call into what else exists in the world and is taught about vampyrs. When the prince arrives and requests a meeting, Jason's life is about to become a very different existence. Varic is the prince of Vampyrs and is used to life happening a certain way. Upon meeting Jason, all of his focus becomes focused on his mate. As with any romance story, however, there is always a bump/vicious enemy along the road. This book was so enjoyable! From the very first page, I was right there along with Jason, our MC who's POV we follow throughout. He is an easy character to fall in with and feel everything that he did as he experiences the highs and lows of becoming acquainted with the world of the supernatural. When we meet Varic, I was a little unsure on whether he'd be full of himself as a prince but he's such a nice, sweet guy! It's clear after their first meeting how much he cares for Jason, even with knowing him for such a little time. I loved that once the two men were together, Jason didn't lose sight of his friends, where he came from and his beliefs in how people should be treated. Wow! What a world Mary has built up. We learn along with Jason all about the history and interactions between vampyrs in the modern world. The relationships that he builds with the people around him in New Orleans are amazing with both human and vampyrs becoming like family. It's so easy to fall into the story and the environment that has been created for these characters. Everything is easy to visualise and feel along with the men as they live their romance story. This is yet another hit for me from Mary Calmes. Anyone who enjoys her books or paranormal romances should give this a read.
About Mary Calmes: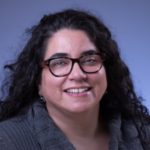 Mary Calmes lives in Lexington, Kentucky, with her husband and two children and loves all the seasons except summer. She graduated from the University of the Pacific in Stockton, California, with a bachelor's degree in English literature. Due to the fact that it is English lit and not English grammar, do not ask her to point out a clause for you, as it will so not happen. She loves writing, becoming immersed in the process, and falling into the work. She can even tell you what her characters smell like. She loves buying books and going to conventions to meet her fans.
Where to find Mary Calmes: