NEW RELEASE REVIEW: His Convenient Husband by Robin Covington

Author: Robin Covington
Book: His Convenient Husband
Series: Love and Sports
Page/Word Count: 202
Categories: Gay Romance, Sports Romance
Release Date: October 9, 2017
Publisher: Entangled Publishing LLC
Buy Links:





Blurb: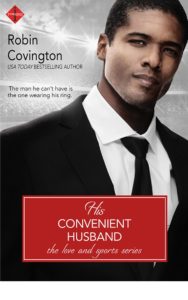 NFL football player Isaiah Blackwell lost his husband three years ago and is raising their teen son alone. He lives his life as quietly as his job allows, playing ball to support his family but trying not to draw unwanted attention. His quiet life is shaken up when a mutual friend introduces him to Victor, a visiting principal ballet dancer who is everything Isaiah is not.
Brash and loud, Victor Aleksandrov has applied for political asylum to avoid returning to Russia, where gay men are targeted and persecuted. He's been outspoken about gay rights in his home country, and if he doesn't get asylum, going back to Russia is a death sentence.
Their one-night stand turns into a tentative friendship, a relationship they both agree is temporary… until Victor's denied asylum. Isaiah can't offer Victor a happily ever after, but he can propose something that'll keep Victor in the US and safe… marriage He just doesn't expect his new husband to dance away with his heart.

3.5✨s – This was a likeable story, using the fake husband trope with the added twist of saving a ballet dancing activist from persecution and arrest in Russia. That was a hook for me, since the trope isn't one I prefer, but the subject is so topical. Robin Covington is a new-to-me author, so I had no predetermined expectations, but a primarily MF author always makes me cautious. I was pleasantly surprised in some ways but let down in others.
The pleasant surprise was the diversity, having a black protagonist, his adopted gender-bending son, and an NFL that accepted his sexuality, as long as he didn't "flaunt" it, with some subtle homophobia from a few. That all felt quite realistic, including the fact that Isaiah didn't rock the boat, unless the prejudices were blatant. His private life and his son had priority. I really liked the depiction of the son, Evan, and the strong support that Isaiah gave him, with all his choices.
I suppose my disappointment is only a personal one, as I would have liked to see the juiciest subjects explored more. Victor's activism for LGBT rights was only touched on and I'd have appreciated some elucidation. It was only used as a point of contention between Victor and Isaiah when Evan was involved in the scene. Evan was the best character in the narrative when he gave his dad an earful at one point. That made me want a bit more cultural background for Isaiah, and what, if any, impact it had on some of his actions. Victor wasn't a strong character for me either, as his reserved reactions to Isaiah's hurtful words didn't seem genuine. He was far too weak and forgiving for my tastes and it didn't seem to fit with someone who knew how to speak his mind in other areas of his life.
As a romance with a good balance of sizzling sex scenes, it was quite enjoyable, and the lack of too much heavier subject matter suited that aspect. The author didn't ignore the themes entirely but didn't allow them to enrich the narrative. It was gratifying when Isaiah finally pulled his head out and stopped with the rather tired plot device of "I'm afraid to love again!" It was a sweet epilogue and a strong HEA. Recommended for the romance but don't expect too much depth to the diversity.
About Robin Covington:
A USA Today bestseller, Robin Covington loves to explore the theme of fooling around and falling in love in her books. Her stories burn up the sheets. . .one page at a time. When she's not writing she's collecting tasty man candy, indulging in a little comic book geek love, hoarding red nail polish and stalking Chris Evans.
A 2016 RITA® Award nominee, Robin's books have won the Golden Leaf Award and finaled in the Romantic Times Reviewer's Choice, the Book Seller's Best and the National Reader's Choice Awards.
She lives in Maryland with her handsome husband, her two brilliant children (they get it from her, of course!), and her beloved furbabies, Dutch and Dixie Joan Wilder (Yes – THE Joan Wilder)
Where to find Robin Covington: