NEW RELEASE REVIEW: Love In Spades by Charlie Cochet
Author: Charlie Cochet
Book: Love In Spades
Series: Four Kings Security, Book #1
Page/Word Count: 300 pages
Categories: Gay Romance, Mystery & Suspense
Release Date: April 24, 2018
Cover Artist: Reese Dante
Blurb:
Ex-Special Forces soldier Anston "Ace" Sharpe is fighting a different battle these days—one involving the world of private security across the state of Florida. As part owner of Four Kings Security, Ace and his fellow Kings tackle everything from armed transport and investigations to cyber intelligence and executive protection. Cocky, fearless, and brash, Ace isn't afraid to take risks.

After years of working alongside his father, Colton Connolly is ready to take the helm at Connolly Maritime, but his father's retirement is put on hold when Colton begins receiving death threats. If that isn't bad enough, his father signs a contract with Four Kings Security to provide Colton with round-the-clock protection, despite his adamant refusal. Colton's life has been turned upside down, the last thing he needs is a shadow, especially in the form of infuriating, sexy-as-sin Ace Sharpe, who seems to be on a mission to drive Colton mad.

Sparks fly the moment Colton and Ace meet on a sultry night club dance floor. But getting involved with a client, even one as fiery and beautiful as Colton Connolly, is a line Ace is unwilling to cross. Colton might be attracted to Ace, but he'd been burned before. He might be willing to put his life in Ace's hands, but not his heart.

Look Inside

As the Florida nights heat up, so does their passion, and Ace and Colton are faced with a difficult choice—take the plunge and risk it all, or play it safe and walk away?
If Ace can keep a deadly threat from robbing Colton of a future….


4✨s – This was quite fun, a lighthearted action romance between a bodyguard and the son of a wealthy shipping magnate. Colton's father hires Four Kings Security to protect him from apparent death threats, despite Colton refusing to believe it's necessary. Ace is assigned as his close protection and the two clash immediately since Colton resents Ace's presence and his brash mannerisms. We all know what that means! As initial resentment wanes and attraction heats up, the rest of the Four Kings team is introduced including stories of their time together in the military, how they got their nicknames and started up the security business. Ace and Colton's individual perspectives of events and impressions of all the guys from two viewpoints are offered as well.
I really liked that there was plenty shown of Ace and Colton talking and sharing their pasts, so it didn't feel too much like insta-love for the short time they spent together. Jumping into bed, or falling in the ocean in this case, didn't happen right away either. There's a few sex scenes but they didn't overtake the action. Secondary characters are added, like Colton's friend Laz and a young man he helps with a job, possibly future love interests and maybe future villains. I did get a little impatient waiting for something to happen regarding the death threats but like any first book of a series, a lot of character introduction and plot setup occurs. It held my interest with lots of humor and frequently changing situations.
I enjoy Charlie Cochet's breezy, flowing writing style and really liked that the action sequences were choreographed clearly, making them easy to visualize. I have to mention that poor Colton ended up doing an awful lot of protecting for himself but it kept him from being just a static figure in the midst of all the excitement. I'm pleased to have a contemporary series from this author that suits my reading preference and I look forward to more. I'm sure that her "Thirds" fans will enjoy these greatly as well.
About Charlie Cochet: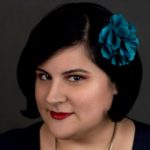 Bringing you stories with heroes, humor, and heart.
Charlie Cochet is an author by day and artist by night. Always quick to succumb to the whispers of her wayward muse, no star is out of reach when following her passion. From adventurous agents and sexy shifters, to society gentlemen and hardboiled detectives, there's bound to be plenty of mischief for her heroes to find themselves in, and plenty of romance, too!
Currently residing in Central Florida, Charlie is at the beck and call of a rascally Doxiepoo bent on world domination. When she isn't writing, she can usually be found reading, drawing, or watching movies. She runs on coffee, thrives on music, and loves to hear from readers.
Where to find Charlie Cochet: