NEW RELEASE REVIEW: Operation Green Card by G.B. Gordon

Author: G.B. Gordon
Book: Operation Green Card
Series: Bluewater Bay, Book #21
Page/Word Count: 219 pages, 57K words
Categories: Gay Romance, Contemporary Romance
Release Date: December 11, 2017
Publisher: Riptide Publishing
Cover Artist: L.C. Chase
---
Blurb: Arkady Izmaylov is a family man. He's also gay. In Russia. His sister Natalya has been telling him to get out for years, but it's only after an attack in the street that he finally concedes and says yes to her desperate plan of him marrying a stranger for a green card.

Jason Cooley was taught from birth that he's no good to anyone. Then the military taught him he was good enough to save other lives, but that purpose got amputated along with his leg. He's now working security at Wolf's Landing and sending monthly checks to his ex for their daughter's education. When Natalya asks him to marry her brother, Jason knows right away he'll do it more for the mission than the money she's offering. But when he actually meets Arkady, his mission turns complicated.

Jason quickly discovers he's not as straight as he thought. He's also the man of Arkady's dreams. Arkady must convince Jason that he's worth loving, and that Arkady won't disappear from his life like everyone else. Because Arkady has always wanted a family of his own, and he's not letting go of this one.


Look Inside

---
About Bluewater Bay: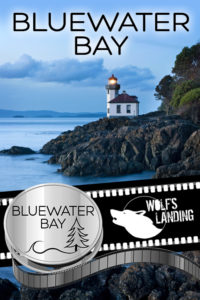 Welcome to Bluewater Bay! This quiet little logging town on Washington state's Olympic Peninsula has been stagnating for decades, on the verge of ghost town status. Until a television crew moves in to film Wolf's Landing, a soon-to-be cult hit based on the wildly successful shifter novels penned by local author Hunter Easton.
Wolf's Landing's success spawns everything from merchandise to movie talks, and Bluewater Bay explodes into a mecca for fans and tourists alike. The locals still aren't quite sure what to make of all this—the town is rejuvenated, but at what cost? And the Hollywood-based production crew is out of their element in this small, mossy seaside locale. Needless to say, sparks fly.
This collaborative story world is brought to you by eleven award-winning, best-selling LGBTQ romance authors: L.A. Witt, L.B. Gregg, Z.A. Maxfield, Heidi Belleau, Rachel Haimowitz, Anne Tenino, Amy Lane, SE Jakes, G.B. Gordon, Jaime Samms and Ally Blue. Each contemporary novel stands alone, but all are built around the town and the people of Bluewater Bay and the Wolf's Landing media empire.
---

4✨s – There was much that I liked with this uncommon twist on the fake marriage scenario. That isn't my favorite trope but saving a gay man from Russian persecution by an injured veteran? Yes please! It was fairly easy to like Jason, although his characterization was thin in spots. He's gruff, taciturn and has an awful view of his own worth, but his thoughts were often repetitive, not showing much emotional development. Background details contributing to his lack of self-esteem are sparse, revealing barely enough to understand the cause. A bit more depth would have helped bolster the reactions and responses offered to Arkady, his passivity and why he let go of people so easily.
Arkady was a stronger character, his internal dialogue, discussions with his sister and secondary figures making him relatable. I did like that the author avoided giving Arkady a dialect, but he didn't always come across as a recently transplanted Russian. Having both POV's still left me baffled occasionally, particularly where Jason's ex and daughter were concerned. Recognizing his own bisexuality wasn't made a huge issue, which was positive. Other gaps and missed opportunities made the narrative frustrating at times. For instance, there were no scenes with Jason's ex, discussing the changes in his life, or his daughter and how she was so comfortable around a parent she very rarely saw.
I did enjoy it overall though, and managed to develop a connection with the two men. It was satisfying reading about Jason and Arkady's confusion towards each other, their unspoken desires and Arkady's determination to get Jason moving forward. In spite of any drawbacks, it kept me involved and reading along, rooting for Arkady's success and a genuine marriage for him and Jason. Ending the story just as the holidays began was a nice touch, and the strong HEA was a pleasing finish.
About G.B. Gordon:
G.B.Gordon worked as a packer, landscaper, waiter, and coach before going back to school to major in linguistics and, at 35, switch to less backbreaking monetary pursuits like translating, editing, and writing.
Having lived in various parts of the world, Gordon is now happily ensconced in suburban Ontario with the best of all husbands.
Where to find G.B. Gordon:





Contest:
To celebrate the release of Operation Green Card, one lucky winner will receive a $10 Riptide credit! Leave a comment with your contact info to enter the contest. Entries close at midnight, Eastern time, on December 16, 2017. Contest is NOT restricted to U.S. entries. Thanks for following the tour, and don't forget to leave your contact info!