NEW RELEASE REVIEW: Poke Check by RJ Scott & V.L. Locey
Author: RJ Scott & V.L. Locey
Book: Poke Check
Series: Harrisburg Railers, Book #4
Page/Word Count: 178 paes
Categories: Gay Romance, Sports Romance, Contemporary Romance
Release Date: February 14, 2018
Cover Artist: Meredith Russell
Blurb: Stanislav "Stan" Lyamin is happy playing for the Railers. The towering goalie is well-loved, respected, and making a home for himself even though that home only contains him, his cat, and his growing Pokemon trading card collection. Stan prefers it that way. He'd given his heart to a man in a secret affair, and that man walked away, leaving Stan shattered. Now Erik is back in his life, and he has the same tumultuous effect he had on Stan's heart as before. This time it's not just a kissable mouth and sweet blond curls that Erik has brought to Harrisburg, there's a soon-to-be ex-wife and a precious baby. Despite the vow Stan made to hate Erik forever, he's now finding it harder and harder to turn away.

Erik Gunnarsson's dream had always been to play in the NHL, he just never imagined he'd land a contract with the Railers. Who would have thought that fate would put him on the same team as Stanislav Lyamin; the man whose heart he'd callously broken?

Secrets and lies had defined their summer relationship, and the choice that Erik made to end it all haunts him still. In the middle of a messy divorce and with a baby in tow, Erik finds himself back in Stan's life. Now all he has to do is be the best dad he can be, prove to the team that he deserves the chance to stay on the roster and try his hardest to get Stan to forgive him. Is it possible to persuade a man who hates you to give love a second chance?

Look Inside



4✨s – I was so happy to finally read Stan's story and see him get a second chance at love! Poor Stan has provided mostly comic relief through the series with his attempts at slang phrases and his love of Pokémon. No one doubts his commitment to the game or team but none know what drove Stan to get to the US, or about his heartbreak, since he's not out to the team. Erik is struggling with being a single dad with a nine-month old baby and with the pressure of fitting in on the Railers team. Stan's attitude towards Erik isn't helping, until baby Noah and the team end up getting involved. Add in Stan's sister Galina, the team's dedicated pursuit of the Cup, and the narrative is fully amusing, interesting and engaging.
Related in a mostly light-hearted way, Stan and Erik do manage to find their way back to each other. Serious subjects are mentioned, but without much angst, and the couple doesn't go through a bunch of needless drama. Reading the dialogue and internal thoughts from both character's POV made things sweet and often funny. It takes some time, but Stan and Erik get pretty hot between the sheets (and against the wall!). Not too much sex though, since the authors focus on romance, while still building the dynamics between them, plus other team members. There's a nice amount of on-ice hockey action, also showing Stan's ongoing love affair with his "pipes". So cute!
The story felt well balanced and well-paced right up until the epilogue, set a few months in the future. At the point the book ended, I was left looking for just a little more, plus an answer about Galina, to close out that last chapter. Maybe a future book will answer that final question. It didn't change anything about the overall story or for Stan and Eric. Stan was so deserving of having his dreams come true and finding his HEA with Erik. Recommended for the lovely romance, fun characters and strong hockey theme. But I still have no idea what a poke check is!
Teasers: Click to englarge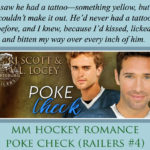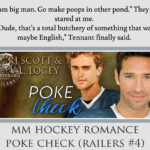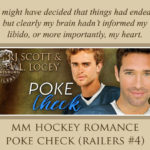 About RJ Scott: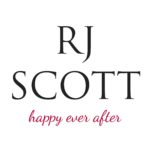 RJ Scott is the bestselling romance author of over 100 romance books. She writes emotional stories of complicated characters, cowboys, millionaire, princes, and the men and women who get mixed up in their lives. RJ is known for writing books that always end with a happy ever after. She lives just outside London and spends every waking minute she isn't with family either reading or writing.
The last time she had a week's break from writing she didn't like it one little bit, and she has yet to meet a bottle of wine she couldn't defeat.
Where to find RJ Scott:




About V.L. Locey: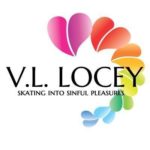 V.L. Locey loves worn jeans, yoga, belly laughs, walking, reading and writing lusty tales, Greek mythology, the New York Rangers, comic books, and coffee. (Not necessarily in that order.) She shares her life with her husband, her daughter, one dog, two cats, a flock of assorted domestic fowl, and two Jersey steers. When not writing spicy romances, she enjoys spending her day with her menagerie in the rolling hills of Pennsylvania with a cup of fresh java in hand. She can also be found online on Facebook, Twitter, Pinterest, and GoodReads.
Where to find V.L. Locey: