NEW RELEASE REVIEW: Promises Part 4 by A.E. Via
Author: A.E. Via
Book: Promises Part 4
Series: Bounty Hunters
Page/Word Count: 313 pages
Categories: Gay Romance, Contemporary Romance
Release Date: March 9, 2018
Cover Artist: Jay Aheer
Guest Post:
Thank you, Jessie, for having my alphas back on your site.
I haven't really had the chance to speak out on this book yet and I'm so happy Jessie has lent me her platform to do so. Many have come to know me as an MM author that prefers to write stories of manly men. Bold, alpha-like characters that don't fit the stereotypical views of gay men. I've been reading gay romance for over twenty years and I'd found myself getting bored with the overuse of effeminate characters. Don't get me wrong, I like those stories a lot, but I wanted to write what I loved, I wanted to write gay men how I see them. Strong, fierce, revered, incomparable, and my list can go on. Therefore, my books portray gay men holding commanding positions or just having an impressive presence on the page. In most of my books the men's occupations are military, police, firefighters, SWAT leaders, or Special Forces, because there are gay men in these positions whether we see them for ourselves or not. And, because these badasses exists out there, I want to tell those kinds of stories.
And, you will meet one of these warriors in Promises Part 4. I'm not going to repeat the blurb, but I will tell you a little about the MC. I've been wanting to do POW survivor since I first wrote Blue Moon, but I knew of the extensive research required and wanted to make sure I could do it right. Brian King was introduced in book one of the Promises series and I've built him up over time to have a dominating presence even though he suffers from selective mutism. I wanted readers to understand that even though he's a deeply scared and wounded man, he's far from weak and isn't looking for pity… he's looking for companionship. Not being able to communicate and suffering from PTSD is a challenge he battles daily but he's never been a quitter. Brian King may be a quiet man but he's also one of the deadliest men in the country and he'll protect what's his with his life. He has plenty to offer a partner, he just needs someone to see past his silence.
Check out Brian's story, it's been a long time coming and so is his HEA.
I hope you'll enjoy it!
xxxxx
Adrienne V.
Blurb:
Men found him attractive, interesting even. He was like a fascinating experiment gone wrong that men liked to investigate. He'd get a date – or two, if he was lucky – but it wasn't long before Brian's darkness showed, and the men were running from him.

Brian King was honorably discharged from the United States Navy five years ago. He'd left with the highest honors a man can receive in his country, but he'd paid the ultimate price to earn them. He was considered one of the best; an Intelligence Officer in a Joint Special Operations Delta team that'd been a twelve-man wrecking crew. They'd thought they were invincible… until they weren't. Brian was the only member that survived the ambush. He survived ten months of pain, of torture, only to emerge on the other side a warrior. A POW survivor. He'd returned home with all his limbs, his right mind, and with his only brother Ford, at his side. But, one thing had been lost, maybe for good… his voice.

Now, being a bounty hunter is Brian's only means to satisfy his need to calculate, track, and capture. His only outlet to the stress caused by his silence. He was good at what he did. But, all work and no play for a forty-four year old man was taking its toll. Brian wasn't a faulty experiment. He missed companionship, he missed communicating. So, when he met Sway Hamilton – in the most unconventional means – he'd been surprised at his special way of understanding Brian's every look… and touch.

Look Inside


All Buy Links:

Sway grew up in the rough part of ATL, trailing behind his twin brother Stanton and his best friend, Dana. He and his brother had a bond only twins could understand. So when Stanton's life was taken during their sophomore year in college, Sway didn't think he'd ever recover. He finally finished school, got his masters in nursing, worked hard, and focused on taking care of his mother. However, Sway knew there was more to life than heartache, and caring for others. There had to be. But he didn't know what any of those things were until he met a dark hunter that blew his mind… and the intense man had never uttered a single word.
Brian and Sway can feel the powerful connection between them. It was there from the start—but both of them have battled with loss and anguish for so long, neither understand that love can ease all of it. Do they have the courage to battle through it together? Sway has to learn to trust in love, and Brian has to believe that Sway will always understand him even if he never speaks again.
Sway held him tight around his neck, "I don't need you to talk, Brian. I can hear you just fine," Sway whispered softly, kissing his throat.
Excerpt:
"Jesus, Brian. Is that a gun?" Sway said breathlessly, staring at Brian with a mixture of surprise and uncontrolled lust.
"No. I'm just really happy to see you," Brian smiled.
Sway liked this teasing, joking side of him. He wondered how many people actually got to see it. He laughed loudly at the classic joke, and let his leg slowly slide down Brian's thigh until his boot was on the floor. "Do you always carry?"
Brian rubbed his scruff against Sway's cheek once more, the burn feeling amazing. "Yes. Hard habit to break. But, don't you worry, it's no danger to you."
Sway looked up at Brian… he wanted danger. Wanted his bad boy to take him out of his comfort zone. Where he got the bravado from, he didn't know, but Sway leaned seductively against the wall and reached forward, gripping Brian's thick leather belt. He used it to pull Brian to him, watching him come readily. Sway reached up and caressed Brian's cheek, while he sneakily wrapped the other hand under his shirt and around his back again, wanting another forbidden feel of that hard, cold steel. He ran his fingers over the butt of the gun, watching Brian's reaction the entire time. He saw him bite his bottom lip as if he was fighting for control.

4✨s – About five minutes after I said to a friend on messenger, "hey, did you see Promises 4 is coming out?" I got an email and quite possibly broke land-speed records for responding. Brian and Sway? Uh, yes, yes please, now. Normally, I read just as fast I responded to that email, but at over 300 pages of emotion, I took my time and did this one in two sittings (trust me, I wanted to KNOW, but it's worth savoring).
Brian and Sway began in Book 3, though you don't have to read that book as the author recaps it for us. We pick up here with Brian reaching out, again, and Sway still waffling. He's afraid of feeling anything for anyone, so he contents himself with work and taking care of everyone else except himself. After one intense introduction and a second surprise meeting, Sway already knows Brian would change all of that in the best possible way and that terrifies him. Thankfully, he gets out of his own way long enough to try despite his fears.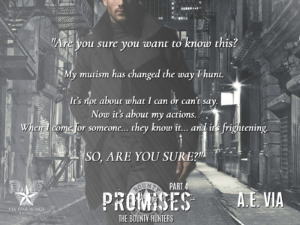 As for Brian, I feel like I could go on for hours. His needs are overwhelming which could seriously veer into 'he's needy,' however, most of it takes place in his head (a place we become heartbreakingly intimate with) and he never really lays it all on Sway. While I was glad he didn't put on the pressure, but kept talking himself into throttling back, it only made me want Sway to see how desperately Brian needed him.
This is such an emotional book and I've spent quite a while trimming this out so as not to post spoilers. In the end, I loved all but a few niggles. First, I was over Dr. D(omin)ick and the pushy relief nurse as soon as they hit the page and thought they were unnecessary annoyances. Second, Ford. Why? I finally loved his annoying ass at the end of Book 3 and then he doubles down on the assness! I do get that he is driven by worry for his brother, but that hard line…it just broke my heart. And third, Tweetie. She's a wonderful gregarious personality that took over every scene she was in. That would be fine, except I wanted to know more about Sway's mother and as I write this, I can't remember her name, but I remember Tweetie.
Fans of the series will not be disappointed. New readers will only want to go back to the beginning. Overall, Brian and Sway broke my heart, then filled it up with every unspoken word and it was pretty much everything I wanted from them.
About A.E. Via:

A.E. (Adrienne) Via has been a best-selling author in gay romance for five years now, but she's no stranger to MM. She's been an avid reader of gay lit for over twenty years before she picked up her laptop to place her own kiss on this beautiful genre. She's also the founder and owner of Via Star Wings Books, having published a couple of great new up and coming MM authors.
A.E. has a Bachelor of Arts in Criminal Justice from Virginia Wesleyan College that she used to start her own paralegal firm after she graduated in 2008. She spent five years preparing and filing bankruptcy petitions for struggling blue collar workers who couldn't afford to file with a lawyer. It was a rewarding and satisfying career… but another path called to me. Writing.
A.E.'s writing embodies everything from hopelessly romantic to adventure, to scandalous. Her stories often include intriguing edges and twists that take readers to new, thought-provoking depths.
Now that she's gotten over her 10 books published hump, she's kind of known now for her play rough and love hard, bad boy, alphas. However, I do like to push myself to step out of my comfort zone and explore with different tropes, but I never push myself into a whole other genre. I'm head over heels for gay romance and I have tons of more hot stories to tell.
Be sure to visit Adrienne on her social media pages and subscribe to her newsletter to never miss another release date!
Where to find A.E. Via: