NEW RELEASE REVIEW: Ride Along by Meghan Maslow

Author: Meghan Maslow
Book: Ride Along
Series: States of Love: Maryland
Page/Word Count: 122 pages, 41K words
Categories: Contemporary Romance, Gay Romance
Release Date: June 14, 2017
Publisher: Dreasmpinner Press
Cover: Garrett Leigh
Buy Links: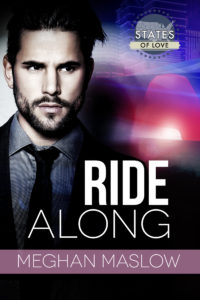 Blurb:
Drew Nolan is a loud-and-proud mystery writer with a brutal case of writer's block. He needs practical experience with the Baltimore police beat to get his latest manuscript to his publisher on time. When he wins a ride-along at a writer's conference, he thinks he's hit the jackpot… until he meets his partner.
Closeted cop Josh de Oliveira lost his family, his partner, and the respect of his unit—all for doing the right thing. Recently busted back down to patrol, he's relieved to get a cushy assignment at the Author's Police Institute where he'll take one lucky writer on a ride-along. Unfortunately, his author looks like he belongs in the backseat of Josh's squad car—long, ginger dreadlocks, piercings, and an "I would bottom you so hard" T-shirt. But there's something about Drew Josh is having a hard time resisting.
It's going to be a long night and one hell of a ride as opposites attract and realize they share a lot in common beneath the surface. As animosity becomes desire, they realize they can help each other out—in more ways than one.

3✨s – A mystery writer in need of inspiration, a cop in need of … well the list is long, and this book started out promising. Drew has signed up for a conference in the hopes of gaining some much needed inspiration for his second book. His first won him awards and fans but, if he can't follow it up, what is he? Mostly ignored by the officers that are there for that whole purpose, he doesn't get what he needs until he's chosen for a ride along. With the cop that was rude to him. That he thought was hot. That his new friend/fan Laura gave a dressing down to. Set up for sparks? Definitely
Josh is a closeted cop who had to testify against his partner and is paying a hefty price for doing the right thing. His parents have disowned him, he's demoted, harassed by his fellow cops, constantly being written up by his superiors, etc. Basically perpetrating the whole idea that cops should cover for each other no matter what and never rat. I love me a good cop book, I love a cop willing to blur lines for justice, but other than Josh, every other cop in this book is written on the spectrum of dirty cop/bully cop, look the other way cop, or scaredy cat cop (i.e. not willing to stand up to bully cop). I feel like I could write reams about why that bothered me, so I'll move on.
Drew and Josh start out butting heads, that turns into a hot and heavy one night stand that ends with Drew overhearing Josh call him "some little queer" to the cops who are riding Josh mercilessly about every little thing. The words are uncalled for, Drew's understandably hurt, but Josh…how much more can we pile on this man's shoulders? He grovels profusely and there is the whole strange conversation where Drew proclaims he doesn't need Josh to come out of the closet for him, while at the same time asking Josh to prove he's committed by openly displaying their relationship everywhere but at Josh's job. Because that won't get back to anyone? Then enter the most bizarre family known to man. Other than Ian, there wasn't a single redeeming quality about Drew's parents. From the mother showing up and letting herself into the house—knowing Drew was with Josh—to her suggesting that Drew isn't good enough for Josh, to the dinner fiasco where they completely ignore Drew's success as a writer and air a truly heartbreaking past incident, to…there's concerned and then there's Drew's parents. Unlikable is the polite word that comes to mind.
The bones for a really good story are there. Josh is fighting for his career, they're trying to figure out this new not-so-hidden-relationship, there's family angst and…………fast forward. Those are three major plot lines to fit into 40K words and there's not enough time after the set up to really fill them in, so we get quick glimpses and then a wrap-up epilogue where they all lived happily ever after. It wasn't enough (for me) and the only thing that saved this book was the awesome banter between Josh and Drew. And HONFest. I loved the glimpse into HONFest.

About Meghan Maslow: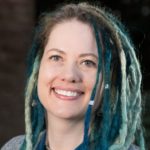 Her initials say it all…
Meghan Maslow is truly a rare breed. No, not a unicorn (although that would be sooo cool). She's a—gasp!—extroverted writer.
She believes that life is meant to be lived. Preferably with lots of people around. Every day is an adventure, or should be. She's spent a large portion of her life working and living in various countries in Africa. She's multitalented, having perfected the art of eavesdropping in bars around the world while chugging local brews, and gabbing with anyone who isn't quick enough to elude her grasp. She believes kindness is contagious, and learning to laugh at yourself is one of life's greatest gifts (and challenges). She advocates for social justice, believes storytelling can be transformative, and surprisingly isn't a misanthrope. She loves travel, reading, world music, Moscow Mules, awkward dancing, dreadlocks, her family, and um… writing.
Where to find Meghan Maslow:





June's Blog Contest:
Leave a comment for an entry into a contest to win a $25 Dreamspinner Gift card. Every comment left on a blog post in June will equal one entry, so comment often!