NEW RELEASE REVIEW: Sicarii by Adrienne Wilder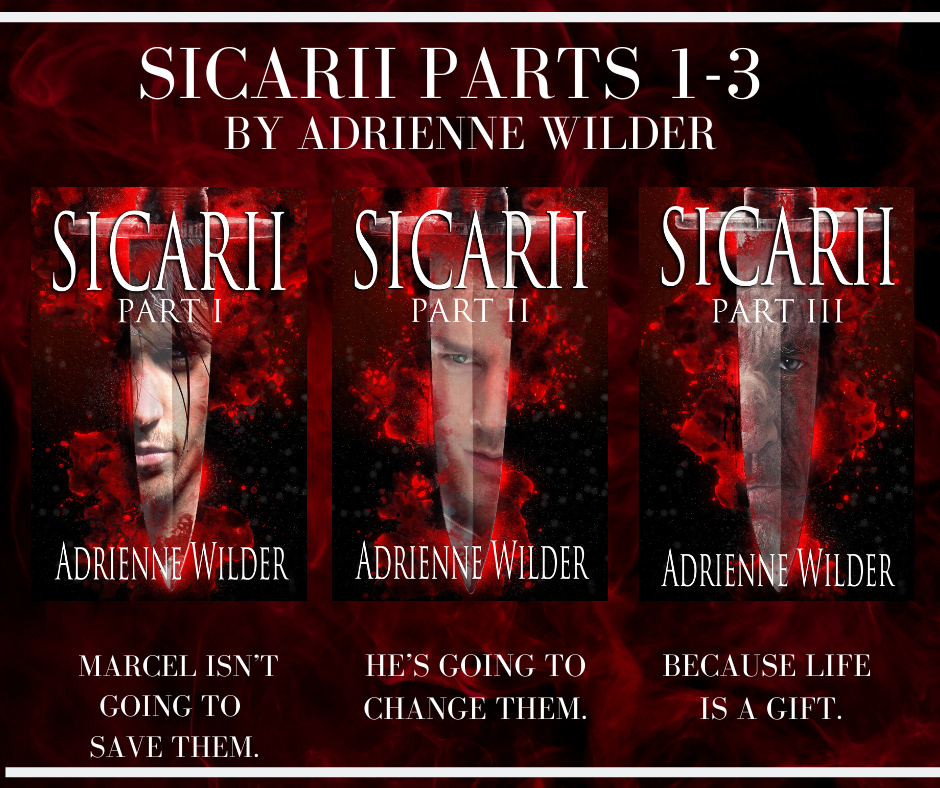 When Ben Corbin's uncle is murdered, he comes into possession of information about the man responsible for the death of his mother and father. A man his uncle appeared to be hunting. Now Ben wants to finish what his uncle began.
Jacob Moser fell into a cycle of drugs and abuse. His will broken, his life destroyed, he had no hope of survival. But the man who saved him is no angel; rather, the remnants left behind when all the complexities of what makes a person human are stripped away, leaving the darkest parts of a man.
Marcel Serghi lives by the rules of his House. Rules ingrained in him as a child under the most brutal conditions meant to hone him into a perfect killer. And throughout his life, he has made vicious enemies. Now innocent lives have been swept up into a storm of revenge against him.
But Marcel isn't going to save them.
He's going to change them.
Because life is a gift.
Get Sicarii on Amazon | Save it to Goodreads
---

⭐⭐⭐⭐⭐
As with any of Adrienne Wilder's books you open to the first page and think this is gonna be one hell of a ride.  These three books did not disappoint.
Book one starts to weave the web that Adrienne is known for.  It starts with all of the character introductions and basic backgrounds to make you think you know who you're going to read about. I can promise you there are surprises along the way.  As book one ends, we are left, of course, with wanting to know so much more.
Book two begins the deep dive into our new friends.  Sam, Roshan, Ben, Jacob, and Marcel. Ooooo Marcel. The book also begins to explain and build the world that our new friends are coming to live in and around. It is the unveiling of this new world that is based on Houses and Rules. Book two pulls you deeper and deeper into our new world.
Book three. Ahhh Book Three.  So many twists and turns. By now we are all completely invested in our beloved characters Sam, Roshan, Ben, Jacob, and Marcel.  At this point, all I can tell you is to sit back and enjoy the ride!
What an amazing series. Are there more????
---
ABOUT ADRIENNE WILDER: I am a writer of contemporary and speculative fiction and artist of all things monster. I live to create new worlds and the people in them. Several of my books have been best sellers both nationally and internationally. I have also been a finalist in the LAMDA awards, the "Oscars" of gay literary works.
I do my best to write original stories with powerful characters and emotion as well as a fast-paced plot. My goal isn't just to deliver a good story but to take the reader into the story and let them experience the characters as if they are right there with them.
While almost all my books have a romantic element, I will be the first to admit, they are not traditional romance. In fact, I'd like to think there is nothing traditional about them. And the stories I paint are done so way outside the lines of traditional genres.
One of my favorite things to do as a writer is push the boundaries of what makes a story and to deliver the unexpected and maybe even change the perspective of the reader.
My characters are more often than not, beautifully flawed, not always the good guy, and make mistakes. Their stories will take dark turns which, in the end, make the light at the end of the tunnel all the brighter.
If you're looking for something different, exciting, and unique, my books are for you.
Website * Facebook * Readers Group * Twitter * Instagram * Bookbub * Amazon * Goodreads * DeviantArt * Patreon * Newsletter
---
GIVEAWAY: $25 Amazon Gift Card
Follow the tour HERE for special content and a giveaway!
https://www.silverdaggertours.com/sdsxx-tours/sicarii-book-tour-and-giveaway