NEW RELEASE REVIEW: Ten Mile Bottom by Teodora Kostova
Author: Teodora Kostova
Book: Ten Mile Bottom
Categories: Gay Romance, Contemporary Romance
Release Date: March 16, 2018
Blurb:
Hitting rock bottom is just the beginning…

I'm a son, a brother, a friend.
A writer.
An addict.
Dead.
Cardiac arrest isn't enough to keep me dead, though. The doctors brought me back, but for what?

At twenty four I've already achieved what most people do in a life time. I'm a successful author, own a flat in the heart of London and drive my dream sports car.
Or at least that's what people see.
Once the spotlight fades, I'm left alone with my overactive mind, alcohol and drugs the only way to quiet down the noise.
Until an overdose nearly kills me and drags everyone I love down with me.
With the help of my best friend, I leave London and its toxic influence behind, moving to a small town in the outskirts of Cambridge to try and put my life back together again.

If only it were that easy.

Look Inside


4.5✨s – I've sat on this review for more than a week now and am still having trouble putting my thoughts into words. This book opens with a gut punch and I felt like I never caught my breath. You absolutely have to read it, of course, so we can cry together!
Finn is 'partying' himself into a stupor to dull the pain, not just in the opening scene but an ongoing spree. At his side is Aiden, best friend and more, following along even though he knows it's not good for either of them. It's a destructive cycle that hits an all time low that puts multiple lives at risk. Faced with the far-reaching consequences of his actions, Finn agrees to another rehab, but doesn't believe he'll actually change until Aiden reappears to give him the details he didn't know. For all that it is done in a very matter of fact, confrontational scene, you'll want tissues for all of it.
All of this leads up to an actual attempt at change. New life in a small town, far from the temptations of his past and comes complete with nosy neighbors and a hot mechanic. Ben is adorable, embarrassed because he knows the famous author Finn is pretending not to be, sweet as pie, and steady as a rock. I appreciated that Finn was responsible enough to confess all before they got too far into their relationship and loved Ben's reaction.
Their romance is lovely and we can see Finn healing, learning to fight unexpected temptations, come to terms with his family drama, and Aiden . Overall, it was a angsty, lovely romance that wasn't as…gritty as I was expecting. The beginning is harsh, confrontations between Finn and his mother are heartbreaking, but with the exception of the Aiden confrontation, the time between down and out and ready to rebuild is largely glossed over. Without that, I wasn't entirely convinced that this time would be the one that stuck.
Teasers: click to enlarge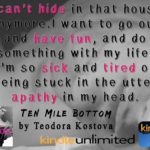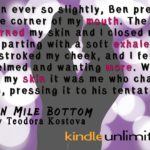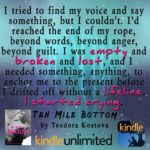 About Teodora Kostova: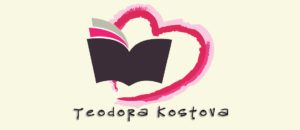 Hi, my name is Teodora and I live in London with my husband and my son. I've been writing ever since I can remember, but it became my full time job a few years ago when I decided that everything else I've tried bores me to death and I have to do what I've always wanted to do, but never had the guts to fully embrace. I've been a journalist, an editor, a personal assistant and an interior designer among other things, but as soon as the novelty of the new, exciting job wears off, I always go back to writing. Being twitchy, impatient, loud and hasty are not qualities that help a writer, because I have to sit alone, preferably still, and write for most of the day, but I absolutely love it. It's the only time that I'm truly at peace and the only thing I can do for more than ten minutes at a time – my son has a bigger attention span than me.
When I'm procrastinating, I like to go to the gym, cook Italian meals (and eat them), read, listen to rock music, watch indie movies and True Blood re-runs. Or, in the worst case scenario, get beaten at every Nintendo Wii game by a very inventive kid.
Where to find Teodora Kostova: