NEW RELEASE REVIEW: The Past Comes Home by Silvia Violet

Author: Silvia Violet
Book: The Past Comes Home
Series: Ames Bridge Series, Book #2
Page/Word Count: 229 PAGES
Categories: Gay Romance, Contemporary Romance, Second Chance
Release Date: October 3, 2017
Cover: Meredith Russell
Blurb:
Twenty years ago, Paxton Marshall realized he liked boys, in particular his brother's best friend, Brad. Pax now runs a successful art gallery, but he's never found anyone who stirs his heart the way Brad did.

Brad Watson is back in town for his twentieth high school reunion. However, the celebration of long-ago days is the last thing on his mind. He's there for one reason: to finally tell Pax how he feels.

Pax is shocked to learn Brad is not only gay but also interested in him. Dating a man in Ames Bridge isn't as simple as it sound, though. In order to make a relationship work, both men will have to bolster their courage and alter their expectations.

*This book is an expansion of a previously published short story titled Open to the Past. Over 35,000 words have been added.*

Buy Links:

Look Inside

Excerpt:
A knock on the shop door drew Pax's his attention; probably his assistant, Cindy. It wouldn't be the first time she'd forgotten her key, and no one else would be dropping by this early. Microfiber duster in hand, he twirled his way past the worktables and unpainted pottery pieces.
He sang along with Madonna as he reached for the doorknob, and froze—Brad was grinning at him through the front window.
Heat rushed to Pax's face. For a moment he contemplated racing over to turn the music off, then walking calmly back to the door as if the last few seconds had never happened. Could he convince Brad his earlier appearance was a hallucination?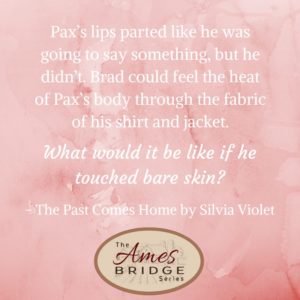 Brad placed his hand against the window and peered in. "Is this a bad time? I know I'm really early."
"Um…no. Just a sec."
He would open the damn door, talk to Brad, and generally behave like a respectable adult. That's what would happen.
With a deep breath, he turned the knob and stared, openmouthed, unable to form a single word. Was Brad even more gorgeous than he'd been two years ago? At eighteen he'd been the hottest boy in school, but now with his dirty-blond hair showing hints of gray, he was even better. His T-shirt stretched taut over his biceps, and his jeans fit like they were tailor-made for his muscular thighs. But the thing that made Brad even more desirable now was how relaxed and happy he seemed. In high school he'd always been restless, as though he were uncomfortable in his gorgeous body, despite having it made as far as anyone else could tell. Pax wondered what had changed.
Pax looked up at Brad and realized he'd been caught giving him a blatant once-over while he stood in the doorway. "Um… Where are my manners?" Fled in the face of his insanity? "Come in. That is, if you'd like to."
"I would." He smiled, showing off the dimple in his left cheek.
Pax wanted to run his tongue across it. Instead, he made a dramatic show of bowing and sweeping his hand toward the interior. "Enter, sir."
Brad laughed and stepped inside. Pax shut the door behind him and locked it, hoping Cindy would be late so he'd have time to show Brad the gallery without anyone else there.
"Is it '80s day?" Brad asked.
Pax needed to accept that he would be blushing the whole time Brad was there. "No, I was just cleaning, and this music motivates me."
"Let me know if I'm keeping you from something. I woke up early, and I was anxious to see you."
Anxious to see him? Him? Pax's knees threatened to give. Was it possible…? No. Just because Pax had spent far too many hours fantasizing about Brad saying he was gay or bi, that didn't mean it was going to happen.

4✨s – I love a good second chance romance and while Brad and Pax never acted on their first chance, there was still a lot of history between them to overcome. In small-town Ames Bridge, acceptance is a slow moving process and while more of the town is standing behind Cal & Beck (Book 1), there are still (loud) dissenters. Pax knows all about them, having been the subject of their bullying all his life. He'd gotten out once, but after the death of his older brother, he returns to be closer to his aging parents and despite the odds, builds a life where not everyone wants him. It works because he's single and no one sees him with another man—sort of that out of sight, out of mind mentality.
Enter Brad, former high school jock and Pax's brothers best friend. Back in the day, he didn't know he was gay and would have never broadcasted the confusing feelings he had been having. Especially about Pax. The years have brought them each professional success, but neither has forgotten the other and when Brad returns for the brother's funeral, all feelings rise to the surface over pie in the sweetest scene ever. Still, wrong place, wrong time and they separate again until Brad's reunion gives him a reason to come back. Only, he doesn't just want to connect with his old teammates, he wants to come out and claim Pax in the process.
There was a lot of sweet in this story, along with the grieving and angst of fighting against homophobia from people they've known their whole lives, and I wanted to love it so much. My problem was Pax. My heart broke for him, truly, and he was so deserving of a happily ever after with Brad…but he was so damn stubborn and sure of what he believed—that Brad would never stay—that he did everything to push him away even when he was standing at his side.
What started out a self-protective measure became a brick wall that was frustrating for Brad and as a reader, had me shaking my kindle while I envisioned Pax. Still, the ending as sweet as a Madonna ballad and a frosted cookie put together and made this a solid comfort read.
About Silvia Violet:
Silvia Violet writes fun, sexy stories that will leave you smiling and satisfied. She has a thing for characters who are in need of comfort and enjoys helping them surrender to love even when they doubt it exists. Silvia's stories include sizzling contemporaries, paranormals, and historicals. When she needs a break from listening to the voices in her head, she spends time baking, taking long walks, curling up with her favorite books, and spending time with her family.
Where to find Silvia Violet:






Contest:
a Rafflecopter giveaway