NEW RELEASE: The Quarterback by Mackenzie Blair

Author: Mackenzie Blair
Book: The Quarterback
Series: SERIES NAME
Page/Word Count: 339 pages, 88K words
Categories: Gay Romance, Contemporary Romance
Release Date: September 11, 2017
Publisher: Riptide Publishing
Cover: Natasha Snow
Buy Links:




Blurb: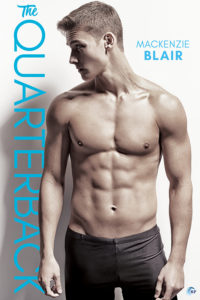 Matt Lancaster is the star quarterback at Bodine College, a small Southern Division II school with an ultra-conservative Dean of Athletics. Matt is also very much in the closet, and he thinks he's kept his secret well hidden. Until his best friends take him to a happy endings massage parlor and request a male masseuse for him.
In walks Trevor Kim, a gorgeous, pierced, tattooed fellow Bodine student who does massages—without happy endings—to pay for school after his family kicked him out for being gay. Trevor takes one look at Matt and breaks all his own rules about mixing business with pleasure.
Matt needs to keep his scholarship, win the National Championship, and survive his asshole father. Instead, he falls in love. Trevor needs to accept that the football god is meant to end up with him rather than a perky cheerleader. It's time for a happy ever after for both of them.
About Mackenzie Blair:
Mackenzie Blair is an award-winning screenwriter in Los Angeles who's written for shows and films you've probably heard of. Mackenzie grew up in the South but fled the humidity for earthquakes, university, and a brief stint in finance. As a cynical idealist, she prefers to write happy endings whenever possible.
Giveaway:
To celebrate the release of The Quarterback, one lucky winner will receive a $30 Riptide gift card! Leave a comment with your contact info to enter the contest. Entries close at midnight, Eastern time, on September 16, 2017. Contest is NOT restricted to U.S. entries. Thanks for following the tour, and don't forget to leave your contact info!