NEW RELEASE TOUR: New Hand by L.A. Witt

Author: L.A. Witt
Book: New Hand
Series: Bluewater Bay
Page/Word Count: 299 pages, 108K words
Categories: Gay Romance, Contemporary Romance
Release Date: December 18, 2017
Publisher: Riptide Publishing
Cover Artist: L.C. Chase
---
Blurb: Months after his husband's death, Garrett Blaine desperately needs a fresh start. He sells his house in Seattle, leaves his accounting job, and starts bartending in Bluewater Bay. There he meets a man who wakes up his nearly forgotten libido.

Jesse Connelly's friend with benefits bolted after Jesse disclosed his HIV status. Stood up and stinging, Jesse tries to drown his sorrows . . . and finds an unexpected connection with a lonely bartender.

Jesse and Garrett quickly bond over a shared love of comics and card games, and they can't get enough of each other between the sheets. Not even a bumpy start and a fifteen-year age gap can derail them as they go from strangers to lovers, then friends, then much more.

But as Garrett's feelings for Jesse deepen, so does his grief for the man he lost—especially as he sees hints of his late husband in his new boyfriend. Now Garrett has to figure out if Jesse is his second chance at true love, or if Jesse's just filling in for the man he's never fully grieved. And he needs to figure it out soon, because Jesse's starting to wonder the same thing.


Look Inside

---
About Bluewater Bay: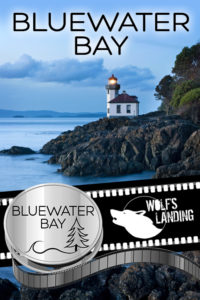 Welcome to Bluewater Bay! This quiet little logging town on Washington state's Olympic Peninsula has been stagnating for decades, on the verge of ghost town status. Until a television crew moves in to film Wolf's Landing, a soon-to-be cult hit based on the wildly successful shifter novels penned by local author Hunter Easton.
Wolf's Landing's success spawns everything from merchandise to movie talks, and Bluewater Bay explodes into a mecca for fans and tourists alike. The locals still aren't quite sure what to make of all this—the town is rejuvenated, but at what cost? And the Hollywood-based production crew is out of their element in this small, mossy seaside locale. Needless to say, sparks fly.
This collaborative story world is brought to you by eleven award-winning, best-selling LGBTQ romance authors: L.A. Witt, L.B. Gregg, Z.A. Maxfield, Heidi Belleau, Rachel Haimowitz, Anne Tenino, Amy Lane, SE Jakes, G.B. Gordon, Jaime Samms and Ally Blue. Each contemporary novel stands alone, but all are built around the town and the people of Bluewater Bay and the Wolf's Landing media empire.
---
About L.A. Witt:
L.A. Witt is an abnormal M/M romance writer who has finally been released from the purgatorial corn maze of Omaha, Nebraska, and now spends her time on the southwestern coast of Spain. In between wondering how she didn't lose her mind in Omaha, she explores the country with her husband, several clairvoyant hamsters, and an ever-growing herd of rabid plot bunnies. She also has substantially more time on her hands these days, as she has recruited a small army of mercenaries to search South America for her nemesis, romance author Lauren Gallagher, but don't tell Lauren. And definitely don't tell Lori A. Witt or Ann Gallagher. Neither of those twits can keep their mouths shut . . .
Where to find L.A. Witt:



Contest:
To celebrate the release of New Hand, one lucky winner will receive a $10 Riptide credit and their choice of two ebooks off LA Witt's backlist (not counting New Hand)! Leave a comment with your contact info to enter the contest. Entries close at midnight, Eastern time, on December 23, 2017. Contest is NOT restricted to U.S. entries. Thanks for following the tour, and don't forget to leave your contact info!