RELEASE DAY BLITZ: Wolf of the Northern Star by SJ Himes

Author: SJ Himes
Book: Wolf of the Northern Star
Series: The Wolfkin Saga, #2
Page/Word Count: 104K words
Categories: Gay Romance, Shifter Romance
Release Date: June 15, 2017
Cover Artist: Kellie Dennis by Book Cover By Design
Buy Links:


Blurb: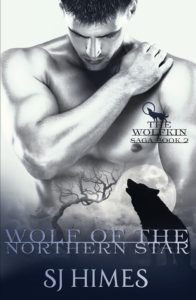 Ghost, once known as the cub Luca, is finally home. Back among his kind and learning what it means to be both a man and a shaman, Ghost battles the expectations of his people, his family, and the pressures of a society that is both foreign and familiar. His power is greater than any seen before, dwarfing that of even the legendary Shaman Gray Shadow—and his union with Kane places him in the center of a controversy that rattles wolfkin society around the world.
Kane, greater alpha and Heir to Black Pine Clan, has finally defeated the traitor and murderer that destroyed the heart of Black Pine years before. Freed at last from guilt and pain, Kane has a new enemy to face: his own people. Placed on trial for violation of Law and blasphemy, Kane will have to fight to the death to preserve his bond with Ghost and keep his mate and people safe.
The soulbond between Ghost and Kane is forged by the creator and Goddess of the wolfkin. Usually, a sacred and treasured union that honors the pair and their clans, this soulbond is seen not as a gift, but a threat to eons of tradition and Clan Law.
The union of a Shaman and Alpha is anathema—but how to reconcile that belief when it is the wolfkin Goddess who forged it? Can Ghost and Kane save themselves, preserve their bond, and find a new future when the laws of the ancient past threaten to tear them apart?
Exclusive Excerpt:
Kane cursed as his arms were yanked behind his back. Rough hands put shackles on his wrists, and his feet were restrained with steel and silver bands. He spat out a mouthful of dirty snow, growling as his attackers backed away. He searched for Ghost, but the shamans had quickly taken his little wolf away, Ghost's enraged snarls and screams leaving Kane afraid for his mate.
"Move out of my way!" Caius snapped, the crowd around Kane cleared out, letting his clan leader through. Kane bit his tongue is surprise when Caius knelt in the snow next to him, brushing his long hair back from his face. Caius was angry, so angry Kane could feel his alpha's fingers shaking before Caius regained himself.
Growls and harsh whispers rose from the pack of greater alphas around Kane, but no one stopped Caius as his clan leader helped him to sit up out of the snow, legs under him. He was already soaking wet, though the cold wasn't bothersome. Wet jeans were annoying, and his arms ached from being yanked behind his back.
Kane looked up when a shadow moved in his periphery. Andromeda stood over them, hair raised on the wind, eyes glowing a brilliant blue. She took a few more steps until she was right next to Kane, and put a slim hand on his shoulder. The greater alphas who ambushed him took a few steps back, warily eyeing the formidable beta.
"The Tribunal members decided the charges warrant incarceration until your trial, youngling," she said, and her fingers tightened on his shoulder until he wanted to wince. She was cautioning him to be quiet. Just past her, Kane saw the other Tribunal members, the clan leaders watching impassively from the front porch of her cabin.
*Say nothing, not even in your defense,* Caius told him, so soft in his mind that the others about them wouldn't be able to overhear. Kane nodded discreetly, and breathed in and out a couple times to ease his racing pulse.
*Ghost? Is he okay?* Kane was worried for his mate. Ghost's presence in the back of his mind was a riot of anger and fear. There was no blast of lightning and scent of burning flesh, so the surge of energy Kane had sensed in Ghost was stopped before his mate's fears overrode common sense. He sent a burst of calm and affection, and hoped Ghost was in a state to feel him through their bond.
*Ghost is unharmed. The shamans could have done that better, that was poorly thought out. They are attempting to calm him now,* Caius replied, one big hand going under Kane's upper arm. His clan leader lifted Kane to his feet, and when he was steady, Caius knelt down and unshackled his feet so he could walk. Growls came from the crowd, but none contradicted the clan leader's actions.
"The accused is to be locked away until his Trial," Julian declared, loudly enough to be heard over the wind. "The afflicted youngling is to be kept separated until the shamans' testimony to his mental state and the nature of the bond."
Teasers: (Click to enlarge)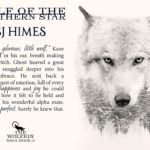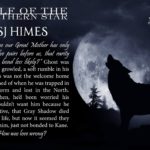 About SJ Himes:
I'm a self-employed writer who stresses out about the silliest things, like whether or not I got my dog the best kind of snack and the fact my kindle battery tends to die when I'm at the best part in a book. I write mainly gay romance, erotica, and urban fantasy, with ocasional forays into contemporary and paranormal. I love a book heavy on plot and character evolution, and throw in some magic, and that's perfection. My current series are: The Beacon Hill Sorcerer, Bred For Love (as Revella Hawthorne), and The Wolfkin Saga. My last two novels in the Beacon Hill Sorcerer won 3rd Place in the Gay Fantasy category for the 2016 Rainbow Awards.
I live in New Orleans, where the personalities are big and loud and so are the bugs! New Orleans is rich in cultural history, and the flavor and music of the City is impossible to hide. Before that, I lived all over the United States: Tampa, Western Massachusetts, Indianapolis, and on and on…. I'm a nomad, and I've yet to find a place that calls to me strongly enough to become home. My faithful travel companions are my dog Micah, the numerous voices in my head who insist they all get put on paper, and the wind at my back.
Where to find SJ Himes:





Contest:
a Rafflecopter giveaway