RELEASE DAY REVIEW: A Coal Miner's Son by T.A. Chase

Author Name: T.A. Chase
Book Name: A Coal Miner's Son
Series: States of Love
Page/Word Count: 107 pages, 39K words
Categories: MM Romance, Contemporary
Release Date: January 4, 2017
Publisher: Dreamspinner Press
Buy Links: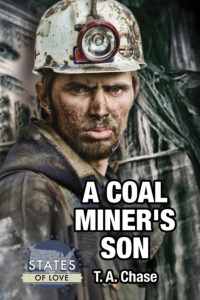 Blurb:
James Callahan is the only son of Nicholas Callahan, owner of the Willow Hollow mine in West Virginia—but he's never considered himself any better than the miners. He's best friends with Owain Rees, one of the miners' kids, and he's been attracted to Cai, Owain's older brother, for years. James gets the feeling he might not be the only one sensing the tension between them, but Cai avoids him religiously.
Cai has been working the mine since he was sixteen. He acknowledges James is cute, but he's grown up privileged while Cai's family has always been working class, and Cai fears that chasm is too wide to cross. When family drama pushes them together, will Cai and James see they're more alike than they realized?
Take a leap of faith as two men from different worlds, employer and employee, rich and poor, discover that love transcends social barriers.

3.5✨s – This story had me all over the place. I liked the idea of the boss's son and the miner getting together, but the execution fell flat. The secret affection was not so secret. While the acceptance and love that flowed through this small West Virginia town was a beautiful thing to see, I never quite connected with the story. Cai and James were cute together, but no hot passion. Maybe the dialogue was too stilted and the connections too vague. The story was sweet overall, just no real oomph. It felt like a lot of exposition for what could be a great series.

Author Bio:
T.A. Chase lives in the Midwest with her neurotic but still wonderful senior cat. She believes there is beauty in every kind of love, so why not live a life without boundaries? Experiencing everything the world offers fascinates T.A., and writing about the things that make each of us unique is how she shares those insights. When not writing, she's watching movies and reading. She's also a part of a line-dancing group that takes over a bar on Tuesday nights and entertains at assisted living homes. It's all about living life to the fullest.
She loves hearing from fans. But don't be too upset if she doesn't get back to you right away. Life has a way of making her lose track of days and hours. Don't worry, though. You will hear back at some point.
Where to find the author: