RELEASE DAY REVIEW: A Few Good Fish by Amy Lane
Author: Amy Lane
Book: A Few Good Fish
Series: Fish Out of Water, Book #3
Page/Word Count: 290 pages, 102K words
Categories: Gay Romance, Mystery & Suspense
Release Date: August 28, 2018
Publisher: Dreamspinner Press
Cover Artist: Reese Dante
Buy Links:





Blurb:
A tomcat, a psychopath, and a psychic walk into the desert to rescue the men they love…. Can everybody make it out with their skin intact?
PI Jackson Rivers and Defense Attorney Ellery Cramer have barely recovered from last November, when stopping a serial killer nearly destroyed Jackson in both body and spirit.
But their previous investigation poked a new danger with a stick, forcing Jackson and Ellery to leave town so they can meet the snake in its den.
Jackson Rivers grew up with the mean streets as a classroom and he learned a long time ago not to give a damn about his own life. But he gets a whole new education when the enemy takes Ellery. The man who pulled his shattered pieces from darkness and stitched them back together again is in trouble, and Jackson's only chance to save him rests in the hands of fragile allies he barely knows.
It's going to take a little bit of luck to get these Few Good Fish out alive!
---


5✨s – This stellar third entry continues Ellery and Jackson's search for the origins of serial killer Tim Owens and has cemented this series position on my favorites list. Amy Lane is also crossing characters over from earlier books. The opening chapter includes Ace and Sonny, MC's in Racing For the Sun, Lee Burton, mentioned there as well as in Red Fish, Dead Fish plus Ernie, a new character. (That's right, Burt and Ernie!) Much like the first two books, the action starts out with a literal bang, the plot rocketing along a dangerous trajectory to a thrilling, explosive finish. That's not hyperbole, the excitement and danger is riveting, thrilling and heart wrenching. Amy's style still seeds humor among the pathos, as neither Jackson or Ellery ever miss an opportunity for astute, witty and/or sarcastic observations. They also provide tender displays of support and validation for each other when making tough decisions. I just love this couple and the family members that populate the pages beside them. Besides the fact that between the sheets scenes are smokin' hot!
Ace and Sonny play a big part but you don't have to read Racing For the Sun, as it's outlined enough in book 2 which includes an additional ficlet covering their first meeting with Ellery and Jackson. Lee Burton is mentioned as well but Ernie is an entirely new figure. I'm not sure how I feel about throwing a psychic into the mix, as I'm not a big fan of anything paranormal. It wasn't overdone, didn't throw me out of the story at all and I'm sure most readers will wonder what my problem is! This feels a little like a finale for Ellery and Jackson, although the door is left cracked open enough to give me hope they'll be featured again. Book four is coming soon but will be about Burt and Ernie. This does not stand alone in my opinion, so read the first two books beforehand. If you're a fan of crime-fighting couples like in the Cut and Run series or Mary Calmes Marshal's series, I'm confident Ellery and Jackson will be favorites as well.
About Amy Lane: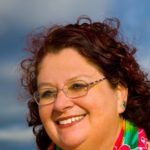 Amy Lane has two kids in college, two gradeschoolers in soccer, two cats, and two Chi-who-whats at large. She lives in a crumbling crapmansion with most of the children and a bemused spouse. She also has too damned much yarn, a penchant for action adventure movies, and a need to know that somewhere in all the pain is a story of Wuv, Twu Wuv, which she continues to believe in to this day! She writes fantasy, urban fantasy, and m/m romance–and if you accidentally make eye contact, she'll bore you to tears with why those three genres go together. She'll also tell you that sacrifices, large and small, are worth the urge to write.
Where to find Amy Lane: