RELEASE DAY REVIEW: A Matchless Man by Ariel Tachna

Author Name: Ariel Tachna
Book Name: A Matchless Man
Series: Lexington Lovers, Dreamspun Desire #19
Page/Word Count: 224 pages, 52K words
Categories: Contemporary
Release Date: October 1, 2016
Publisher: Dreamspinner
Cover Artist: Bree Archer
Buy Links: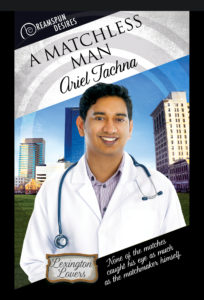 Blurb:
None of the matches caught his eye as much as the matchmaker himself.
Growing up poorer than poor didn't leave Navashen Bhattathiri many options for life outside of school. All of his concentration was on keeping his scholarships. Sixteen years later, he's fulfilled his dream and become a doctor. Now he's returning home to Lexington and is ready to prove himself to the world. In doing so, he reconnects with Brent Carpenter—high school classmate, real estate agent, all-around great guy… and closet matchmaker.
Brent makes it his mission to help Navashen develop a social life and meet available, interesting men. Unfortunately Navashen's schedule is unpredictable, and few of those available, interesting men value his dedication like Brent does. Brent's unfailing friendship and support convince Navashen he's the one, but can he capture Brent's heart when the matchmaker is focused on finding Navashen another man?

3.5✨s – Navashen Bhattathiri is moving back to Lexington after many years away.  He enlists the help of Brent Carpenter, a real estate agent and an old friend from high school, to help him find a home.  Brent helps Nav find the perfect home and while doing so the two become reacquainted.  Navashen's brother, Askhat moves in with him and Nav works to help his brother find his independence.  Askhat was born premature and his mentality is that of a much younger person and he suffers from asthma.  Though Nav is sure that Askhat can do so much on his own, it takes time for Askhat to gain his confidence as his mother has always told him he couldn't do so many things and she wouldn't allow him to try.  The two brothers get settled into their new home, Nav begins his new job and everything seems to be going well.  Brent has other ideas though and makes it his mission to help Navashen get a social life and even plays matchmaker by setting Nav up with friends of his.
What I loved about the book was the storyline between Navashen and Askhat.   I had a nephew who was mentally disabled and it was wonderful to read Nav and Askhat's story.  Nav was ever so patient with Askhat and always encouraged him to try new things, to get a job and really helped Askhat blossom into a very independent young man.  It's so refreshing to read stories such as this and the author did a fantastic job of telling the story realistically.  
What I didn't like about the book was the storyline between Brent and Navashen.  The story was often disjointed, sometimes contradictory in that at various points in the book Navashen thought about Brent romantically, but didn't have the "Aha!" moment until very late in the book.  On the same note, I would have liked to have had the "Aha!" moment come earlier in the book so I could read more about the two men as a couple.  Instead it came at the end and had very little content with them together.  Additionally, Brent is written to be extremely thoughtful, caring, kind and has a wonderful relationship with both Navashen and Askhat so his walking away from both of them doesn't work with his personality up to that point.  
Overall, the story was just okay for me.

Author Bio:
Real characters, raw emotion, an authentic journey to love
When Ariel Tachna was twelve years old, she discovered two things: the French language and romance novels. Those two loves have defined her ever since. By the time she finished high school, she'd written four novels, none of which anyone would want to read now, featuring a young woman who was—you guessed it—bilingual. That girl was everything Ariel wanted to be at age twelve and wasn't.
She now lives on the outskirts of Houston with her husband (who also speaks French), her kids (who understand French even when they're too lazy to speak it back), and their two dogs (who steadfastly refuse to answer any French commands).
Where to find the author: