RELEASE DAY REVIEW: An Unexpected Truth by S.A. Meade

Author: S.A. Meade
Book: An Unexpected Truth
Page/Word Count: 177 pages, 58K words
Categories: Gay Romance, Contemporary Romance, Mystery & Suspense
Release Date: July 11, 2017
Publisher: Pride Publishing
Buy Links:




Blurb: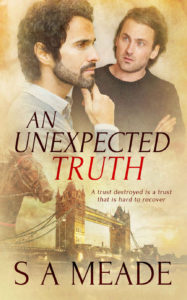 A trust destroyed is a trust that is hard to recover…
Brendan Matthews is happy training racehorses for a living. He thinks he's hit the jackpot when a wealthy orthopedic surgeon, Adam Ahmadi, sends six yearlings his way. Not only are the horses a cut above the rest, their owner isn't too shabby either.
But not everything is as it seems. Adam has many secrets, most of them dark and deadly. When Adam's past returns with a vengeance, he disappears, leaving Brendan confused and hurt.
If Adam survives, will his past destroy their future?
Reader Advisory: This book contains some violence and bloodshed.

3✨s – This was a beautifully written story, taking me right into the English countryside and the world of horse training. Descriptions of locations and scenery were evocative and I could easily visualize snowy fields and sharp winds. If the book was an entity, they would be distinctly British, reserved and understated, possibly wearing tweed! Brendan leads a somewhat isolated existence with his horses, having occasional meals with his neighbor Grace and her husband and mingling with the owners and racing crowd. Meeting Adam shakes him out of his complacent existence but Adam's mysterious actions erode any building trust.
The shifting POV's were helpful but didn't always provide the greatest insight, particularly for Adam. I enjoyed the slow pace of their blossoming relationship, which was on the milder side of steamy, and shared Brendan's emotions regarding Adam's absences. But that was where the story lost ground for me. The first obstacle for Adam and Brendan made little sense to me in the way Adam was shown executing it. Then later revelations about Adam, and his wife and her lover, lacked enough logic, making plot holes I was unable to reconcile. I also never got a sense of strong emotion between them when Brendan seemed to forgive Adam so easily. There wasn't a strong connection between the characters and me.
So while the writing was lovely and the pace was pleasant, it was difficult for me to enjoy enough. There was an element of suspense I expected but it didn't offer much tension or the emotional payoff I hoped for, based on the blurb.
About S.A. Meade:
S.A. Meade lives in deepest Wiltshire with her son, a dog and two cats. She is still partial to gin and tonic and loves to cook. When she's not working, she stares at her laptop and waits for inspiration to strike, preferring that to mowing the lawn or weeding. When parked in front of a computer, she can be found wandering the streets of her village, dog in tow.
Where to find S.A. Meade: