RELEASE DAY REVIEW: Barrel Proof by Layla Reyne

Author: Layla Reyne
Book: Barrel Proof
Series: Agents Irish and Whiskey, Book #3
Page/Word Count: 62K words
Categories: Gay Romance, Mystery & Suspense
Release Date: August 7, 2017
Publisher: Carina Press
Buy Links: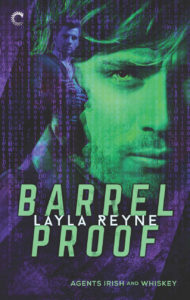 Blurb:
FBI agents Aidan "Irish" Talley and Jameson "Whiskey" Walker can't get a moment's peace. Their hunt for the terrorist Renaud seems to be nearing an end, until a fire allows him to slip through their fingers—and puts Jamie's life in danger. When Jamie is nearly killed, Aidan learns how many forms loss can take.
Aidan says I love you just moments before learning that Jamie's been keeping a devastating secret about Aidan's late husband. How quickly trust and love can go up in flames. When Aidan requests a solo undercover assignment, Jamie hopes Aidan will find a way to forgive him.
But the explosions are far from over. Aidan's cover lands him in the heart of the terrorist's conspiracy, and Jamie will have to put his life, his career and his freedom on the line to save the man who has become his entire world. Partners, always is a promise he intends to keep.

4.5✨s – What a breathtaking conclusion to this series! If you thought Aiden and Jamie had it rough in the first two books, be ready to double down. Picking up immediately after book two, the action starts in Cuba and as they escape that, Aiden learns what Jamie, and Mel, have been keeping from him. He's feeling heartbroken, betrayed and angry, but does have a pretty mature response, eventually, and does visit Jamie to discuss why he's taking a solo undercover op. He wants distance to process his feelings and not let his anger ruin things between them. (I was aggravated with him anyway. Like he wouldn't have done the same thing!)
Anyhoo, Aiden has no idea what he's walked into and Jamie has no clue what's occurring behind his computer screens. It get a little too complex at times, to my mind, but threads from their other cases get woven into the plot. There are a couple of returning characters, like Cam, Jamie's friend, and Nic, the US attorney Aiden had "dated", reappears. The action never really stops and the story just rockets along. I yelled a lot of "oh em gee" and "no, no, no", and also thought there was one event too many. It's also remarkable just how much physical abuse a man can take and it still never prevents the exercise of their libido. Just sayin'!
You must read the entire series to understand everything going on. Definitely not stand-alone books. They're absorbing and interesting all the way through the series and I loved Aiden and Jamie as a couple, although Aiden was kind of a jerk at times and Jamie put up with a bit too much. There's a lovely epilogue and a very satisfying HEA. Now I'd like to see a book or books for poor Nic and for Cam.
About Layla Reyne:
Author Layla Reyne was raised in North Carolina and now resides in the San Francisco Bay Area with her scientist husband and three smushed-face dogs. Writing romantic suspense and contemporary romance, she is inspired by her coast-to-coast experiences, weaving elements of the people she's met and places she's been into her stories for readers everywhere to enjoy. Layla is a 2016 RWA Golden Heart Finalist for Romantic Suspense.
Where to find Layla Reyne: