RELEASE DAY REVIEW: Bone to Pick by TA Moore

Author: TA Moore
Book: Bone to Pick
Page/Word Count: 240 pages, 80K words
Categories: Gay Romance, Mystery & Suspense
Release Date: August 14, 2017
Publisher: Dreamspinner Press
Cover: Anne Cain
Buy Links: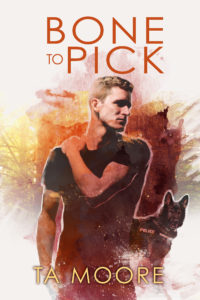 Blurb:
Cloister Witte is a man with a dark past and a cute dog. He's happy to talk about the dog all day, but after growing up in the shadow of a missing brother, a deadbeat dad, and a criminal stepfather, he'd rather leave the past back in Montana. These days he's a K-9 officer in the San Diego County Sheriff's Department and pays a tithe to his ghosts by doing what no one was able to do for his brother—find the missing and bring them home.
He's good at solving difficult mysteries. The dog is even better.
This time the missing person is a ten-year-old boy who walked into the woods in the middle of the night and didn't come back. With the antagonistic help of distractingly handsome FBI agent Javi Merlo, it quickly becomes clear that Drew Hartley didn't run away. He was taken, and the evidence implies he's not the kidnapper's first victim. As the search intensifies, old grudges and tragedies are pulled into the light of day. But with each clue they uncover, it looks less and less likely that Drew will be found alive.

4✨s – TA Moore is a new to me author and I was blown away by Bone to Pick. I have a serious love affair with good mystery & suspense and the author delivered with the case of Drew Hartley, a missing ten-year-old boy in Southern California.
Cloister is a Deputy working with his trusted K-9 officer, Bourneville (Bon, for short). Javi is an FBI agent with a chip on his shoulder that never goes away. Together they are hot as hell, antagonistic as all get out, and a great team…even if they don't recognize it. As they work through the increasingly tangled web of Drew's disappearance, uncovering every stone no matter who might get offended, following unfounded hunches even though there doesn't seem to be any viable connection, they are both drawn and annoyed by each other. Javi takes every chance to be snide and it should be off-putting but Cloister has no illusions about the man and wants him anyway.
Their private moments together aren't dripping with romance, but they are smoking hot and the connection is undeniable. We even get glimpses of tenderness that neither of them wants to show. This is one of those couples that will never be lovey dovey, never let their growing feelings change gruff, grumbly attitudes, and that's fine as long as it continues to work for both of them. Javi is the more cutting of the two and Cloister will always have to be on his toes to keep him in check, and that could be daunting for a lesser character.
The mystery itself played out wonderfully, with lots of misdirection and seemingly unrelated threads pulling together. Did I know who it was when he/she hit the page? I had a strong suspicion, but it didn't take a second away from following the whodunit. Overall, a steady page turner that didn't resolve itself too quickly or drag on beyond what was believable.
Still, through it all, something held me back from truly loving this book to the point of a 5-star review and I decided it was Javi's relationship with Bon or lack thereof. I understood the initial hesitation from Javi, as he never had a dog, but I needed him to warm up and embrace her on every level (as an exceptionally trained K-9 officer and Cloister's companion). Which I suppose is funny because I'm okay with him and Cloister butting heads (it's like constant foreplay), but not so much when it comes to the dog who ultimately saves his life.
This is one I'll definitely recommend and I look forward to seeing if we'll get more from Cloister and Javi.

About TA Moore: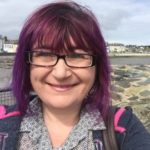 TA Moore genuinely believed that she was a Cabbage Patch Kid when she was a small child. This was the start of a lifelong attachment to the weird and fantastic. These days she lives in a market town on the Northern Irish coast and her friends have a rule that she can only send them three weird and disturbing links a month (although she still holds that a DIY penis bifurcation guide is interesting, not disturbing). She believes that adding 'in space!' to anything makes it at least 40% cooler, will try to pet pretty much any animal she meets (this includes snakes, excludes bugs), and once lied to her friend that she had climbed all the way up to Tintagel Castle in Cornwall, when actually she'd only gotten to the beach, realized it was really high, and chickened out.
She aspires to be a cynical misanthrope, but is unfortunately held back by a sunny disposition and an inability to be mean to strangers. If TA Moore is mean to you, that means you're friends now.
Where to find TA Moore: