RELEASE DAY REVIEW: Coming Back Home by Megan Linden

Author Name: Megan Linden
Book Name: Coming Back Home
Series: Harrington Hills, Book #3
Page/Word Count: 85 pages, 30K words
Categories: Gay Romance, Shifter Romance, Fantasy/Paranormal/Sci-Fi
Release Date: February 14, 2017
Publisher: Pride Publishing
Buy Links: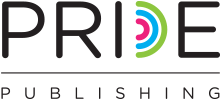 Blurb: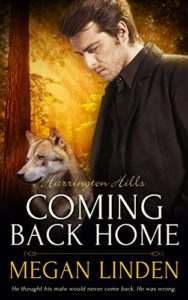 He thought his mate would never come back. He was wrong.
Jack Harrington told everyone who asked that he'd gotten over Connor a long time ago. And while he still hasn't managed to convince himself, he moves on with his life. He doesn't have a choice. Connor is gone for good.
Or is he?
Connor Warsen didn't plan to ever come back to Harrington Hills, but, with an infant in tow, that is exactly what he does. His daughter needs a pack and he is going to give it to her.
When Jack and Connor's lives literally collide again, will they be able to go back to what had been and find their connection once more? Or is the divide between them too deep to ever get over?
Publisher's Note: This book can be read as a standalone but is best read in sequence as part of a series.

3.5✨s – Second chance is one of my favorite tropes to read and write, and the author left enough breadcrumbs in previous books that I was anticipating Jack and Connor's story.
Through glimpses and conversation, we know that Connor's young life wasn't easy and he was determined to get away as soon as he's able. Meeting Jack might have been a bright spot in an otherwise dismal life, but their relationship doesn't change his home life or the desperation to get free of it. In his mind, the desire to run and Jack can never go together, after all, Jack is the son of the Alpha and his place is in Harrington Hills. Jack is understandably devastated. He believes Connor was his mate and loved him enough that if Connor had asked, he would have left with him.
For shifters, the desire for pack is stronger than just about everything else and the reason Connor returns. As a single parent, he knows being a loner isn't the best thing for his daughter. He wants her raised in Harrington Hills, he wants her accepted and supported by the pack, and as noble as those reasons are, they made no sense.
Through his thoughts, we learn that he had very little to do with the pack before because of his father. On top of that, his past abuse doesn't come as a surprise to anyone, yet no one stepped in when he was young and vulnerable. Not the police, not the alpha, no one in Harrington Hills. This provided absolutely no basis for Connor's belief that the pack would help him or Rosa, or that they were even the best shifters to do so—other than as a convenient way to bring him and Jack together.
When it comes to Connor and Jack, much of the angst could've been avoided through communication, but they were young and only one of them had a real support system. I was happy to see them figure it out, for each other and for Rosa. Unfortunately, I lost a lot of respect for the Alpha and pack that I was coming to believe in. In the end, their neglect of a child in need was complicit in the abuse that sent Connor running in the first place.
Author Bio:
Megan is one of those people who dreamed of being a writer since they were a little kid and then didn't do anything about it for years. Then as a teenager she was introduced to fandom and… well. She fell head first into it and never looked back. At some point she decided to try writing her own characters in her own stories. And that's where she is today.
When she's not writing, Megan works as a psychologist and continues to learn the hard way that she can't give all her clients their happy ending (she truly believes everyone can save themselves, though). That's why she makes sure to give it to her characters, always.
She loves TV shows, books, fanworks and pizza (not necessarily in that order). But there's nothing like getting messages from readers who enjoy her stories, so if you're not sure it's okay to contact her—yes, it is.
Where to find Megan Linden:




Other books by Megan Linden:
[amazon_link asins='B01A92WL9Q,B01L9BKFYO,B00YHGO3PG,B0182WCMRG,B01F1L2ZMS,B01N693GII' template='ProductCarousel' store='jegbo07-20′ marketplace='US' link_id='3821ba25-f2b7-11e6-bb65-edaf515f2885′]