RELEASE DAY REVIEW: Deeds and Confetti by Brandon Witt

Author: Brandon Witt
Book: Deeds and Confetti
Series: Mary's Boys, Book #4
Page/Word Count: 33K words, 100 pages
Categories: Gay Romance, Contemporary Romance
Release Date: September 27, 2017
Publisher: Dreamspinner Press
Cover Artist: AngstyG
Buy Links:





Blurb: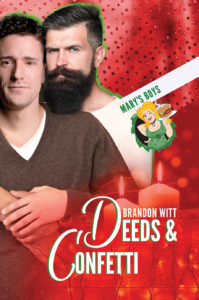 Steven Conley loves the excitement of owning his own Hamburger Mary's restaurant in Denver, Colorado, and his chosen family of coworkers makes life even better. Steven never regretted leaving the corporate grind behind until his father's harsh deathbed words leaves him doubting himself.
Ryan Fuller abandoned a lucrative career to start his own party-planning business, but he keeps afloat by coordinating funerals for the local mortuary. When Ryan bumps into Steven—his best friend's uncle and the man Ryan has secretly crushed on forever—the attraction explodes into a night of passionate abandon for both men.
Steven is blown away by the care and deep connection he feels for the hot young mortician—until Ryan admits who he really is. Reeling from the recent upheaval in his life, Steven must decide whether to give Ryan a chance. To find love, they must risk it all….

4.5✨s – The whole Mary's Boys series has been a delight and I'm sorry to see it ending. Brandon Witt has given us one last novella, chock full of emotion, expanding on familiar characters and solidifying the sense of family that permeates these books. Steven is the last unattached Mary's boy, but he's no boy anymore. I do love a May-December romance and Ryan is a perfect complement for Steven. Although they're 20 years apart, they're at similar stages in their lives. Steven is reluctant to date a man he saw growing up and it takes the combined efforts of nearly everyone at Mary's to convince Steven to give Ryan a chance.
It's amazing how much feeling and depth Brandon can pack into a novella. This runs the gamut, from sorrow to happiness, also following the slow process of Steven accepting his own worth, from his employees, his sister Pat and his nephews, and ultimately, Ryan. Like the first three books, the narrative is both poignant and realistic, handling heavier themes with a lighter touch. The ending has a joyous dose of Christmas spirit and I especially loved the descriptions of shenanigans with ManDonna and Ariel. Give this book and series a try for its unique glimpse into the iconic restaurant, and this group of appealing characters and thoughtful themes.

About Brandon Witt: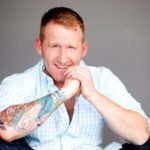 Brandon Witt resides in Denver, Colorado. When not snuggled on the couch with his two Corgis, Dunkyn and Dolan, he is more than likely in front of his computer, nose inches from the screen, fingers pounding the keys. When he manages to tear himself away from his writing addiction, he passionately takes on the role of a special education teacher during the daylight hours. I grew up in El Dorado Springs, Missouri for the first 18 years of my life. The day of my 18th birthday my mom, dad, brother, and I loaded up the cars and moved to Estes Park, Colorado. I now live in Denver with my two perfect corgis, Dunkyn and Dolan. Growing up in an ultraconservative, Christian environment, then moving on to get my bachelors in Youth Ministry, I struggled with being gay for most of my life. This included five years in reparative therapy (ex-gay therapy), meeting one to three times a week. At the age of twenty-six, I finally accepted who God make me to be and never looked back, and have never been happier. Each struggle, whether it be church, fearing damnation, heart-shattering break-ups, and losing family to cancer and accidents, seems to make its way into everything I write, as well as a core of loving being alive. Life is hard, but man, is it ever wonderful! I've worked with children (ages 8-18) with emotional disabilities since 2000, first as a counselor in a residential treatment facility, and now as a special education teacher. During my sophomore year in high school, Ms. Hungerford introduced me to creative writing, and since that day, I've dreamed of being an author. Having Elizabeth North offering a publishing contract was one of the most life-changing days of my existence. I now dream of being a writer full-time. My boyfriend, Stephen, is hoping for that as well, as he wants to tag along on a world tour. Big dreams. Big dreams. Though my writing seems polarizing to many readers, both positive and negative, regardless of which of my books you choose, I pray that in its pages you find both the struggle and immense joy of life. I am humbled and honored by each person that reads my books. Thank you so much for making my dreams come true!
Where to find Brandon Witt: