RELEASE DAY REVIEW: Empathy for a Killer by Sarah Masters

Author: Sarah Masters
Book: Empathy for a Killer
Page/Word Count: 202 pages, 72K words
Categories: Gay Romance, Mystery & Suspense
Release Date: June 13, 2017
Publisher: Pride Publishing
Buy Links:




Blurb: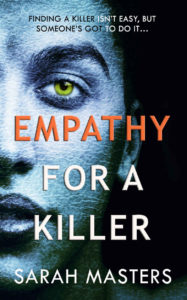 Finding a killer isn't easy, but someone's got to do it…
Detective Burgess Varley is called out to view a dead body. It isn't one of the best things about his job—but putting killers away for the rest of their lives? Now that's one of the best. Problem is, the victim has something in her mouth that has always scared Burgess—something that links him to the killer without him even knowing it. And that link is more than Burgess might be able to handle.
Detective Shaw Peters, Burgess' partner for several years, loves Burgess in ways he perhaps shouldn't. Or ways that Burgess won't accept, anyway. But Shaw isn't one to back down from a challenge, and as well as being by Burgess' side on the hunt for a killer, he has his own mission to accomplish—getting Burgess to admit they're meant for each other. It won't be easy, but by God, he's going to give it a try.
With Burgess and the killer learning things about themselves, their lives, and each other that they previously hadn't known, life—and death—is about to become serious.

4✨s – Wow, this book really took me on a wild and crazy ride. This book is a full on psychological thriller with a teensy tiny dash of romance and a whole lot of what did I just read??
The romance first- Burgess and Shaw. What makes Burgess such an incredible detective is also what makes him hard to love. He is exacting, precise- completely his way or the highway. Yet still waters run very deep, and the connection with Shaw is so much more than Burgess allowed himself to believe and definitely ever hope to have. While the romance is a small part of this book it has a huge impact on how Burgess is as a man, a detective and what his idea of family becomes. Believing himself incapable of a relationship he slowly realizes that what he has with Shaw is so much more than he dreamed of ever having, and that opens him up to so much more than maybe he can handle?
Going through the story as the killer is both scary and really sad. The abuse he suffered, the entire belief system he has had to construct to just be able to function was both astonishing and terrifying. Never does the author say what the killer has done is ok, but with the view into his mind you get where he is and the unbelievable pain he has suffered.
While the events leading to the end of this book were perhaps a bit too predictable for this reader, they kept me very much glued to the page and more emotionally involved than I ever expected to be. The story felt like too much at times, funny and sweet with lots of honest pain and fear, for everyone involved. Worth the read.
About Sarah Masters:
Sarah Masters is a multi-published author in three pen names writing several genres. She lives with her husband, youngest daughter, and a cat in England. She writes at weekends and is a cover artist/head of art in her day job. In another life she was an editor. Her other pen names are Natalie Dae and Geraldine O'Hara.
Sarah also co-authors with Jaime Samms, and as Natalie Dae she co-authors with Lily Harlem under the name Harlem Dae.
Where to find Sarah Masters:


June's Blog Contest:
Leave a comment for an entry into a contest to win a $25 Dreamspinner Gift card. Every comment left on a blog post in June will equal one entry, so comment often!