RELEASE DAY REVIEW: From War to Forever by Andria Large

Author: Andria Large
Book: From War to Forever
Page/Word Count: 330 pages, 120K words
Categories: Contemporary Romance, Gay Romance
Release Date: April 24, 2017
Publisher: Dreamspinner Press
Cover: Bree Archer
Buy Links:





Blurb: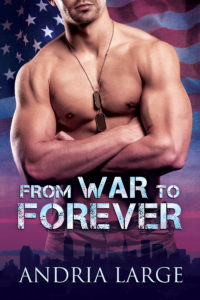 2nd Edition
Dennis
The love of my life is dead. Is there a reason to live anymore?
I'm a veteran Marine. Terrorists took not only my foot, but also my wife. Recurrent nightmares, a dead-end job, and a painful limp are all I have left. My best friend, Tucker, and my sister, Lizette, keep me afloat. I wouldn't be here if it weren't for Tucker… literally. And then, out of nowhere, there are these feelings. The kind I haven't felt in years. The kind I'm not sure I can handle, or even want to. But they've started wrapping around my broken heart, trying to mend it. Only they are not for a woman, but for the man suddenly sharing my bed. I'm not so sure I'm ready to give love another go.
Tucker
The war took my hearing, but I'm alive. Many of my friends are not. I am building a life with my best friend, Dennis. We have become practically inseparable. And now, we are more than friends. I've never had feelings like these for a man. My parents, my brother, my buddy, Duke—will they understand how I feel about Dennis? Can I risk losing my family?
First Edition published as At War by KDP Select, 2015.

3.5✨s – The story revolves around Tucker and Dennis. Both men are war vets, both suffer from PTSD and both have wounds as a result of war. Dennis lost his leg from the knee down and walks with a prosthetic leg. Tucker lost his hearing as a result of the war although he was given the option of trying to regain his hearing. He remained deaf because he felt it was his penance for living while others died.
Tucker and Dennis live together and provide each other emotional support as well as friendship. When nightmares plague them, they offer each other solace by sleeping together. Soon their friendship turns into something more and because they already love each other, falling in love with each other comes naturally. Although neither man has ever been with another man or even entertained the thought of being with another man, their attraction is undeniable and passionate.
I liked the story of Tucker and Dennis. I can understand how they went from friends to lovers to forever. There are also some wonderful secondary characters in the book like Lizette, Beau and Duke. My problems with the book and the reason I did not give it a higher rating is that the book read like it was being told in a monotone voice. There was no fire or passion to the words. The book didn't give me any of the emotions that most books give me. I also thought there were just too many plot twists in the book.
This could have been a great story and one that is probably true in real life more often than any of us know, but it just didn't make me feel anything other than ready for the book to be done.

About Andria Large:

Andria Large is a traditionally published and self-published contemporary romance author. She doesn't always follow the rules, so you will find both M/F and M/M books mixed into some of her series.
Henry from the Beck Brothers Series was the first book she self-published. Not expecting anything to really come of it, she was shocked to find the book caught wind and readers were asking for more. Writing books was not something she had set out to do. She wrote stories for herself, as a hobby. Now that it has become her career, she wouldn't have it any other way.
Andria grew up in Philadelphia, but now lives in New Jersey with her two daughters and wonderfully supportive husband, who frequently accompanies her at signings. The events that she attends every year are one of her favorite things about being an author. She loves meeting and conversing with her readers, but also enjoys finding new ones.
Andria considers herself open and friendly, so feel free to send her a message if you have a question or just want to chat.
Where to find Andria Large:







Other books by Andria Large: