RELEASE DAY REVIEW: Heart Unseen by Andrew Grey

Author: Andrew Grey
Book: Heart Unseen
Page/Word Count: 200 pages, 71K words
Categories: Gay Romance, Contemporary Romance, Disabilities
Release Date: April 7, 2017
Publisher: Dreamspinner Press
Cover: L.C. Chase
Buy Links:





Blurb: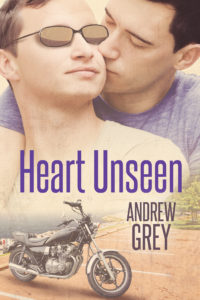 As a stunningly attractive man and the owner of a successful chain of auto repair garages, Trevor is used to attention, adoration, and getting what he wants. What he wants tends to be passionate, no-strings-attached flings with men he meets in clubs. He doesn't expect anything different when he sets his sights on James. Imagine his surprise when the charm that normally brings men to their knees fails to impress. Trevor will need to drop the routine and connect with James on a meaningful level. He starts by offering to take James home instead of James riding home with his intoxicated friend.
For James, losing his sight at a young age meant limited opportunities for social interaction. Spending most of his time working at a school for the blind has left him unfamiliar with Trevor's world, but James has fought hard for his independence, and he knows what he wants. Right now, that means stepping outside his comfort zone and into Trevor's heart.
Trevor is also open to exploring real love and commitment for a change, but before he can be the man James needs him to be, he'll have to deal with the pain of his past.

4 ✨s – Trevor is a successful man. He owns multiple garages around town and works hard. He's also very confident with his looks and is happy with his life of one night stands. He's spent years building walls around himself and is just fine with that.
James is blind. He lost his sight at a young age, but has worked hard to be an independent adult. He lives alone, works, and has a great family.
When Trevor sees James at a crowded I would love to say it was love at first sight, but that would just be wrong. But there is something about James that pulls Trevor to him and the attraction is undeniable.
Both men have been hurt, but James opens up to Trevor easily and communicates what happened to him. Trevor, on the other hand, shuts down at the mention of Chase and it's the only piece of his past that is keeping him from being happy now.
There is some background drama such as stealing and unrequited love that adds to the plot, although I would have like a little more background on Alan. I felt that for such a big part of the story, Alan was mostly glossed over. If I ever meet a Collin in real life like the one in this book, I'm definitely going to kick him in the privates.
I enjoyed the author's description of James' life from a blind perspective and I thought it mostly rang true with other books that I've read.
Trevor and James get their HEA and the story flows nicely. All in all, this book is a good read.

About Andrew Grey: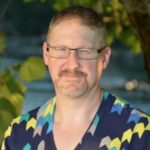 Andrew Grey is the author of nearly 100 works of Contemporary Gay Romantic fiction. After 27 years in corporate America, he has now settled down in Central Pennsylvania with his husband Dominic and his laptop. An interesting ménage. Andrew grew up in western Michigan with a father who loved to tell stories and a mother who loved to read them. Since then he has lived throughout the country and traveled throughout the world. He has a master's degree from the University of Wisconsin-Milwaukee and now writes full time. Andrew's hobbies include collecting antiques, gardening, and leaving his dirty dishes anywhere but in the sink (particularly when writing) He considers himself blessed with an accepting family, fantastic friends, and the world's most supportive and loving partner. Andrew currently lives in beautiful, historic Carlisle, Pennsylvania.
Where to find Andrew Grey:




Other books by Andrew Grey:
[amazon_link asins='B01HLORZ0K,B01HLOS01I,B01HM8F0Q6,B01HM8F1GA,B01N4HY7WG' template='ProductCarousel' store='jegbo07-20′ marketplace='US' link_id='9351ef11-1b85-11e7-98a5-5524353b495d']