RELEASE DAY REVIEW: Holiday Weekend by Charley Descoteaux

Author Name: Charley Descoteaux
Book Name: Holiday Weekend
Series: Buchanan House, Book Five
Page/Word Count: 125 pages, 45K words
Categories: Contemporary, Holiday, MM Romance
Release Date: December 16, 2016
Publisher: Dreamspinner Press
Buy Links: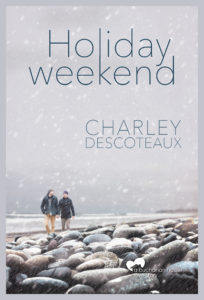 Blurb:
Ryan Orchard moved from small-town Idaho to Portland almost two years ago and still feels like a hick. When Paulie Nesbitt dumped him, he wasn't even surprised. Despite losing twenty-five pounds since then, Ryan's confidence is nonexistent, and his life has stalled. Not only is he convinced the career he wants is beyond his reach, he's given up on relationships. A new job at a familiar restaurant—and his gorgeous coworker—could be just what Ryan needs to believe in himself again.
Glenn Hernandez might be the only nineteen-year-old in Portland who dreads his days off. Between his horrible housing situation and the ever-present temptation to crawl back into the bottle, Glenn prefers to keep busy. He volunteers at the Elliott Foundation House, a homeless shelter helping LGBTQ former sex workers. As an alum of the shelter himself, Glenn finds it hard to leave his past behind. But when the new server at the trendy restaurant where he works catches Glenn's eye and works his way into his heart, Glenn finally has a reason to start a new life.

4✨s – This is a difficult book for me to review. Not because I didn't like it. More because of all the swirling thoughts and feelings I am having now that I have finished reading it.
There's not much I can say without giving away the story. It can be read as a standalone, but it will take you a bit to get all of the characters and relationships straight. There is also a lot that could be missed by not having the entire back story.
It felt to me that this story had to be written, Glenn and Ryan's story told, but I 've read where that wasn't always the plan. I am definitely grateful that they would stop talking to Charley until the book was written.
The feelings in and about this book-whoa. Both men have had so much pain and fear, watching them begin to trust each other and have hope again was breathtaking. To make plans and be excited for the future. To finally be who they are both meant to be, no hiding or shame. Alternating first person POV was a good vehicle for them, even if it made my heart hurt too much at times. Love wins and heals for another couple in the Buchanan House family.

Author Bio:
Charley Descoteaux has always heard voices. She was relieved to learn they were fictional characters, and started writing when they insisted daydreaming just wasn't good enough. In exchange, they've agreed to let her sleep once in a while. Charley grew up in the San Francisco Bay Area during a drought, and found her true home in the soggy Pacific Northwest. She has survived earthquakes, tornadoes, and floods, but couldn't make it through one day without stories.
Charley also writes YA fiction under the name Charli Green.
Where to find the author: