RELEASE DAY REVIEW: Levi by Bailey Bradford

Author: Bailey Bradford
Book: Levi
Series: Leopard's Spots, Book #1
Page/Word Count: 132 pages, 49K words
Categories: Gay Romance, Fantasy/Paranormal/Sci-Fi, Shifter Romance
Release Date: September 12, 2017
Publisher: Pride Publishing
Buy Links: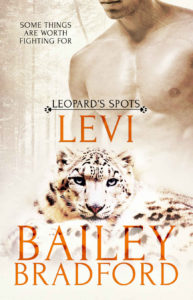 Blurb:
A run through the woods turned anything but typical when Levi found the one thing he never expected to find-his mate.
After a week spent in family reunion hell, Levi Travis is more than ready for a little break. But who knew shifting into a snow leopard and loping around in the woods could turn into such a steamy event?
When Levi encounters a cougar shifter in the woods, the attraction is so hot it threatens to shoot off sparks. Levi has fantasised about having a stronger man than him want him, and he's sure the cougar is just such a man. Which is why Levi lets himself get caught, and the intensity of their mating is only equaled by Levi's confusion when the man shifts back into a cougar then turns tail and runs.
Lyndon Hines has been running for months. Hunted, taunted, he didn't know what else to do-until he met a man who made him realise that some things were worth fighting for. Two shifters, each a different breed, neither knowing much about their heritage, Levi and Lyndon come together and find the strength to take on the mad man who is out to end Lyndon's life.

3.5✨s – I love shifter books. Love them. Love, love, love new takes on shifter lore! WIth Levi's story we meet his family-very outspoken, loving and protective. The complete opposite of Lyndon and his family.
When they meet the attraction is immediate, yet not knowing their shifter history they doubt everything. They actually TALK to each other. Crazy, right?
Well written relationships, still need some growth and fleshing out of their world, but I am definitely along for the ride.
About Bailey Bradford:
A native Texan, Bailey spends her days spinning stories around in her head, which has contributed to more than one incident of tripping over her own feet. Evenings are reserved for pounding away at the keyboard, as are early morning hours. Sleep? Doesn't happen much. Writing is too much fun, and there are too many characters bouncing about, tapping on Bailey's brain demanding to be let out.
Caffeine and chocolate are permanent fixtures in Bailey's office and are never far from hand at any given time. Removing either of those necessities from Bailey's presence can result in what is known as A Very, Very Scary Bailey and is not advised under any circumstances.
Where to find Bailey Bradford: