RELEASE DAY REVIEW: Love is Heartless by Kim Fielding

Author Name: Kim Fielding
Book Name: Love is Heartless
Series: Love Can't, Book #2
Page/Word Count: 254 pages, 83K words
Categories: MM Romance, Contemporary
Release Date: January 13, 2017
Publisher: Dreamspinner Press
Buy Links: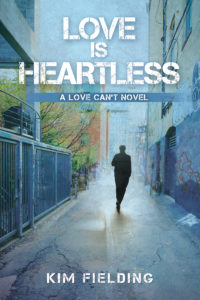 Blurb:
Small but mighty—that could be Detective Nevin Ng's motto. Now a dedicated member of the Portland Police Bureau, he didn't let a tough start in life stop him from protecting those in need. He doesn't take crap from anyone, and he doesn't do relationships. Until he responds to the severe beating of a senior citizen and meets the victim's wealthy, bow-tied landlord.
Property manager and developer Colin Westwood grew up with all the things Nevin never had, like plenty of money and a supportive, loving family. Too supportive, perhaps, since his childhood illness has left his parents unwilling to admit he's a strong, grown man. Colin does do relationships, but they never work out. Now he's thinking maybe he won't just go with the flow. Maybe it's time to try something more exciting. But being a witness to a terrible crime—or two—was more than he bargained for.
Despite their differences, Colin and Nevin discover that the sparks fly when they're together. But sparks are short-lived, dampened by the advent of brutal crimes, and Colin and Nevin have seemingly little in common. The question is whether they have the heart to build something lasting.

3.5✨s – This is book two in the Love Can't series. Book one, Love Can't Conquer does not have to be read first, I'm told the stories are concurrent. But I can't help to think that if I had read LCC I would have connected better with this story.
I got to ~42% before I was all in. I spent the first half of the book not caring for either Nevin or Colin. I'm all for a dirty mouthed guy, but Nevin came across as cold and mean. I didn't believe that the story would be between him and Colin, just didn't see it.
Yet KF was able to draw me in, get me to root for Nevin and Colin, see the beauty in their sweet friendship and trust the love that grew.
I believe that I may have floundered less in my appreciation of this story if I'd read book one, but who knows?! This will definitely be a re-read for me, I want to find that spark sooner, try to see in the story more of how it came eventually came together for me.
Author Bio:

Kim Fielding: Authentic voices and unconventional heroes.
I have lived in Illinois, Oregon, Nebraska, and Croatia, but for a long time now I've called the boring part of California home. I have a husband, two daughters, a day job as a university professor, and a passion for travel. I write in many genres–contemporary, fantasy, paranormal, historical–but no matter when and where my stories are set, I love complex worlds and complicated characters. I think that often it's a person's flaws that make him stronger and more beautiful.
Where to find the author: