RELEASE DAY REVIEW: Model Exposure by Lissa Kasey

Author: Lissa Kasey
Book: Model Exposure
Series: Haven Investigations #4
Page/Word Count: 256 pages, 92K words
Categories: Gay Romance, Mystery & Suspense
Release Date: October 2, 2017
Publisher: Dreamspinner Press
Cover Artist: Garrett Leigh
Buy Links:





Blurb: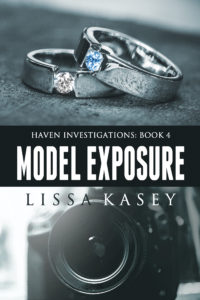 Sequel to Model Investigator
After being rescued by Ollie, Kade continues to suffer the aftermath of his ordeal, both physically and psychologically. Not knowing how else to clear his head, he pours his energy into Ollie—the love of his life—and Haven Investigations, but neither Ollie nor Kade can continue to ignore what they learned from their last case: Ollie's brother, Nathan, might have betrayed Kade.
As they dig into Ollie's past, secrets are revealed. Was Nathan's death a suicide? Were Ollie's parents much more than they seemed? Is someone out to kill Ollie, or is it Kade's past coming back to haunt them again?
Amidst questions and uncertainties, one thing is clear: after everything they have been through together, Kade and Ollie have never been more in love and they want to get married. But first, they'll have to deal with the continued threat of Kade's past, the emotional wounds Kade fears are drowning him, and the possibility that everything Ollie believed about his family was a lie. A beautiful happily ever after awaits them—as long as they can survive long enough to make it to the altar.

4.5✨s – I've eagerly followed genderfluid Ollie, and his fierce protector Kade, through this series and I'm sad that it's ending but happy the final mysteries are solved. This last installment is told from Kade's POV as both he and Ollie are still coping with the aftermath of trauma. Lissa Kasey has put these poor guys through the wringer in the last three stories and both are physically better but their mental health is another matter. Particularly Kade and his PTSD, mostly induced by his memories involving his evil, controlling father. He's holding too much in because he worries far more about Ollie than himself.
I really enjoy Lissa's range of diverse characters, and how she's drawn them all together into a quasi-family unit. There are lots of surprises in store, as in "you'll-never-guess-who-or-what", while the riddles about Ollie's past and Nathan's death are answered. Ollie and Kade find that both of their pasts intersect in the present, and of course, someone has to get injured, again! It's not just a trip down the aisle for Kade and Ollie, it's an obstacle course. There's also intriguing touches of Alice Through the Looking Glass, referenced in unique ways throughout the story.
A few of the details seem rather far-fetched but they're supported by plausible background. It made the resolution really interesting and I learned a few pieces of history. The culmination is Kade and Ollie's wedding that had me all sniffly and sighing. As a bonus, along with the many unique characters, you really need to meet Newt, the panty-obsessed cat. I've recommended the series before but if you've been waiting, now's your chance to read it in its entirety.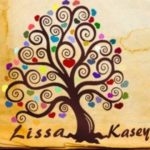 About Lissa Kasey:
Lissa Kasey is more than just romance. She specializes in depth characters, detailed world building, and twisting plots to keep you clinging to your book reader. All stories have a side of romance, emotionally messed up protagonists and feature LGBTGA spectrum characters facing real world problems no matter how fictional the story.
Where to find Lissa Kasey: