RELEASE DAY REVIEW: Of Love and Corn Dogs by Parker Williams

Author Name: Parker Williams
Book Name: Of Love and Corn Dogs
Series: Of Love and, Book #1
Page/Word Count: 168 pages
Categories: MM Romance, Contemporary
Release Date: September 23, 2016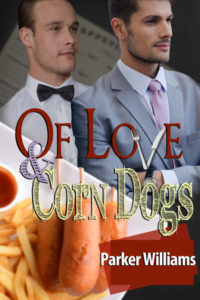 Blurb:
With more money than he could spend in ten lifetimes, Darwin Kincade still couldn't keep death from stealing his lover. A little older and a whole lot wiser, flirting with his twice-a-week waiter is the perfect no-risk substitute for a real relationship. Until the night his routine is upended by the restaurant's newest employee.
Ricky Donnelly loves people. While being a server isn't his dream, he's good at it. When a grumpy man is seated in his station, Ricky sees there's more to him than he lets on, and when the man relaxes, he's actually sweet.
As the two men bond over a discussion about corn dogs— something Darwin's never heard of—he realizes how much he's missed out on in his life. He vows to open himself to new experiences—including, perhaps, a chance at finding love again.
Not wanting anything to muddy their blooming relationship, Darwin hides part of himself from Ricky. He likes the look in Ricky's eyes, unclouded by Darwin's notoriety. Unfortunately, the truth can never stay hidden, and when it comes out, Darwin may lose any hope of holding onto the future they've begun to build.

4✨s – When an author writes something outside their norm, I can't wait to read it. Having read Haven's Creed and the Collars & Cuffs series, Of Love & Corn Dogs is as far out of Parker's norm as I could ever conceive of. Sweet and fluffy are words I never thought I'd use to describe one of his books and I'm vaguely concerned that I'll start thinking of him in such terms. <shudder>
Darwin was…a surprise. Rich as Midas, sweet enough to be an absolute push over, and just desperate to be loved. I immediately wanted to wrap him up in my bubble and hide him away from the world. There was a touch of suspended belief here because I can't imagine anyone growing up in such wealth and privilege being so darn likable (and submissive). Oh, that's my word. Parker doesn't use it, but Darwin has all the traits.
Enter Ricky, the new guy who replaces the waiter Darwin's been crushing on. He's struggling to survive and has serious status issues. Darwin recognizes that he'll have a problem with their financial disparities right away and decides to pretend to be something he's not. Obviously, no relationship can last on a lie, but while I wanted to feel for Ricky, I was quickly annoyed with him.
Though Ricky forgives Dawin the lie, Ricky can't get over the money. As a knee-jerk reaction, it was spot on. The way he continued to hurt Darwin because of it made him a douche (do people use that word anymore?) IMHO and I once again wanted to wrap Darwin up in my bubble where mean ol' Ricky couldn't hurt him anymore. Of course, Darwin's nicer than me and I was happy he got what he wanted, but I wasn't entirely happy with the ending. Ricky was still using the money to say hurtful things, yet he had no problem taking Darwin's gift which totally negated the whole issue.
If you're looking for sweet, with a little angst and a character you're not sure if you want to hug or throttle, Of Love & Corn Dogs will hit all the marks.
Author Bio:
Parker Williams believes that everyone deserves a chance at happily ever after. He also knows that it seldom comes without a price tag.
He writes men who are flawed, but redeemable by love – usually.
He writes m/m romance in several sub-genres, but one thing remains consistent: Love is power, no matter who you're in love with.