RELEASE DAY REVIEW: Off Stage: Beyond The Footlights by Jaime Samms

Author: Jaime Samms
Book: Off Stage: Beyond The Footlights
Series: Off Stage, Book #3
Page/Word Count: 300 pages, 105K Words
Categories: Gay Romance, Contemporary Romance, BDSM & Erotic Romance
Release Date: June 12, 2017
Dreamspinner Press: Dreamspinner Press
Cover: Aaron Anderson
Buy Links: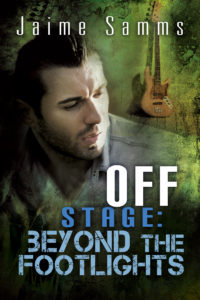 Blurb:
Kilmer and Jacko's relationship has been foundering for a long time. With the end in sight and despairing that he might never find a Dom who suits him, Kilmer heads to a local bar to drown his sorrows—and meets country singer Tanner.
Tanner feels oddly protective of the broken man and eventually convinces Kilmer to hire him to help remodel the small, sad house Kilmer once shared with Jacko. As Tanner and Kilmer get to know each other, Kilmer regains his lost independence and Tanner's dominant streak rises to the surface. But will it be a help or a hindrance to the trust they're trying to build?
The answer might lie in the music Kilmer gave up not long after he met Jacko. Music always granted him solace, clarity, and an outlet for his emotions, and with Tanner's encouragement, he picks up where he left off. Playing together eases them into honest communication, and though a happily ever after will still take patience and work, taking a chance on each other sounds sweeter with every note.

4.5✨s – Off Stage is the third book in this series and picks up exactly where book 2 left off with Kilmer standing against Jacko's opinion. Jacko is Kilmer's Dom and in the four years they've been together, Kilmer has never managed to satisfy Jacko enough to keep Jacko from seeking other sexual partners. Kilmer has been unhappy for a long time and seeing his best friend Van so happy with Len has made Kilmer want more. After one night of humiliation, Kilmer has finally had enough and tells Jacko to pack up and go. The house he shared with Jacko was Kilmer's, but after Jacko moved out, Kilmer is left with an empty shell of a home that doesn't feel like home at all. He takes a sledgehammer to it and then wanders into a bar not far from his house where he meets Tanner.
Tanner is a former Dom who plays guitar and sings in his band that mostly deserted him one night. Kilmer is mesmerized by Tanner's voice and after learning that Tanner also does home repair work Kilmer hires Tanner to do some renovations and get the house ready to be rented or sold.
Kilmer and Tanner have some amazing chemistry, but Tanner decides early in the book to keep Kilmer at arms length. Tanner knows that before they can be happy together, Kilmer has to fix himself. Tanner has things he needs to fix as well. Kilmer's road is just as heartbreaking to me as reading Len and Trevor's stories. The author really does write broken men well. My heart just ached for Kilmer. He seemed so lost and so full of self doubt. It was really hard to read at times, but definitely worth it.
I loved every book in this series and this one no less than the first two. It's been my genuine pleasure to read Lenny, Trevor and Kilmer's stories. I look forward to reading more books by this author.

About Jaime Samms: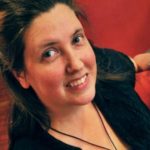 Hi! I'm pleased to be a Dreamspinner author. I've been writing in the genre most of my life, even way back when publication was a dream. Well, It came true. My dreams have been spun into reality, and I hope you enjoy the results. Thanks for coming to see what's available. Jaime has been writing for various publishers since the fall of 2008, although she's been writing for herself far longer. Often asked why men; what's so fascinating about writing stories about men falling in love, she's never come up with a clear answer. Just that these are the stories that she loves to read, so it seemed to make sense if she was going to write, they should also be the stories she wrote. These days, you can find plenty of free reading on her website. She also writes for Freya's Bower, Loveyoudivine Alterotica, Pink Petal Books, Dreamspinner Press and Total E-Bound. Spare time, when it can be found rolled into a ball at the back of the dryer or cavorting with the dust bunnies in the corners, she's probably spending reading, drawing, gardening (weather permitting, of course, since she is Canadian!) or watching movies. Well. She has a day job or two, as well, and two kids, but thankfully, also a wonderful husband who shoulders more than his fair share of household and child care responsibilities. She graduated some time ago from college with a Fine Arts diploma, with a major in textile arts, which basically qualifies her to draw pictures and create things with string and fabric. One always needs an official slip of paper to fall back on after all….
Where to find Jaime Samms:






June's Blog Contest:
Leave a comment for an entry into a contest to win a $25 Dreamspinner Gift card. Every comment left on a blog post in June will equal one entry, so comment often!