RELEASE DAY REVIEW: Red Fish, Dead Fish by Amy Lane

Author: Amy Lane
Book: Red Fish, Dead Fish
Series: Fish Out of Water, Book #2
Page/Word Count: 330 pages, 110K words
Categories: Gay Romance, Mystery & Suspense
Release Date: August 4, 2017
Publisher: Dreamspinner Press
Cover: Reese Dante
Buy Links: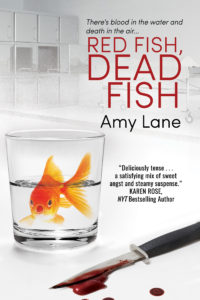 Blurb:
They must work together to stop a psychopath—and save each other.
Two months ago Jackson Rivers got shot while trying to save Ellery Cramer's life. Not only is Jackson still suffering from his wounds, the triggerman remains at large—and the body count is mounting.
Jackson and Ellery have been trying to track down Tim Owens since Jackson got out of the hospital, but Owens's time as a member of the department makes the DA reluctant to turn over any stones. When Owens starts going after people Jackson knows, Ellery's instincts hit red alert. Hurt in a scuffle with drug-dealing squatters and trying damned hard not to grieve for a childhood spent in hell, Jackson is weak and vulnerable when Owens strikes.
Jackson gets away, but the fallout from the encounter might kill him. It's not doing Ellery any favors either. When a police detective is abducted—and Jackson and Ellery hold the key to finding her—Ellery finds out exactly what he's made of. He's not the corporate shark who believes in winning at all costs; he's the frightened lover trying to keep the man he cares for from self-destructing in his own valor.

4.5✨s – Jackson and Ellery are back, and so is Billy Bob. Because that beat up cat is my very favorite character. Picking up a few weeks after book 1, Jackson, still recovering from his gunshot wound, is on the trail of Tim Owens, who escaped in book 1. He and Ellery, have realized Owens is also an escalating serial killer. I highly recommend reading Fish Out of Water before tackling this. You'll be pretty lost without the details and Jackson's history. There are also 4 short stories at the end of this book, from Amy's blog, that I wished I'd read first, as well.
I had a hard time following along with much of the detail and additional names in the first 30% or so. The plot gets a lot more complex than the first case, there's more action, more danger and poor Jackson never survives anything unscathed. It's also a much grittier storyline, getting rather bloody, with a few disturbing details at times. The worst is off-page but FYI, there is some sexual abuse and rape mentioned. It's tense and exciting but there's also a psychological element regarding Jackson's state of mind and fear of commitment. Despite the strong focus on the investigation, there's also balanced emphasis on the progress of Jackson and Ellery's relationship. Some very good smexy times too!
Jade has a greater role in much of the story, and Ellery's mom, "Lucy Satan" makes appearances. Secondary characters are always solidly written in Amy's stories. This series is quite a departure from most of her other stories. You'll find a few similar elements of angst but she's absolutely killed it by branching out to suspense. Pun intended! Highly recommended for lovers of this genre and the style and substance the author is known for.

About Amy Lane: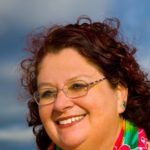 Amy Lane has two kids in college, two gradeschoolers in soccer, two cats, and two Chi-who-whats at large. She lives in a crumbling crapmansion with most of the children and a bemused spouse. She also has too damned much yarn, a penchant for action adventure movies, and a need to know that somewhere in all the pain is a story of Wuv, Twu Wuv, which she continues to believe in to this day! She writes fantasy, urban fantasy, and m/m romance–and if you accidentally make eye contact, she'll bore you to tears with why those three genres go together. She'll also tell you that sacrifices, large and small, are worth the urge to write.
Where to find Amy Lane: