RELEASE DAY REVIEW: Regret Me Not by Amy Lane

Author: Amy Lane
Book: Regret Me Not
Page/Word Count: 119 pages, 39K words
Categories: Gay Romance, Contemporary Romance, Holiday
Release Date: December 4, 2017
Publisher: Dreamspinner Press
Cover Artist: Reese Dante
---
Blurb:
Pierce Atwater used to think he was a knight in shining armor, but then his life fell to crap. Now he has no job, no wife, no life—and is so full of self-pity he can't even be decent to the one family member he's still speaking to. He heads for Florida, where he's got a month to pull his head out of his ass before he ruins his little sister's Christmas.

Harold Justice Lombard the Fifth is at his own crossroads—he can keep being Hal, massage therapist in training, flamboyant and irrepressible to the bones, or he can let his parents rule his life. Hal takes one look at Pierce and decides they're fellow unicorns out to make the world a better place. Pierce can't reject Hal's overtures of friendship, in spite of his misgivings about being too old and too pissed off to make a good friend.

As they experience everything from existential Looney Tunes to eternal trips to Target, Pierce becomes more dependent on Hal's optimism to get him through the day. When Hal starts getting him through the nights too, Pierce must look inside for the knight he used to be—before Christmas becomes a doomsday deadline of heartbreak instead of a celebration of love.

Look Inside






---

4✨s – When I saw Amy Lane on the cover for this book, I didn't even pay attention to the blurb, confident I would like it, which I did, very much, with only a few reservations. Pierce is recuperating from a serious car accident, which also resulted in asking his wife for a divorce and then getting laid off from his job. While still rehabilitating, he decides his attitude needs adjusting and goes to stay at a friends beach condo. He meets Hal at the pool and Hal steps in and decides he's going to help with Pierce's aqua-therapy. Before long, he's with Pierce, helping him day to day.
There is an age-gap, and Pierce makes it sound greater than it is, only 9 years. I didn't enjoy Pierce thinking of him as "the kid", at 23 years old. Hal was written as relatively mature for his age but at the same time, typical for his age. It was sort of slow burn, although only two weeks by the book's timeline and sex still didn't go all that far until near the end of the story. It's all Pierce's POV, in first person and the narrative occasionally seemed sluggish, focused more often on Pierce's internal thoughts, rather than external action. I would have liked seeing Hal's POV and I never completely understood the unicorn reference.
There are few secondary characters other than Pierce's sister, but even those off page, appearing only in phone conversations; the ex wife, his friend and even the one sided telephone conversation with Hal's father, makes them all quite real. It was fun, quirky and humorous at times and I liked the optimistic ending. Pierce finds his inner knight once again but Hal is no prince, more like a shining knight for Pierce. Although it's barely an HFN, it's noted that their story will continue with installments on Amy Lane's website. Recommended as a feel-good, low-sugar holiday read.

About Amy Lane: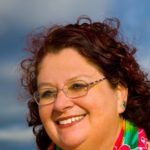 Amy Lane has two kids in college, two gradeschoolers in soccer, two cats, and two Chi-who-whats at large. She lives in a crumbling crapmansion with most of the children and a bemused spouse. She also has too damned much yarn, a penchant for action adventure movies, and a need to know that somewhere in all the pain is a story of Wuv, Twu Wuv, which she continues to believe in to this day! She writes fantasy, urban fantasy, and m/m romance–and if you accidentally make eye contact, she'll bore you to tears with why those three genres go together. She'll also tell you that sacrifices, large and small, are worth the urge to write.
Where to find Amy Lane: