RELEASE DAY REVIEW: Running To You by Andrew Grey
Author: Andrew Grey
Book: Running To You
Page/Word Count: 200 pages, 61K words
Categories: Gay Romance, Contemporary Romance
Release Date: March 13, 2018
Publisher: Dreamspinner Press
Cover Artist: Kanaxa
Blurb:
Home, love, and possibilities he never imagined are waiting for Billy Joe to claim them. But first he needs to escape the horrors of his past.

A twisted act of cruelty and prejudice drives Billy Joe from his Mississippi home, and he makes it as far as Pennsylvania—where his car breaks down just as the year's first snowstorm blows in. Fortunately, Carlos is there to lend a hand.

Carlos is no stranger to hardship. His family rejected him for being gay, but with determination, he put himself through school and became a librarian. Carlos sees the same willpower in Billy, and he wants to help Billy and his son succeed in a new life that is very different from the one they left behind. With his support, they start to adjust, and before long, both men want more than encouragement from each other. They want the chance for a future together, but their families have other ideas… and Billy's will stop at nothing to get what they want.

Look Inside


4✨s – Wow, this one was a gut punch. It's hard to believe that people ever acted the way they do in this book, and it absolutely blows me away that it still happens, today. Billy Joe has grown up with white supremacist parents, his entire life. Hearing and living with that hate, and what was worst, he knew that he was a part of that, because he himself, was someone his parents would hate, if they knew…. One night, after following his father to a rally, he see's something awful happen to a friend that saved his life once upon a time. It was enough to want to get himself and his two-year-old son away from there. He knew that if his family knew about him, he'd likely suffer the same fate. So, Billy Joe unloaded the contents of his bank account, packed what little he could and waited until his mom and dad was asleep, and took off in the middle of the night, with only him, his child and the things he could grab. With no destination in mind, they drove for days, the farther away, the better.
Stumbling upon a broken down car on the side of the road, Carlos stops to help, never expecting to find a scared man and his child, running away from the worst of a terrible situation. He helps them for the night, gets them out of the cold and into someplace safe. He can see the fear and sadness in Billy Joe's eye and he takes to helping him and his little one out as best he can. I loved how patient and understanding Carlos was; coming from his own situation with bigotry and rejection, he could relate to Billy Joe in a way that Billy Joe needed, I feel like. In the middle of all both of their families causing what trouble they could, they were there for each other, and leaned on each other.
Billy Joe gave Carlos the strength and support that he needed, and Carlos would do anything to help Billy Joe and his son Tyler. They were cute together, and Carlos was so good with Billy Joe's little boy, who was seriously, so, so stinkin cute, himself. Overall, this was not an easy story to read, for me anyway. But, I was so glad that Billy Joe got justice for his friend and the people involved in what he'd witnessed didn't get away with it. I like the way they each handled their families, in a realistic way that showed emotions like guilt and sometimes doubt, because, just because a family turns their back on you, doesn't make it easy for you to do the same, even when it's necessary, and I like how it was handled, but most of all, just how real it all felt.
I love Andrew Grey and his stories always have a way of really sticking with me. This one, so relevant in what's going on the world today…It served as a reminder that even when people are surrounded by hate, it's possible to still be a good person. That people aren't extensions of their family, and it's possible to rise above all of that and be a good person. Good story, great message.

About Andrew Grey: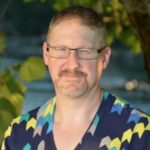 Andrew Grey is the author of nearly 100 works of Contemporary Gay Romantic fiction. After 27 years in corporate America, he has now settled down in Central Pennsylvania with his husband Dominic and his laptop. An interesting ménage. Andrew grew up in western Michigan with a father who loved to tell stories and a mother who loved to read them. Since then he has lived throughout the country and traveled throughout the world. He has a master's degree from the University of Wisconsin-Milwaukee and now writes full time. Andrew's hobbies include collecting antiques, gardening, and leaving his dirty dishes anywhere but in the sink (particularly when writing) He considers himself blessed with an accepting family, fantastic friends, and the world's most supportive and loving partner. Andrew currently lives in beautiful, historic Carlisle, Pennsylvania.
Where to find Andrew Grey: